<![if !vml]>

<![endif]>
Day 02 Sunday July 25, 2004
Trabzon ,Sumela Monastary
Submitted by Nancy Thole thoconfam@yahoo.com

Groan - super early wake up! The hotel had coffee ready and the driver was standing by for the trip to the airport. Easy access to the terminal, easy security, no problems and an easy flight into Trabzon.Let the adventure begin.
Trabzon is a fairly large city with a distinct recreational feel to it. Travel bus and driver Hussein were waiting for us at our arrival.Our morning stop was at Saint Sophia Cathedral which is located on a picturesque hillside overlooking the Black Sea. This structure is considered to be the most important building of the Byzantine period in the region.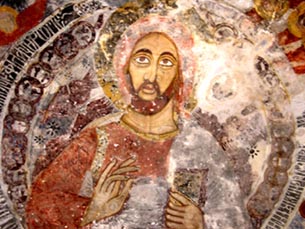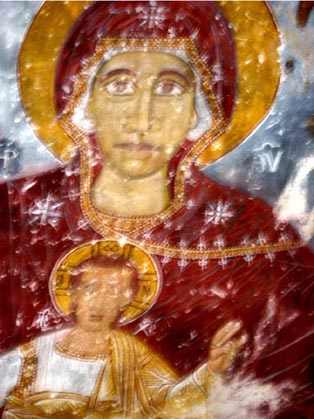 The name of the cathedral does not represent an individual named Sophia. The words mean sacred or holy wisdom.The building was constructed between 1238 and 1263. The church was transformed into a mosque afterthe Ottoman conquest of 1461. The structure was restored between 1958 and 1962 and opened as a museum in 1964. St. Sophias has many beautiful frescoes, mostly depicting scenes from the Old Testament. These frescoes are in surprisingly good condition. Images of the Holy Family give one pause to think about individual perception and how our perceptions form our own reality. The blond, blue eyed, western Caucasian Jesus and family is not the perception of Asia.
There is an interesting burial ground included that shows evidence of burial markers from four periods of development.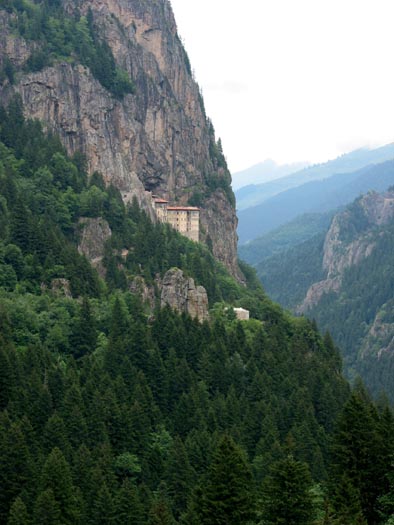 We had morning refreshment at an attached tea garden that included some yummy cheese goodies. Also a replica of a typical home of the period that was made entirely of wood - no nails because of rusting.The afternoon's adventure was to the Sumela monastery which was built into the steep side of Kora mountain overlooking the Mother Mary Valley. The structure was built inside of a cave. The importance of the monastery which is the oldest Christian Temple in the Black Sea region is the unnatural setting of the monastery located in the wonderful beauty of the surrounding land. In addition to the natural beauty, the decorations and frescoes within the buildings are worth noting. There has been considerable natural and man-induced damage to the art within the buildings.
An easier long walk down (versus even longer walk up - how did that happen?) A mini-bus ride that was not as harrowing as when we came up and finally, Hussein waiting for us in the parking lot with the bigger bus. Back to Trabzon and the Hotel Horon for dinner and bed.
NANCIE THOLES FAVORITE PICTURES OF THE TOUR

| | | |
| --- | --- | --- |
| Men after Prayer in Erzurum | What a Life | Geese shepherd-Kars |
| | |
| --- | --- |
| Colorful chicks | Camel with Attitude |
| Boys of the village | Wolf Protector |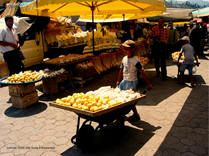 Lemon and Garlic