True to the tour itinerary, much of the morning's touring took us through evergreen forests and alpine
meadows. Picturesque view after view unfolded made perfect by a bright, sunny day and fleecy white
clouds. We stopped for a delightful trout lunch at the Laset Restaurant. (The meals kept getting
better and better. Could this possibly continue? (Indeed Yes!))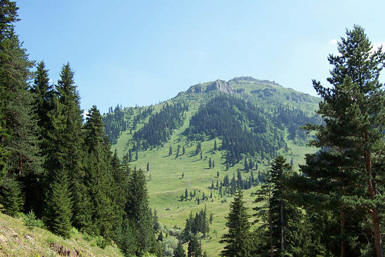 After lunch we crossed over a summit at 8580 feet and
arrived at Ardhan.
The forests disappeared replaced by endless hay
fields and pastures with horses, cows, sheep and ducks.
Yes, ducks as well as geese - just like the tour itinerary
said we would encounter. And, also like the itinerary
said, we were also introduced to the dung economy.
This time of year, in rural turkey, village inhabitants
are busily drying mixtures of water, cow dung and
straw into pies for winter fuel. Stacks of dried and drying
dung were piled high in every village. It was said that
two cows produce enough dung to heat a dwelling housing
four people all winter long. Sometime in the future, natural
gas is supposed to replace cow dung. In the meantime, people are industriously making pies - lots of them.
In winter it gets cold in Eastern Turkey and the snow lies deep.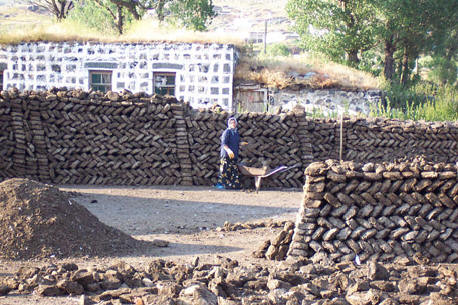 There were a few other notable
introductions during the afternoon.
It seems the local people like to write a
wish and hang it on a tree branch for
the wish to come true. In Eastern Turkey,
trees sometimes are scarce. We passed
one lonely tree along side the road festooned
with "wishes". We also started to observe
many bee keeping operations. Apparently bee
keepers take their hives out in the countryside
during the summer and camp while moving the
hives about. We also hit a new first (low?) for a
comfort stop - a bunch of rocks! Well, if you
gotta go, you gotta go.Then, around 7 PM, having
had a full and interesting day, we arrived at our comfortable hotel in Kars. The next morning
I passed the scribe's quill to Larry

JACK MAYER'S FAVORITE PICTURES OF THE TOUR
| | |
| --- | --- |
| | Bee Hives |
| Stumping wool with the villagers | a fish cought in the headwaters of Euphrates as tall as Meli |