9/9/05 Day Three
Morning in the Covered bazaar.
Passed an aqueduct which was built 1700 years ago and went to the Cistern. Passed part of Asian Istanbul which has many fundamentalists, wedding dress and lingerie shops. Shops tend to be grouped by product. Same is true for doctors and lawyers. Results in more competitive pricing.
Kariye Church – also called Chora; Christian art started for educational purposes when disciples made illustrations to help people understand religion. They used symbols to represent Jesus, Paul, etc. The Byzantine Empire was not strong enough to impose its uniform will which resulted in the Era of Iconoclasm. By the 900s AD, the empire had regained strength and defined images of Christianity. In Constantinople, the Emperor built this church to demonstrate universal reflection of Christian images which were later used during the Renaissance. Faith is a combination of teachings and belief from birth. Mary and Joseph came from Bethlehem. In one of the frescoes, you can see the tax enrollment collection occurring. It included women who were citizens at that time. Architecture is a reflection of reality. In the church, there is a parallel emphasis on Mary and Jesus. Each has a hallway. Sister Elizabeth hid Jesus. "Coro" means womb. There is an image of Mary with Christ in her womb. Orthodox religion does not emphasize the pain of crucifixion. The Crusaders destroyed many mosaics. Later Muslims helped to restore the church. In the Ecumenical Council of 432, it was decided that Mary was the mother of God (continuing the strong female god, which had existed in earlier times). The mosaics are set at different levels, which makes for a more realistic look in the faces. Clothes appear shiny. Mary did not die or go to Heaven but she slept and Jesus ascended (ascension) to Heaven. Mary was assumed to Heaven (assumption). There is an image of Mary being held by Jesus
Frescos:
Jesus reaching out to Adam and Eve which means he was saving everyone
Lunch at a 19th c building interior courtyard. Dignitaries from the European-Islamic Council arrived and were ushered into a side room. We ate seasoned lamb in a pastry shell, salad and good soup and an assortment of Turkish sweets.
We walked through crowded streets from the restaurant down to the waterfront. Doreen and Kitty were escorted in a police car and were dropped off at the wrong location. Took some time and use of other policemen to get reunited. We had a very pleasant private boat ride on the Bosphorus past many large old homes going from the European to the Asian side.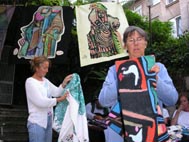 We had tea no board.
Our bus met us and took us to visit with Bedia Colaki, a batik artists who uses Islamic decorative art motives. (HAT). She lives in a multi-story charming house and served us more tea and cookies. It was an opportunity to see and purchase her work.
We then took the bus to the house of Mehmet Hamdi Eyuboglu, a woodprint artist (and poet), the son of two well-known Turkish painters. He is married to a Canadian. Some of us bought her recent memoir. He uses yazma on cheese cloth which is his own technique. He was influenced by African art in Paris. Now he works with Styrofoam. He prepares a design and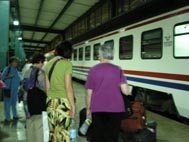 uses needles to make holes on carbon paper indicating the design. He uses another technique – with brush and bleach. 30-50 students/year work with him. Each piece is unique. Again more tea and more opportunity to see and to buy.
Dinner of lamb, mash potatoes, rice, fruit and cheese in pastry appetizer for dinner at a convenient restaurant facing the water. We were indoors.