9/7/05 - Istanbul!
I left NYC on a 5:30 pm Delta flight on Tuesday and arrived a little more than 9.5 hours later in Istanbul. Passable beef, mash potato, green beans and brownie dinner and a light breakfast.
Hasan met me after non-existent customs and dropped me off at the Ayasophia Hotel which is located in the older section on the European side in walking distance of the Blue Mosque and Haga Sofia Mosque.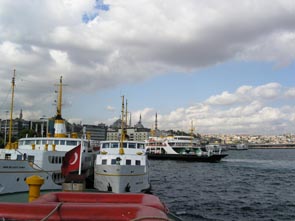 I met Meli, our delightful tour leader who was on her cell at the front desk. After a shower, on her suggestion, I look a taxi to a 285 room third palace of the Sultan. Enjoyed the tour of the administrative offices and the Harem where the sultan, his mother (main woman in the palace), various wives (apartments for 8) and servants lived. Red was the symbol of power. Atatuk died in one of the beds. Lots of lavish gold leaf decorations and crystal chandeliers. Braved figuring out the tram back to the hotel getting help from various Turks en route.
5:00 pm gathering of our tour group in the lobby. We are 14: 8 Canadian weavers with some spouses, 3 Americans and some others. Haven't yet sorted them out. Got to use the free Internet at the front desk. Group went to the Blue Mosque where Meli began telling us stories of Turkey.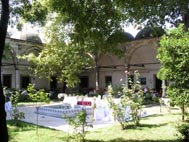 Glorious blue tiles gave the mosque its popular name although it is officially called Sultanhamet Mosque after its sponsor. Men and women can pray together although a man cannot be behind a woman (given that she has to bow down in prayer). Money to build it came from the nearby markets. Marco Polo named color turquoise after the Turks.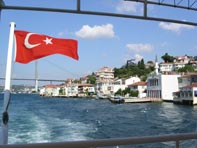 Dinner in walking distance on the terrace of a hotel. Mixed Turkish appetizers Cut up carrots, corn, lettuce salad, creamed eggplant and chunks of beef plus assorted Turkish deserts . Watched Turkey beat Ukraine 1-0 (soccer) in the Ukraine on the lobby tv. Meli says that I am the first American she has met who knows/likes soccer.