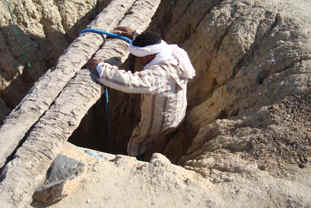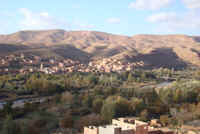 We left the Timbuktu Hotel and the Sahara behind, riding the bus on a dirt road for several miles. Haji was wearing denim and a baseball cap. We stopped briefly at a fossil museum and then to see the eyes of Karez, the Moroccan equivalent of the Roman aquaducts.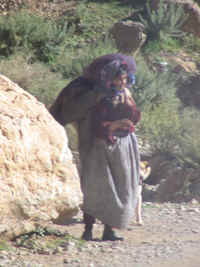 As we passed through towns we noticed the differences in the way the women dressed. In one town the women wore all black clothing, in another their clothing was all white and in yet another town they had streams of lace flowing down their backs.
While engaged in a spirited discussion of various forms of government we drove by men selling blue "toureg" scarves and stopped to see ancient kasbahs, some abandonned and others adorned with satellite dishes.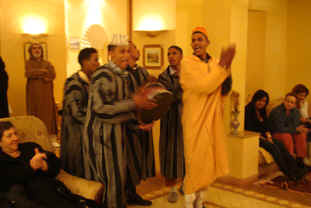 Our lunch-time destination was the red-rock Todra Gorge where we dined by a river enjoying a meal that reminded many of us of Burger King flame-broiled burgers. The mountains were silhouetted against blue sky and puffy white clouds. We have been very lucky with the weather.After lunch we continued past some lovely scenery. We stopped to admire the panoramic view of Boumalne du Dades--a terra cotta city nestled in the hills. After a brief visit to a rosewater boutique (the area is famous for roses) we continued to our hotel where a quintet of young drummers and singers serenaded many of us after dinner.