Essaouira, by the sea
Haji was wearing a lime colored Jalaba with a white and green hat.
This sunny morning started with a short walking tour of the fishing harbor, full of blue dories and larger fishing boats, some of which were hauled and undergoing major rework. We ended the tour on the rampart walls overlooking the ocean. Essaouira was a Portuguese city founded for the slave trade in the 16th century.
After the tour we were free for the day and evening. Most of us cruised the souk, running into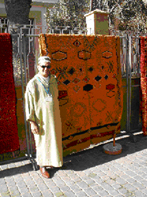 each other from time to time. Bob and I spent part of the afternoon on our motel room terrace soaking in the sun. For dinner we joined other Gerbers, Laurie and Kirsten for a wonderful meal at the Dar Al Houma Restaurant in the souk.
Harry and Carol toured the fishing harbor in the evening. A number of fishing boats had returned with their catch and were unloading many types of fish. A young man guided them through the harbor area including places seldom visited by tourists.
Some of the more unusual things members of our tour group saw in the souk were: a man in a wheelchair who paints portraits holding the brush in his mouth; a band member playing a bicycle sprocket; many shops with artisans working with thuya wood; and locally made domino sets with the pips made of inlaid mother of pearl.
Sadly, the Barkleys left for home today.