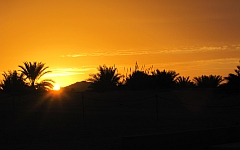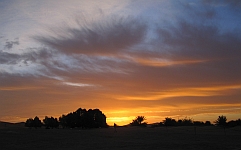 We sang our morning greetings wishing a good flower- like day. Leaving the sand dunes rocking on the bus are we still riding the camels? The dirt road is bumpy and rough through the desert terrain. We finally reached a paved road and made our way towards stone desert part of Sahara to the south of the Atlas Mountains. A man walks across the desert wearing a red shirt. We were told it is very important to wear a bright color to be seen. We passed many oasis's with palm trees and date trees. We learned about the date farming. It seems that they are having the same problems here as in many parts of the US . The small family farms are being taken over by out of the country production. Tourism is also eliminating farm land.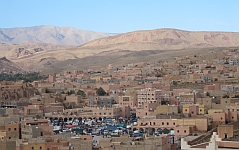 We drove through many small villages. Very few women on the streets. Great excitement as people prepare for tomorrow's holiday. The holiday is somewhat like our Christmas in importance. It is a big day with a lot of preparation, families gather, a lot of food is prepared. The white jelabas are washed and ironed since the whole country, including the king, wear a white jelaba on the first day of the Holiday, Eid Kebir. We were all struck but the fact that each family will slaughter a sheep to commemorate the rescue of Isaac by God.. This is shocking to us but part of their culture. Every part of the sheep is used and given to the needy people. It is sad to see the sheep tied to the top of the cars . We know where they are headed. We also know where the cows are headed on highway 5 in California when we drive by the slaughter houses .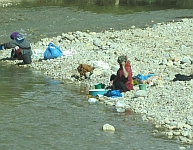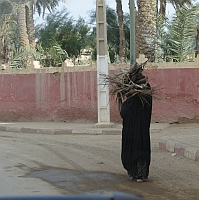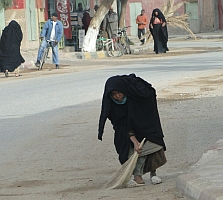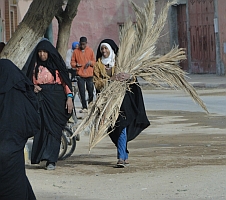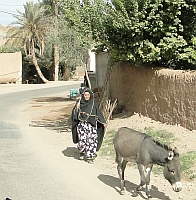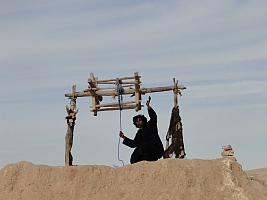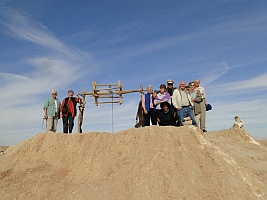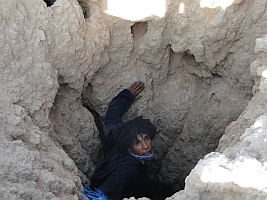 Irrigation system is interesting. ancient water tunnels collecting water from melting snow of Atlas. Stopped at a water well. We watched the Berber boy go down one well. He crawled through the tiny tunnel connecting to the other well where we were. We watched him come up.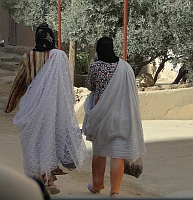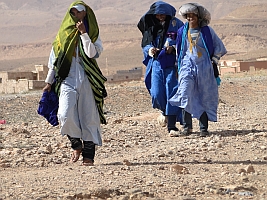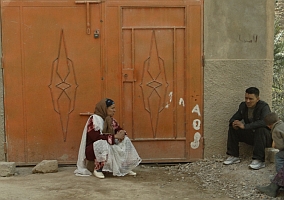 As we drive through the Anti Atlas, we notice change in women's clothing. They are wearing lacy wraps. We never see men and women walking together here.
The purple of the mountains a pastel sky dappled with long feathery clouds.