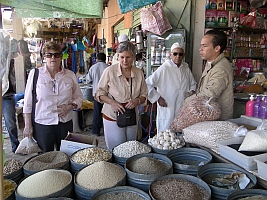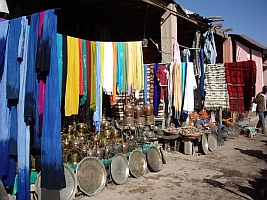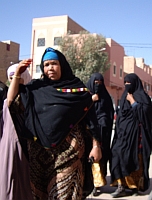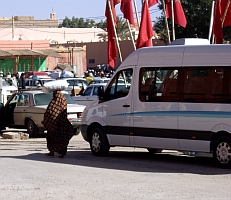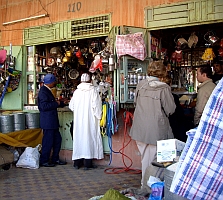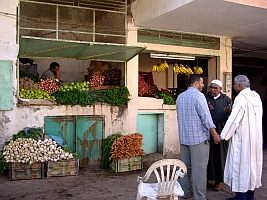 We were given directions for the market, souk and how to photograph the locals. Then off we all went our way for our little adventures. The shopping was easy. We all actually ended up in the same shop as if there was no other shop but after lentils, beans, flour, spices, garlic ... were purchased for the Berber family that we were hoping to see in the desert , we all went on to our photo expedition. When we met at 11:00 we saw that Cathy and Carolyn actually did some more shopping. None of us was surprised! A great amber necklace, three little jeweled boxes were added to the Morocco shopping load.
The faces of Erfoud !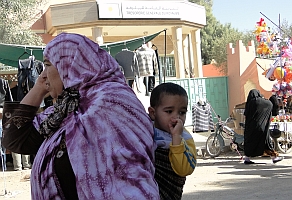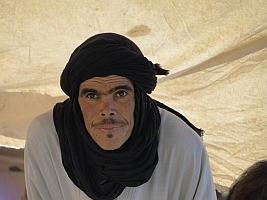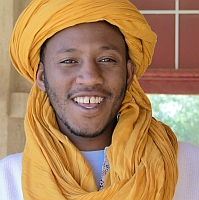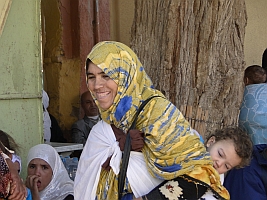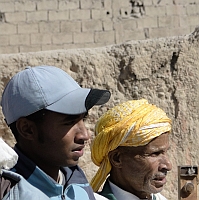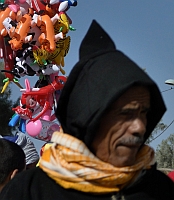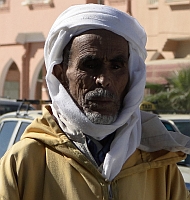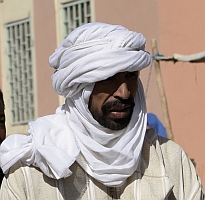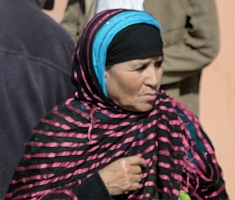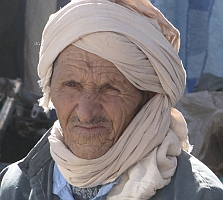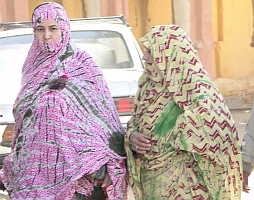 Transferring to the two land rovers was a chaos. All of what had to be on the Land Rovers, the food, the water, the gifts for the family were left in Ibrahim's Van. Finally we got every thing in where they were suppose to be and off we went. Hamid the driver and Meli lead the small caravan in to the desert.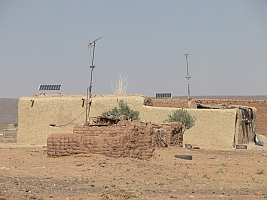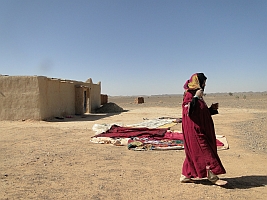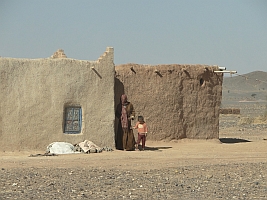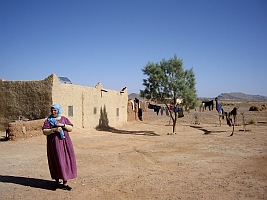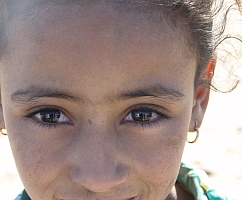 Our first search was a house with Berber drawings on the door. We saw every door in the village but not the one we were looking for. Well that is life! We did see , though, how the houses in the desert village were all equipped with solar panels. They now had satellite dishes, refrigerators and light for school children. the women were shy. The children were adorable. Not finding the house worked out well because we got to see lots more!!
Our next stop was the marvel of three million years. Once upon a time, 3 million years ago, Sahara was an ocean. When the water started to evaporate, the creatures of the sea started congregating in the shallow waters of the disappearing ocean. Finally when the water was completely depleted, they were stacked on each other and were fossilized. Unfortunately, environmentally quite irresponsible Moroccan government allows the fossils to be quarried to replace marble blocks. The few natural examples of the fossils survived were still laying on the ground of Sahara.