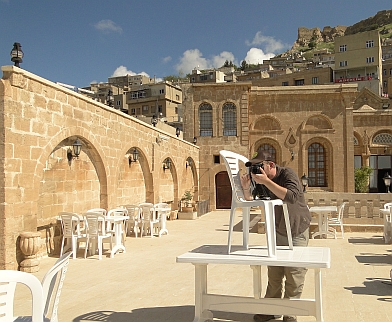 After the rain last night, the clear blue sky was a pleasant surprise. We all sat around the courtyard enjoying the view of the Mesopotamia stretching in to the horizon. Will quickly made an arrangement to have a group picture. Arranging the table chair, setting the camera... It all worked well and we had our happy moment immortalized.
The 2 hour bus ride was much appreciated by those who were still jet lagged. The nature was beautiful. The wild flowers spread around every shade of green. The pistachio trees were in bloom with red flowers.

Our first stop was Gobekli Tepe, a hill top crowned with a wish tree . The 12000 year old temples were built on the rock bed of the hill. The general plan was monolithic blocks imitating human body were standing in a circle. the huge blocks were adorned with the relieves of various animal images.
It was hard to believe that these temples were where people worshiped 12000 ears before our time.