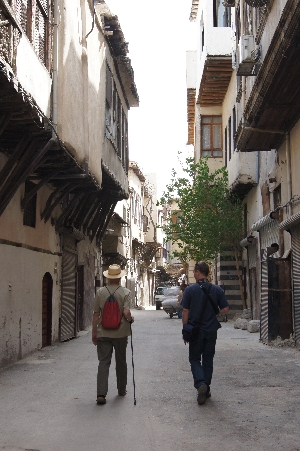 Free day in Damascus-
Michael- Semi-death shopping march. Highlight was tea at the famous coffee house, Hakawati. Then watched Mary Kay, Elizabeth and Marilyn go through shopping gyrations, interesting from an anthropological perspective. They made good jewelry scores.
Elizabeth- Marilyn and I went to the baths, restored from the 14th century. It was the first time for both of us and we really enjoyed it. Tea and conversation. Went to lunch at Naranj with Mary Kay and Michael and then had a very successful shopping day. I have found a new hobby and revised my perspective on shopping.
Mary Kay- After a strenuous morning editing and typing Michael and Mary Kayís journal entries, we welcomed Marilynís invitation to join her and Elizabeth for lunch at Naranj. Intense shopping followed (earrings!) - counseling and bargaining before racing back for a sunset rendezvous at the hotel.
Marilyn- A visit to the hamman (bath) just steps away from our hotel was a great start to the day. The hamman was restored and had the traditional shape we were now so familiar with of small side rooms off a larger circular center. Elizabeth and I shared the domed steam room that had circles cut in the stone and filled with glass, so it brought in natural light like a skylight. Well scrubbed, steamed and massaged, I was ready for lunch and some power shopping.
Jim-