At our last buffet breakfast in Petra, we packed up cheese sandwiches for road snacks for one of our longer bus rides to the Dead Sea. Mahdi, our Jordanian guide who had lived in the U.S., discussed the elaborate wedding (and divorce) rituals among Jordanians (including a "tongue-in-cheek" note on the importance of Valentine's Day gift of a goat to one's betrothed). We stopped to appreciate the expansive view at the Dana Biosphere Reserve
http://www.rscn.org.jo/RSCN/HelpingNature/ProtectedAreas/DanaBiosphereReserve/tabid/93/Default.aspx and continued our journey along the King's Highway as Mahdi told us a bit about his life and work and return to Jordan in 2007 with U. S. citizenship and an American wife.
The trip continued to yield mythological tales and stories from the Koran such as that of the stubborn king at Wadi Rum in the Valley of Rum who built a white marble and granite city decorated in silver and gold with hanging gardens as a heaven on earth but when the workers awoke the morning of its opening, the city had disappeared. Or the story of Lot's Cave from the bible where Lot's drunken, incestuous affair with his daughter yielded 2 grandsons, Moab and Ben-Ammi who are the forefathers of the Moabite and Ammonite people from this area.
We stopped for lunch at the Amman Restaurant and Pool where we met Mahdi's wife, Amy, and his two delightful children. Half of the group dipped buoyantly into the Dead Sea and applied black mud to exposed body parts which dried in the sun and was washed off in the sea. Immediate health benefits were not evident but we brought back bath salts and mud soap bars. The bus stopped next at a high-priced warehouse of tourist souvenirs but our minimal purchases seemed to disappoint the vendors. Tourism (Jordan's number one source of income) is seriously down in most of the places we went so our dollars are much sought after.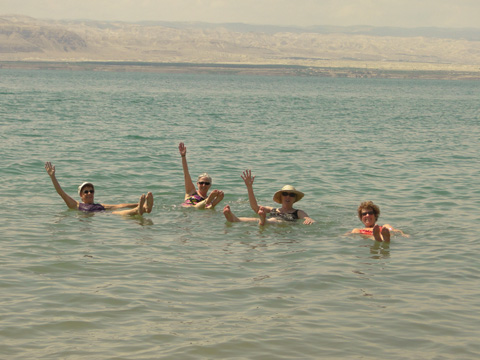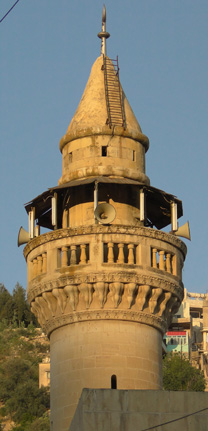 Mahdi bought watermelons along the road for our dessert that evening.
We next stopped at the hillside city of Salt where those who planned to hike in the Jordanian wilderness stocked up on groceries from the market. We reached Amman in time for dinner and a good local restaurant and bid farewell to our driver and Mahdi once we reached the hotel. Not quite ready to call it "the end" of our wonderful adventures, we had a drink at books@cafe in Amman before exchanging hugs and goodbyes as we head off the next morning for Paris, Barcelona, Cairo, Portland, Ankara, etc. and new explorations.
Other thoughts on the tour: Most of the hotels offered free WiFi so I'd definitely bring a laptop or Netbook next time. Although some hotels were deep in the crooked lanes of the old quarter in various cities, we never had to schlep our own luggage, which grew exponentially with each souk visited. We were delighted and surprised at the quality of most of the bathrooms on this trip, all but a couple of the hotels provided newly renovated, tiled bathrooms with hair dressers and bidets, quite posh, as were many of the restaurant WCs. Our guides were knowledgeable and flexible as were the courteous, friendly, non-English-speaking drivers in both Syria and Jordan. Meals were typical Mediterranean cuisine of mezes, pita-type bread and grilled lamb or chicken which offered choices but became monotonous by the third week and buffets wore thin in terms of choice and freshness, although in Damascus we were able to select a good spot, Naranj, from our own guidebooks. Many of the restaurants in Syria did not serve alcohol so the wine-lovers enjoyed several "liver cure" days of rest. Walking sticks and rugged footwear are an advantage for the ruins, some of which are huge sites with rugged terrain and uneven steps, although one of our members managed to lag along to most everything with a 4-month-old knee replacement. Finally, whatever money you take out of the ATM or bring with you, it is not enough! The scarves, antique jewelry, mother-of-pearl inlaid trays and boxes, embroidered jackets, etc. are exquisite and difficult to resist.