Thursday, Day 04 October 17, 2013 Cappadocia , Sultan Han, Konya
Submitted by Ann and Kathy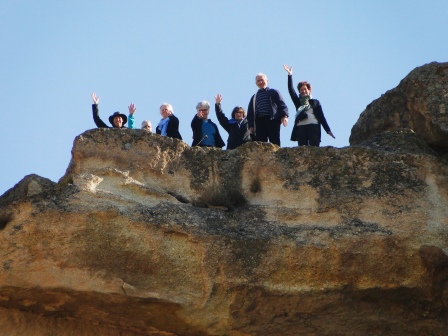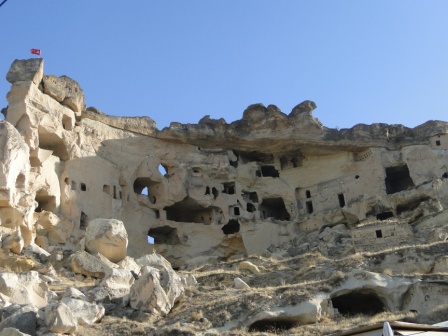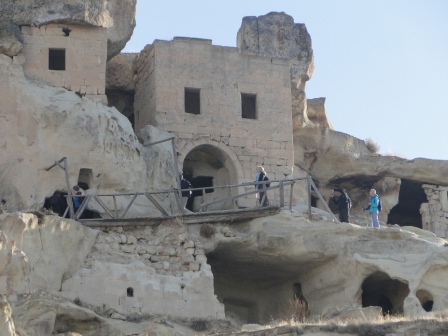 Yet another day in which we were forced to leave our hotel to go see beautiful historical and cultural sites. We left at 6:15 to hike with our guide Ismail in the Red River Valley. Ismail brought some of his wifeís dowry scarfs (yazma) with trim (oya) and Meli demonstrated how scarfs are wrapped in different parts of Anatolia.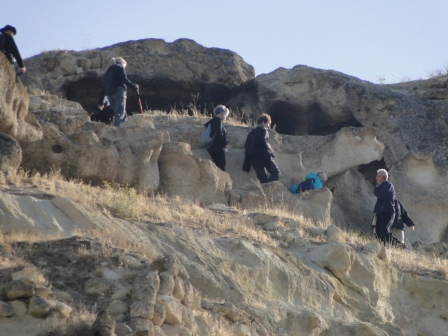 The hike was supposed to be 1.25 hours, but it is much longer when you have birders and photographers lagging behind! Ismail patiently guided us through an extraordinary landscape that reminded us of the US Southwest on one side and on the other we realized we were in Cappadocia, Turkey! It was too windy for balloons today so no marring of the view. The hike ended in ancient ruins that included a church.
At the end of the hike we found ourselves in a small mosque where Ismail donned a robe and proceeded to pray. Back in the ban Micky, Marilyn, Meli and Robin bought some scarves (yazma) from Ismail.
We went back to our hotel in Uchasir for one last breakfast and then off to Konya. Political conversation ensued since the US government decided to be responsible and open its government.
We left the central plateau and headed southwest to Aksaray where the altitude lowers and wheat and sugar beets are farmed. This region supports the self sufficiency of Turkey. The road to Konya follows the old Silk Road, meandering a little due to caravans searching for water.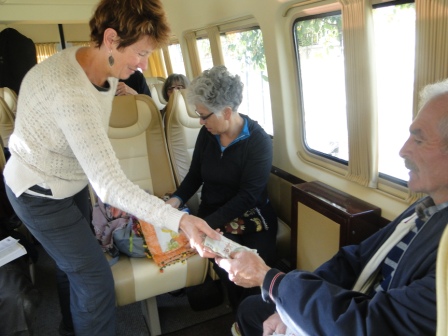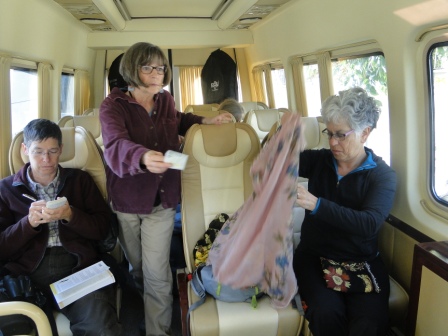 Scarf mania
Our next stop was Sultanhani where the largest caravansary was established in 1229. The distance between the caravansary was the usual distance that a camel could walk in a day (about 30 miles). The caravansary provided everything that travelers would need: doctors, vets, hamams, kitchens, libraries, mosques). They were made safe, easy and free to promote trade by the Selcuks.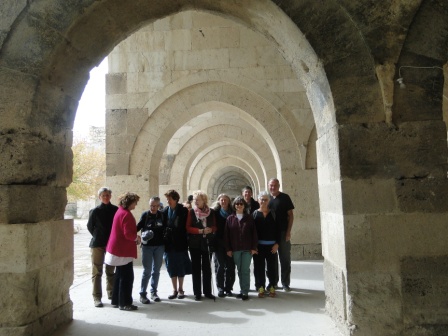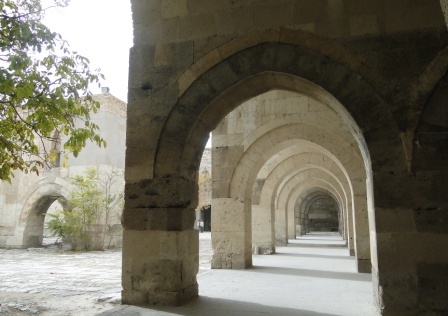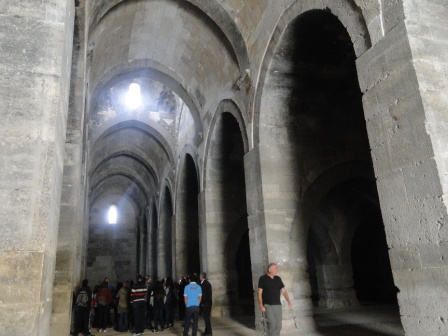 We had lunch at Kardesher Eti Ekmek restaurant where we seemed to break the gender barrier when the employees took of photos---hopefully to add them to the all made display on the overhead video that played constantly. Due to the high winds we drove to Konya through dust storms throughout the day. In Konya we first went to the large mosque and sat in the womenís area so Meli could tell us about Mevlana Celaleddin Rumi (1207-1273) who was born in Afghanistan and came to Anatolia with his family when he was 14. He became a very famous philosopher with many followers. His most important teachings stressed wisdom, conscience and feelings. Followers perform a ceremony in which they twirl in circles. The men who engage in this activity are called the Whirling Dervishes. This activity leads to gaining a connection to others and God.
After Meliís talk we went to the Mevlana Museum which housed Rumiís tomb as well as 55 relatives and artifacts.
Upon arriving at our Konya hotel, we encountered a Rumi student and Sufi sitting in the lobby. Meli approached him and a very interesting conversation ensued. The evening ended in a delicious dinner.
Please click here for
Day 05 Cappadocia
Itinerary of the tour
Melitour Home page