Tuesday Day 02 , October 15, 2013 Cappadocia Region
Submitted by Patty and Carol
We stayed the night at the Lale Saray Hotel in Uchisar.
5:50 AM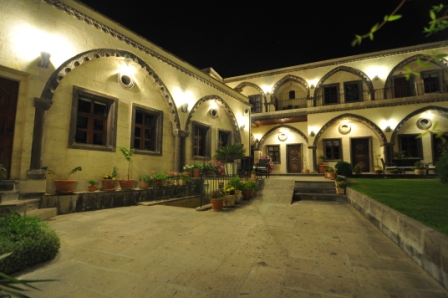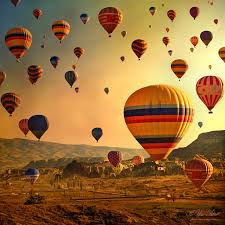 Robin, Patrick, Marilyn, Kathy, Elizabeth, Mary, Patty & Carol were picked up by a bus and taken to the meeting place for Butterfly Balloons. We checked in and were told we should listen for the Mustafa bus, and also sent on to pick up a nice little breakfast of coffee, pastries and fruit. Not a bad start.
A few minutes later we were on the bus and headed out for the ride. We drove by many balloons preparing to arise and finally arrived at our own. With much anticipation, we all snapped photos until suddenly it was time to get in. A big strong man came to lift anyone having trouble right on in.
Our pilot introduces himself as follows. "My name is Mustafa. Unfortunately, your pilot was sick today, but I've always wanted to try this, so I will take you up." He then tells us the best way to prepare for landing, and he demonstrates the sign of the cross. Once we got about 5 feet off the ground, he said "That's as far up as we'll go, as I have acrophobia". And we did stay low for a while. He continued making jokes throughout the ride.
Slowly we ascended. The view expanded and we began to have an amazing perspective into the valleys, around the hills and of all the other balloons. Mary counted 82, and Mustafa estimated 100. Before long, he drew our attention to the rising sun behind Erciyes Mountain, or as Meli says, "The Shy Bride". Fortunately, she was not wearing her veil at the time. He explained that there is a higher density of balloons in the air in Cappadocia than anywhere else in the world. At different times we were drawn close to the fairy chimneys, where Patty spotted a Crested Lark (lifer!), and other times far into the air. All of us were stunned by the views. Here is what some fellow balloon riders said about it: tranquil, worth every penny, beyond expectations, fun to see goats from above, magical, spectacular, amazing topography, loved it, mind blowing.
At the end, we landed on the trailer, a truly amazing feat. Our favorite strongman arrived to help people out, and after running over to help push air out of the balloon, we were treated to a champagne toast and diplomas. Unfortunately, Patrick flunked. All in all we traveled 2.9 nautical miles in 1 hour 25 minutes. It was most excellent!
9:45 AM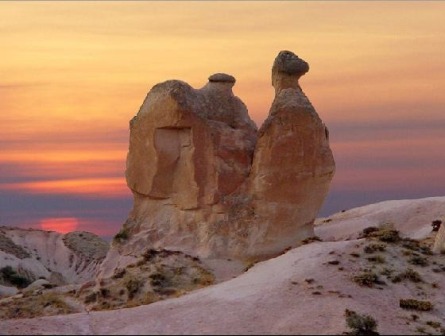 Word of the day Iyi bayramlar! Happy holiday.
After breakfast back at the hotel, we departed for a museum visit, but found it to be closed for the holiday, so instead we visited Devrent Valley for a short hike. On the drive there, Meli gave us a fantastic geography lesson on Anatolia, AKA Turkey, AKA Asia Minor. Among other fun facts, we learned that Turkey has natural geographic borders with all of its neighbors.
On the hike, we explored a network of unmarked trails, differing on which way to go, and then finding our way back to each other after making different choices. It was a nice little adventure among fairy chimneys. The police were on the road, telling people where to not park over a microphone. Later we learned that Meli tried to borrow it so she could call us all back.
Meanwhile, Elizabeth and Mary stayed back and fought off the vendors in the parking lot trying to sell them wares.

12:00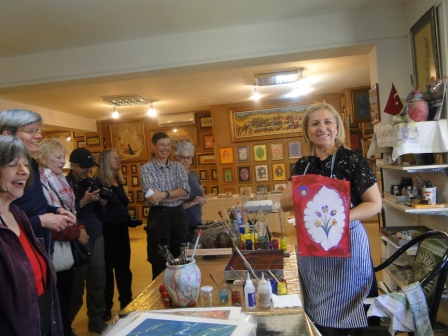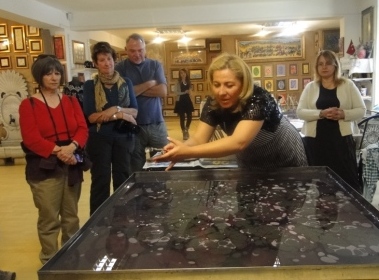 On the way to our next stop Meli explained that "Ebru" , the cloud, describes the process of creating the design which results in "marbled paper". Later the process became known as marbling. It is a difference in emphasis: interest in the process versus interest in the result.
We arrived at the Ebru Sunat Evi Art House, the studio of Guler Somturk. After being greeted by and introduced to the family, we were taken upstairs for a demonstration. Her daughter explained her history as an artist to us, and then explained what the various elements of the process are. There is a water pan containing a small amount of ox bile and glue made from a local cactus plant. Background paint is first added by tapping it from a horse hair brush. It is a rhythmic tapping, to the beat of your heart. Then specific colors can be added by using a pointed metal tool and inserting it vertically into the pan, then pulling the water to and from it. One lays the paper on top of the water surface, and then caresses it with love. Then you pull the sheet off over the metal edge of the pan and the magic appears.
We were offered a chance to try it after the demo, and with the help of Guler Somturk, Meli, and many arm chair coaches, Carol managed to make a nice tulip plant on a yellow background.
Our host followed with a calligraphy demonstration. It is called HAT (beautiful line). As she wrote, she explained that she lets the pen flow as it will. Finally, she went to a larger pan and illustrated the same Ebru process required to make a silk scarf. As she added the paints for the scarf, she sang beautifully. What a magical ceremony we witnessed.
Meli: We equate ebru with life as you can erase small mistakes, but not big ones.
1:30 or so
We went on to lunch at Dayinin Yeri in Nevsehir, where we were served:
Lavas (big fat bread
Yogurt with pekmez (grape syrup)
Grilled onion
Salad with pomegranate sauce
Goat cheese
Butter

Findik lahmacun (small pide with meat
Kulbasti (meat marinated in ash)
Lamb chops (the very best Patty has ever had)
Grilled vegetables for the vegetarians
Kunefe with pistachio (A yummy hot cake with cheese in the middle)
Meli & Carol drank Ayran (a refreshing drink of yogurt, water and sal
03:00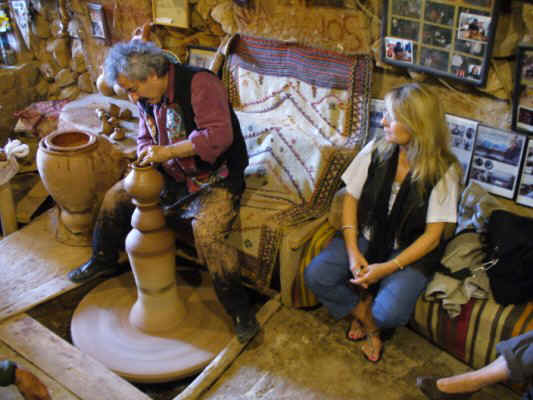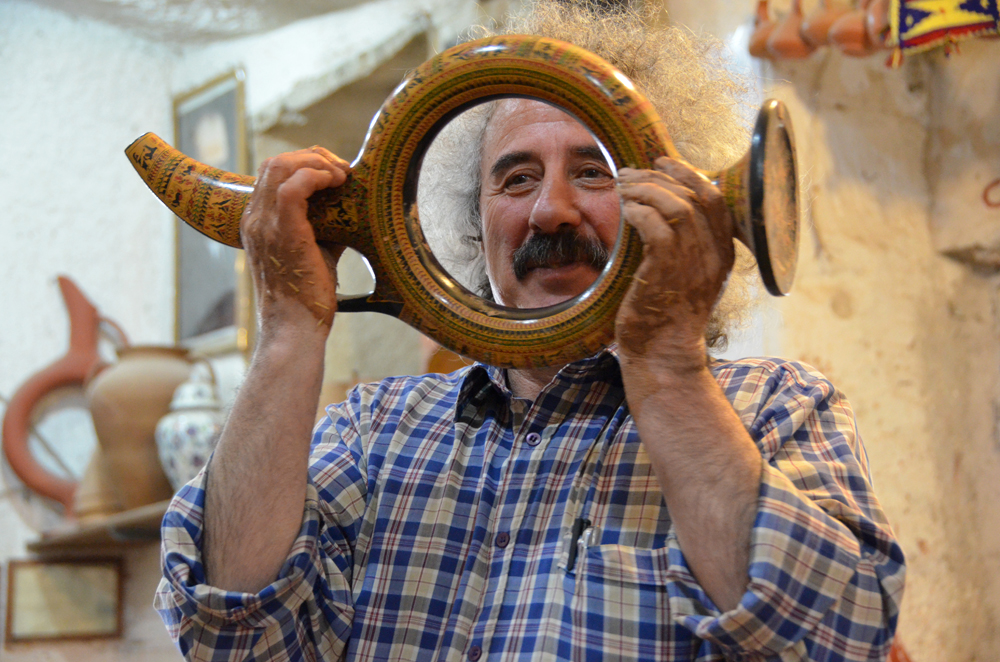 We arrived at the potter's studio of Meli's long-time friend and world renowned potter, Chez Galip. Again, we were greeted by the artist himself as we arrived. We entered his demonstration studio, where we were offered Turkish coffee, tea or wine. A lovely small plate was presented to Micky as this was a return visit for her. He demonstrated the creation of a tea pot, starting with the lid, following with the spout, the pot itself, and finally the handle. He had started with the exact amount of clay he needed for the entire project. When he fit the lid to the pot, it was a perfect fit. When he fitted the spout to the pot, he cut it with a wire. He explained the cut is at a 60 degree angle to make it a perfect pour without dripping. 59 or 61 degrees is ok too, but take it a degree more in either direction and you've got a faulty pot.
He passed around the two different types of earth used in the clay so we could feel the textures. He mixed them, added a little water, and let us listen to the bubbling in his hand, so we could enjoy the sound of the singing clay. A minute or so later, he showed us the smooth clay that had formed in his hand. We were asked to guess how a pot can be turned black without painting it – it must be placed in ash underground to limit the oxygen. Ann came closest to winning and was presented with a beautiful fish tile as a reward.
We were taken to another room of the studio, where a young woman was painting a plate. He explained that the process of first firing for 11 hours, then drawing in the pattern, then painting in the drawn areas, covering the clay with glaze and then another 13 hour firing. He had all the stages illustrated on a single plate. They then showed us a number of works which reclaim patterns that were smuggled out of Turkey and show up in private collections and museums in other parts of the world.
Last we were taken to a room full of exquisite pottery. After we were all in, the lights were shut off, and most of the pieces had patterns that glowed in the dark. This was due to the phosphorus they had added to some of the paint. It was dreamy. We spent a long time there, some of us enjoying the work, others buying it.
5:15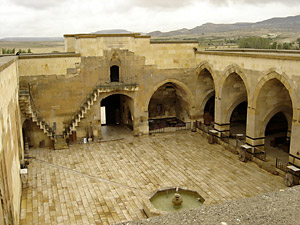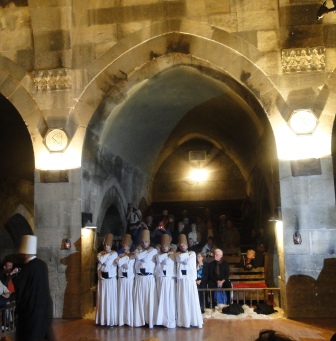 We departed for a Sufi whirling dervish ceremony held in a Caravan Saray, constructed in the 13th century, in the era the Sufi philosophy came into being. Visiting groups were in separate beautiful waiting areas out in a court yard. Meli explained a bit about Celaleddin (aka Rumi) before we arrived.
The setting was amazing. The ceremony was entrancing. The day was long and full, but we did not rush, because as Meli said: If you rush, the Devil gets in the way.
Saruhan Caravansarai 1228
Please click here for Day 03 Cappadocia Itinerary of the tour Melitour Home page