Day 11
November 10, 2014
Monday
Submitted by Robert
mochathedog97221@yahoo.com



2014 MOROCCO GROUP JOURNAL
AGADIR TO ESSAOUIRA
Click here for
Day 12 Essaouira
Melitour Home Page
Morocco Tour Itinerary
Photo Gallery
Palais Salam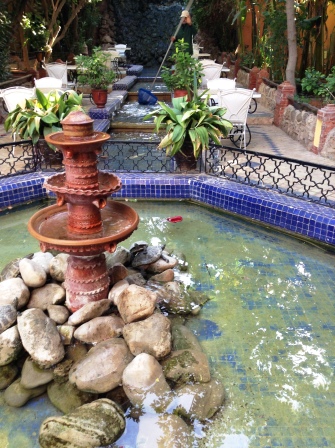 Lunch in Agadir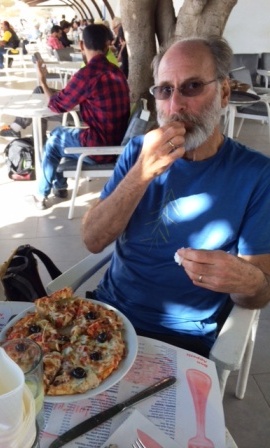 Abdul bought bananas for us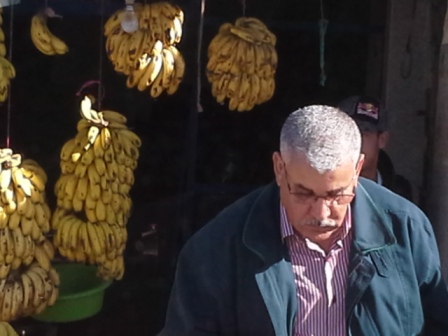 Argan Oil being extracted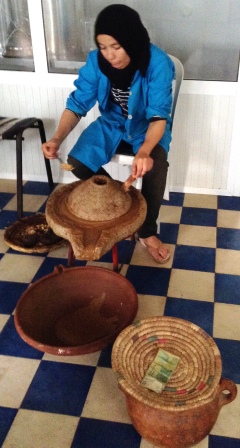 The goats on the tree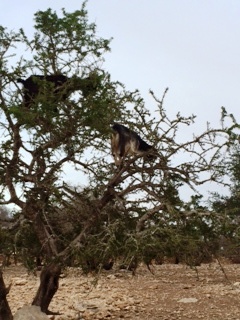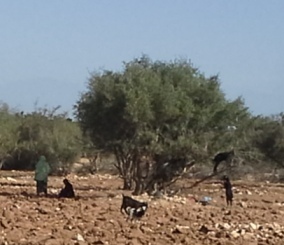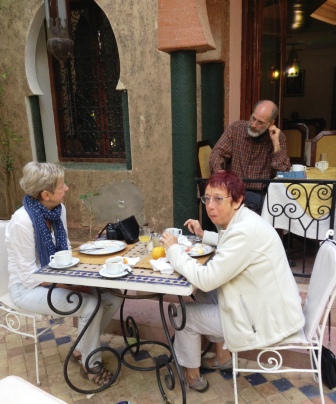 We get to sleep in today. We aren't leaving Touredent until 10 am. After a lovely night in a former palace, Palais Salam, and a lazy breakfast. we are heading to Agadir, on the Atlantic coast.
We have been hearing the stories of the goats grazing in the argon trees and we finally get our first sighting of this phenomenon. Along the route we pass a argon orchard and there are some goats in the tree. It is only a passing glance as we continue down the road.
The road to Agadir is a two way highway with many unfinished houses. The charm of the Eastern Morocco is already gone. Obviously we are approaching a big city who is becoming a victim of urbanization.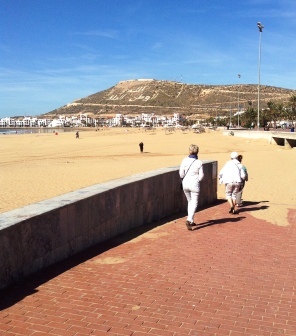 We arrive in Agadir, and unfortunately the market is not open so we miss another chance to shop and head to the beach for a short stroll on the promenade before lunch. We sat under a huge rubber tree and had a wonderful lunch finished off with delicious ice cream drinks overlooking the Atlantic Ocean.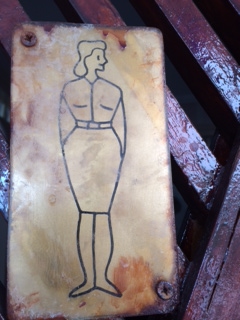 The lasy's room sign of a fat lady was interesting.
We wondered which nationality had inspired the artist for this image. Agadir is full of tourists from all over the world

We climb back into the van for the final leg to Essaouira, our destination for the next 2 nights. The drive takes us along the coast, where we pass several extravagant and very private compounds owned by rich Saudi princes where they spend time cavorting and doing things they can not do in their native land. We also pass some lovely surfing beaches and not so quaint beach towns. The road veers from the coast and we make a stop in a town that is in the middle of a banana growing area, so we stop to buy tree ripened bananas, yum.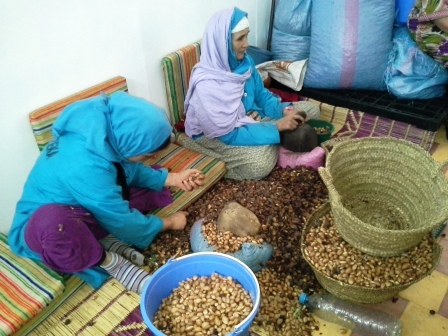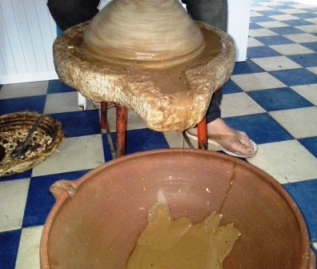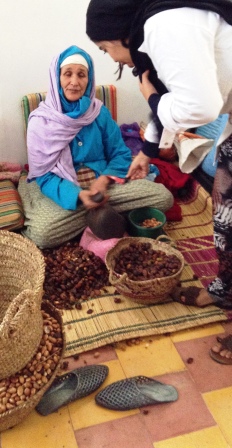 Time for a potty stop and we pull into the cleanest, well maintained facility seen on this trip and probably anywhere in Morocco. Each stall had a wooden door with a shiny brass handle with toilet paper, Oh My!! Back into our van to continue to Essaouira when pass pass through more argon orchards, and make a stop at a argon cooperative. A quick tour enlightens us to the process involved in extracting the oil. The shells are cracked, the seeds separated and then ground into paste with stone wheel turned by hand. We exit through the gift shop where argon products, from oils, soap, creams, and cosmetics are sold. Yeah, more shopping. We are getting close to Essaouira and at last we see another small herd of goats grazing in the argon trees. This time we get to stop and get up close photos of the goats high in the trees. Back in the van for a short drive to the hotel where we are just in time to catch another sunset.
We are on our own for dinner, passing on the hotel restaurant to do some exploring on our own.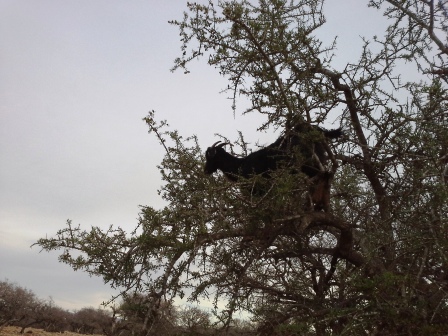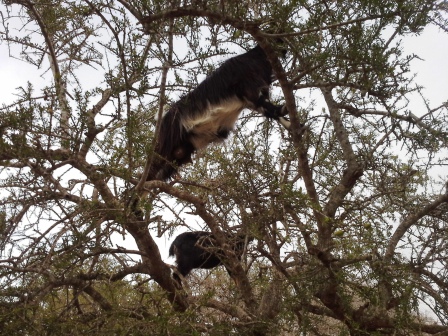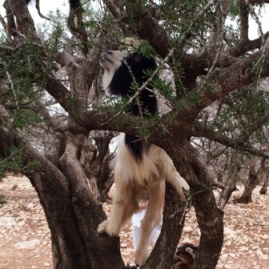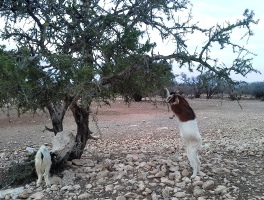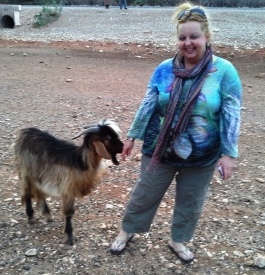 Click here for
Day 12 Essaouira
Melitour Home Page
Morocco Tour Itinerary
Photo Gallery