16 August – Friday – Libby Hooper Elizabeth Hooper

Gerel Altankttuyag is our guide. Erdenebat is our bus driver.


Ulaanbatar – 1300 meters high


760,000 population


1924 gained independence from Manchurian China
Appreciates the help they received from USSR

As I look out the airplane window during our landing approach I notice with surprise that about 50% of the city is made up of Ghers/Yurts; gray uniform circles from above. I expected to see ghers but only out in rural areas, not throughout the capital city of Mongolia.

The narrow winding river winding across the edge of town reminds me of the North Platte River in CO. In fact, this area reminds me greatly of CO, WY and NM. Arid grassland; willows along the river.


All the electricity in Mongolia is coal generated. One such plant sits on the edge of town billowing it's smoke and smog.


Beautiful faces look so similar to our Native American faces that it's eerie. I can nearly see the march across the Bering Straits to Alaska.


Much poverty and unemployment here. Gerel tells us that high educational levels are required to get any job. "If you don't know your history you are a monkey."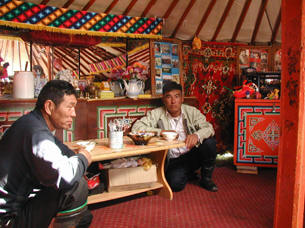 We visit the run down and neglected Palace Museum, built around a century ago. Fortunately it's very dry here and decomposition of wood takes a long time. . Three entrance gates – a large central one for the king only, a smaller one to the right for his servants and to the left for all others. An infusion of restoration monies could make this an elegant and impressive museum. I'm feeling the economic differences between China and Mongolia. Nearly all the sites we have seen the last week in China have been restored to their early splendor.

We drive up the hill overlooking this industrial city to a huge concrete monument paying tribute to Soviet help. It was built in 1971 for the 50th anniversary of independence.


We notice many people enjoying a reprieve from the HEAT in the coolness of the river as we drive back to our hotel.