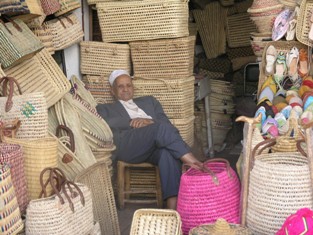 <![if !vml]>

<![endif]>
january 2, 2008 Day one – Julie SafraBD@aol.com
WELCOME TO CASABLANCA,MOROCCO
Happy Birthday to me! It is so amazing that I am in Morocco for my birthday. The passport control officer even wished me happy birthday when I came in yesterday! Didn't sleep much – anxiety or excitement – not sure which. Visited the Hassan II Mosque – took 7,000 workers, rotating twice a day, for 7 years – wow. All that work was done by hand.
City Hall was also amazing although my batteries died and I don't have any pictures.
Lesson learned – charge your batteries every day.
I have loved all the food and especially like the mint tea and the orange juice. Before dinner I had a wonderful surprise – gifts, and cake after dinner – completely unexpected!
This was one of the best birthday's I've had, and it was really great sharing it with everyone on the tour.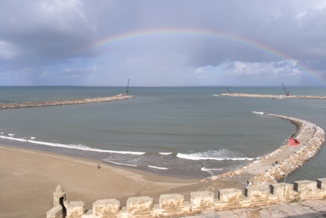 January 3, 2008 Day two.
Barbara Fleming barbaraf@rockisland.com
RABAT, STORM, CORK TREES & MEKNES
Awoke to the call to prayer, ate breakfast and left at 7 A.M. in our little bus. We drove along the Atlantic Ocean. It was pouring rain and the ocean waves were very huge. When we stopped for tea, the wind blew a window out near Meli--she held it while she was rescued by Lola. The beginning of a very weird day! Some of the tour members began to complain about the smell of exhaust on the bus. We continued to Rabat, driving through Muhammedia by some beautiful homes and palaces. We stopped at the Souk of Rabat (the capitol of Morocco) where the market was fairly quiet (because of the rain, I guess) but we took many pictures of piles of different colored olives, fruit, spices, and meat in the souk. We then prepared to walk through the narrow, clean streets of the walled neighborhood, Kasbah Oudaya. It was very lovely with blue and white walls and many beautiful creative doors. As the rain poured down, a piece of metal roof blew off and came close to hitting one of our group. We kept on in the rain and took many pictures. We ducked out of the rain into a book store that sold photos and bookmarks and postcards. The post cards and bookmarks were a good price and quality so we bought some for our friends and families and our book club members at home. We went into a weaving shop where the women are "always greedy" (according to Meli) and the women were having a huge argument. One of the women ended the argument by turning around and letting out a mourning wail--it was very scary and we quickly exited the building. We walked back down the streets of the kasbah and found out that the bus was "broken" and so we were to take taxis tolunch. Four to a taxi and there were not many taxis in the neighborhood. This was like a "Katz and Jammer" comedy--we climbed into a taxi and the taxi driver acted like he knew where to go, but really had no clue! Of course none of us could tell him where we needed to go, so we made sure he went back (with the taxi full of us)to the origin of the ride. Meli was expecting that the taxi would be empty but she re-directed the driver and he found the restaurant. Meanwhile, Haji is on his mobile phone telling his wife (who is in Casa Blanca) that he is wet! You see, Haji is very fastidious and his beautiful jillaba was very wet so he removed it. We now know what he wears under the jillaba! We finally all arrived at the restaurant by the raging sea where we dried out in front of the fire and had a nice fish lunch. The bus was able to come back for us and we continued on to the Muhammad the 5th Mausoleum, where we were nearly blown off of the steps with the wind and rain. It continued to rain on our way to Meknes but the country side was lovely. We stopped to gather cork bark which had been stripped off the trees. The trees are getting a big dose of rain today. The country really needed the rain, maybe the visit from Northwest U.S.A folks brought the weather. We went on to the Hotel Riff in Meknes.
Dinner was at the Spanish restaurant Sungria and then on to bed.
January 4, 2008--Day three
Ingrid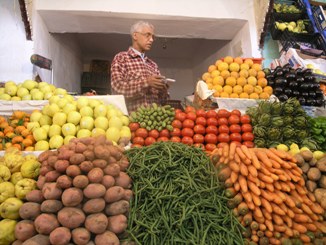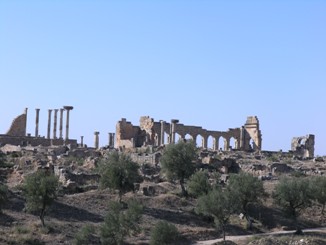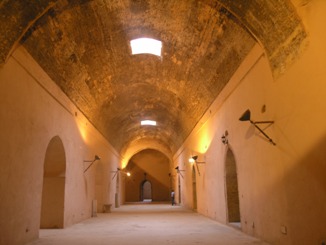 WE DO NOT HAVE THE ENTRY FOR THIS DAY
January 5, 2008--Day four

 

Barbara Fleming barbaraf@rockisland.com
Heard morning call to prayer loudly this morning.   As we took a tour 
of Old Fes from our hotel in New Fes, Haji explained how to be in the 
souk.   "Ella"  is "NO' AND "BELAC" , means "get out of 
the way". Usually donkeys coming up the narrow 
pathwaysbetween the buildings. 
Meli led a discussion about Judaism.   
The Sephardic Jews were kicked out 
of Spain in 1492 and welcomed in 

Morocco

.   
They were salt 

merchants and the word for salt is "Mela" so the 
jewish quarters are called "Melas".  
We passed a large vetinary hospital which is sponsored by an American woman for the care of all of the donkeys in 

Fes.
 

We drove through the Jewish center with it's Spanish 
architecture--the Andulician neighborhoods established in the 15th century.   
We then entered the Fes Medina and market.   The buildings are very old and
 some of the walls appear to be leaning and are being reinforced.  
The right of way is given to the donkeys and you could hear "belac" often 
and had to dip into a doorway to avoid being bumped by a donkey.  We were all anticipating this experience 
and were all clutching our hand bags if we had them  Many pictures of 
donkeys were taken.   We went into a brass and copper and silver engraving shop.   
The owner had engraved the palace doors when he was young.  We then went on to the leather 
cooperative where we viewed young men
 dying leather by walking on the hides in the big dye vats. 
There were many leather goods to buy.   We then went to a weaving cooperative 
where several of us purchased scarves, table cloths, and 
bedspreads.   The owner wrapped the scarves around our heads and we had our 
pictures taken.  Our lunch was at the souk in a beautiful 
room full of lovely mosaics, stained glass windows and carved plaster and wood.  
This was a delicious typical Moroccan lamb   meal.We the drove on to  
a fabulous ceramic dish and tile company--everything made by had and fired in an 
old kiln in which olive seeds are burned to bring it to temperature.   
The smoke from the kilns is black from the oil in the seeds.  Many of us bought 
dishes (they do take Visa, but these purchases will be heavy in our bags 
on the return flight).  We then hopped (or limped) onto the bus and went back to 
the hotel full of sights, smells and purchases. Our dinner was pasta 
at the hotel (for a change) and then to bed because tomorrow starts early again!
Barbara Fleming
January 6, 2008--Day five


ATLAS APES, ZIZ VALLEY, MOUNTAIN RIDE
             

January 7, 2008--Day six 

Lola 

lhdshaw@rockisland.com
ERFOUD SOUK AND SAHARA  TENT VISIT WITH A BERBER FAMILY AND GOATS
After  a nice breakfast at the hotel we were off to the Souk 
to buy food for our visit to the Bedouin family.  
A note about the trip to thebreakfast room, 
however, as this 
hotel has the greatest collection of well fed 
cats!  Five of them were all curled up in one chair.
Our job at the
 Souk as divided up with each person buying
 one thing.  Julie and I had the meat detail and 
watched in wonder
 as the cute youngbutcher weiled his cleaver 
with remarkable skill.  After our food buys we wantered about with 
everyopne looking for something different, 
and some of us just looking.  Julie ran into a treasure trove of dancing
 things and did well with her purchases.  
Zora found an older piece of jewelry and some of us were glad to find a bathroom.

We then climbed into 3 range Rovers and headed out of town.  Five of us (including Meli) rode with Ahmed 
who had excellent English, is a Berber and married to a Scottish woman.  He also gave Meli quite an update on 
what Haji had said to the Bedouin family the last time they did the trip.  Very interesting.
Our first stop was at an adobe/stucco type house that was sporting a Solar panel!  It gives them enough 
power to run lights,TV and the ability to re-charge their cell phone!  We then traveled a little further to the 
fossil beds where an eager group of young men were waiting to show us their finds.  Everyone supported 
the local economy.  Then, we were off to visit the Bedouin family 
who have a stucco/adobe house but also the
typical black goat hair tent.  We met with the women of the family: A mother, her two daughters and 
a daughter in law. The tent was very clean and well kept grounds surrounded the area.  They showed 
us theirhandwork and were very good about answering 
questions we posed to them.  It wasfascinating to me to watch their diction as when they speak they 
form the sounds behind their teeth with 
their lips barely moving. A more graceful, confident group of women would be hard to find.
We then drove over desert road, which in this area turns out to be more gravel and dirt than sand at this point. 
 As we got closer to the
 Hotel, the beautiful rose colored dunes began to appear--tall and sharply .Crested they stood out clearly 
against the blue sky. 
 Hotel Timbuktoo was awelcome sight.The best shopping buy of the day (outside of the food) was at the black tent 
where the younger daughter 
had her lovely little dolls to sell. 
Several of the group had brought her fabric to use for future dolls.
Lola
January 8, 2008 Day seven 

Carole Davis 

 

bbe@rockisland.com
SAHARA TOUAREG HOUSE EXPERIENCE AND CAMEL RIDE
Day seven in the Sahara was a day of contrasts. It was a day of mystery, magic and men in blue.
It was a day of camels, coughing and caravans. It was a day of sun, sand and sales pressure.
It was a day like any other and a day like no other - fascinating, fun and full.
Our visit to the Touaregs was captivating.
My infirm brain (some respiratory bug) muddled the facts. In a perfect world the statements
below would be called literary license. But regardless of their veracity, the essence, the tidbits,
remained and left us with a feeling of fascination for the Touareg culture.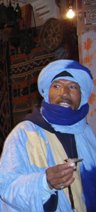 Touareg = house Touareg = many
Touaregs are the traders of the Sahara.
Touaregs are the nobles of the Berbers.
Touaregs are pastoral nomads.
Touaregs founded the city of Timbuktu.
Touaregs have their own Tamasheq language.
Touaregs are people who explore the world without knowing their destiny.
Touareg men cover their mouths to keep the evil spirits from entering.
Touaregs are the blue men. Indigo pigment protects skin from sun.
Touaregs are matriarchal/matrilineal. The women as poets were responsible for passing along the traditions
and culture.
Touaregs wash their hearts each night, as tomorrow will be another day.
Touaregs are the aristocrat Riders of the Desert.
Touareg blue men are Guides of Darkness.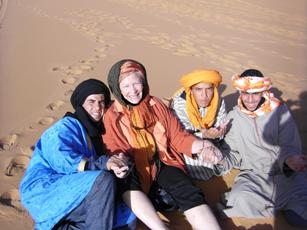 Touareg symbolism and culture are stunningly expressed in their weavings and in their jewelry. Women wear the key of the veil to announce their availability and to assert that no one, even the wind, can open their will without their permission. Blue is fresh and cooling in heat. The figures in their weavings symbolize kasbahs, rivers, palms, tents, valleys, sky, water, wind. Swords symbolize marriage and protection. The hand symbolizes equilibrium, life and protection of space. Crosses signify the four cardinal points and are often given by parents to their sons at the rite of passage of leaving home, inspiring adventure and independence, but forever a reminder of home.
Abdul, our speaker, was truly a poet. He inspired us with words. "The wind shall make us pure." "The Sahara and we - we are one". "Our spirits, not our possessions, are the essence of life." However, the expression of this beautiful life philosophy belied the gouging prices, the hard bargaining and the un-relenting game playing that characterized the sales pitch that followed. We truly were like lambs well tenderized by poetry for their subsequent sales slaughter. Despite this, I am certain that the rug and jewelry buyers in the group are well satisfied with their purchases and are pleased to have a tangible memory of this incredible experience.We digested our morning along with eggplant/pepper salad and chicken/lemon tagine at the Hotel Kasbah Asmaa. Then after a stop at the drug store to stock up on supplies (thank God for four nurses on the trip!!), we headed for our camel adventure.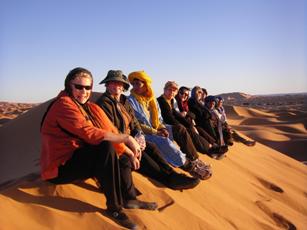 This was the first camel ride for many of us. Some of us had gone also the night before. Some of us had tried it years ago. And some decided it was not their thing. But most of us went at least one of the times and loved the experience. One camel was named Jimmy Hendrix. Hmm - where did that come from???? Getting up and down was truly a seismic occurrence. The "saddle horn" was a steel bar to grip. Some of the saddles were like well loved sofas that rocked us along the way. Other saddles were like bony intrusions that insinuated themselves into our private areas. And the lack of stirrups made stability an iffy prospect. Despite any discomfort, oh, how magnificent the ride! The sky was soooo BIG with popcorn clouds dotting the endless blue. The expanse and the view of the horizon and the dune-top peek of Algeria were exhilarating. The camels and the Touareg boys who led them were full of personality. And the toffee colored glow of the sand left many of us with the opinion that this Sahara was one of the best parts of the whole Moroccan experience.
Shukran Meli. Alhamdulillah.
Carole Davis
January 09, 2008 Day eight Janice Ekstrom eap@rockisland.com
MERZOUGA,ER RISANNI, ERFOUD, TINGHIR, OUARZAZTE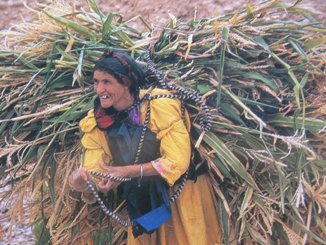 Amber gold sand of the Sahara fades in the distance……..
We learn of ancient water collection systems as we travel the black arrow-straight road……..
Ahhh, a fossil museum----change direction-----what a surprise for the proprietor….
The distant hills are a purple haze reminding me of eastern Washington in the evening…..
Camels graze along the road---some with brown and cream spots, how strange……
Black robed women in the market town with small children tied to their backs.
Little heads, some nodding, some gazing about wrapped in black cloth…..
Trucks in the market with piles of orange fruit…..
Goats riding on trucks…..
Mounds of sand surrounding a dug well, two posts and a cross piece for raising the bucket…..
Red carpets hanging from balconies, roofs and windows…
A lone woman dressed in black and brown walking in a gully…..
A group of four little boys sitting with knees together playing a circle game…..
Girls walking arm-in-arm…….
Pink rose walls—plastic bottles along the roadside glitter in the sunshine…
Girls play a rope game…..it looks familiar…..
What can the small herd of sheep find to eat on this piece of land that looks so barren?
An amazing red-walled gorge with brilliant blue sky…..
Impressions of Morocco….
January 10, 2008 Day nine Julie SafraBD@aol.com
TOURUDENT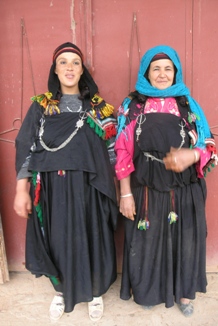 Early departure today, for me at least. Anything before 10am is hard for me (lol).
I bought the greatest little cedar horse. We had a wonderful lentil soup for lunch -
something I've been waiting for since we started the trip. Unfortunately,
a few in our group were feeling worse. It is hard to see folks being miserable.
Meli's rule of becoming a family really applied today.
Everyone pulled together to make the sick folks better.
Having four nurses certainly made this pharmacy stop easier
and we got the appropriate medicine. Hopefully all are on the mend now.
January 11, 2008 Day ten Barbara Fleming barbaraf@rockisland.com
AGADIR
Beautiful Hotel Palais Salam in Touredent was built for a General and
his Harem. The garden is beautiful. We left at 10 A.M. First stop was
the pharmacy.All of the ill tour members are feeling better today after
the taking the drugs dispensed by our nurses (drug dealers). We
drove through orange groves on our way to Agadir along the Massa River. There are many mansions in Touredent
including one that belonged to the Shaw of Iran and the former president of France. The area is lush
and has an availability of water therefore, grows much of the fresh produce for Europe. The shepherds
looked like they belong in a Christmas Pageant in the US--all in long striped jillabas. Agadir was completely
destroyed in an earthquake in 1960 and has been re-built . There seemed to be a lot of buildings right
on the water--The story goes that the inland farm lands were coveted and were inherited by the boys in the
family and the waterfront was inherited by the girls--so the women are profiting from the construction of
the big hotels on the water. We stopped for lunch in a lovely garden restaurant on the sea in Agadir.
Haji's daughter, Nadia, her husband and her daughter,Yasmine, joined us for lunch. Yasmine gave each of
us a rose and a kiss. After lunch, some
of us walked in the Atlantic Ocean. We then left Agadir (a city of 1.2 million) and drove on a windy road towards
Essaouira. The Argan trees were on either side of the road. The Argan tree is unique in that it is a species
endemic to the south-west of Morocco. The tree has small leaves and two to three inch thorns.
The pit of the fruit it produces is used to make argan oil now called "liquid gold". The husks of the
fruit are often eaten by camels. Goats are known to climb the trees to eat the fruit. This is no longer
encouraged except for the benefit of tourists. We finally found the goats in the trees and we stopped
to take pictures. Some young boys were tending the goats and when we did not give them money, they
threw rocks at the goats to get them down from the tree--boys will be boys. There were also many
banana trees along the route. The bananas were so sweet. Haji stopped and bought some for us.
Vreni put the stems in her mouth and we took a picture, my she has bad teeth!
We arrived in Essaouira in the afternoon and checked into our hotel Des Illes which is a short walk
from the Medina. We walked into the medina and had dinner on our own and explored the stores.
Such a sweet place--we felt completely safe and happy and our dinner was delicious.
Barbara Fleming
January 12, 2008 Day eleven Lola lhdshaw@rockisland.com
ESSAOURA
Lovely breakfast dining room overlooking a lovely day at the shore. 
Good buffet and passable coffee.
 The health of the group is sub-par but everyone keeps up great spirits.
Down to the harbor where someone must have had a great buy on blue
 paint! Lovely boats ready to go out for herring, and big bulky boats for tuna.
 The souk follows the old Portugese buildings along the seawall.  
Lots  of shops and lots of things to buy.  Everyone getting more comfortable with
 "haggling" and doing a good job at it.  HJewlry seems to be one of the bigtems here.
 Dinner tonight at a nice restaurant where we had our first introduction 
to"Ingine" which hopefully someone knows how to spell.  However, creme
caramel is getting to be the dessert of the trip!
January 13, 2008 Day twelve
ESSAOURA, ARGAN OIL, MARRAKESH
Highlights - groves of tangerines and oranges, bananas covered with plastic houses.
To the Aragon Cooperative where we all bought the elixir of life
to help us loose 20 years overnight! and lots for gifts. On to Marrakesh which has one
of the larger central plazas in the world--which we ventured into after dark and had
dinner at one of the many food stands. Somehow, Marrakesh does not seem quite as
great as Essaoura to me, but we did get a good buy on a suitcase to bribe Barbara into
taking Janice's and send my things home.
January 14, 2008 Day thirteen
MARRAKESH
Lovely hotel, very swish but yet has a colonial feel. Breakfast room full of men having breakfast,
and us. Maybe the wives do not cook in this
country. Back to the Souks with guided tour by Haji, and then folks split off and went wherever.
The Souk has fairly narrow winding streets and could be
very confusing at first. Found an interesting wood working shop, nice tops and shawls
of wonderful colors, Museum with small but very good
quality exhibit, spice shop with everything to cure all the ills of the world.
By noon, some of us had had our energy depleted and enjoyed a horse and bugy 
ride back to the hotel.  Organized stuff and got ready for our
farewell dinner at a typicl Moroccan restuarant that was full of couples and local folks; 
and  complete with a dancer that was quite remarkable.
 A wonderful ending to a god two weeks.
January 15, 2008 Day fourteen
Every one had a different flight to get out of Marrakesh. The first good bye was at 03:30 am.
You can imagine not many people were there to say final good bye. The next one was at 06:30 .
By 10 am all of us were out of Marrakesh with wonderful memories of each other and of
Morocco.
See you all on another MELITOUR tour.
MELITOUR HOME PAGE MOROCCO TOUR MOROCCO PICTURE JOURNAL