We waved good bye to some of our tour members before we started our day for the cooking class.Our driver Mustafa came with a well maintained van. Corol, Janine, Dan, Linden, Frieda and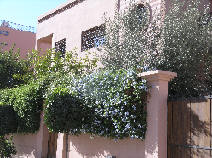 I were ready for the experience but we really did not know how it will go. This was the first time MELITOUR had offered cooking class in Morocco. We were driving through the back streets of Marrakesh. The farther away we got from the grand avenues, the narrower the streets got and the more colorful looked the flowers which were hiding the pink painted two story high houses.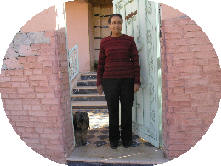 We stopped in the front of a house. rang the bell. We heard a dog frantically barking announcing our arrival. The door opened. Zohra and the little dog greeted us with a big smile. ( Or it seemed like the dog was smiling too. Before we went in the house, we have decided to go to shop for our vegetables and spices. Zohra joined us in the van and we drove few blocks away stopped at a shopping ally.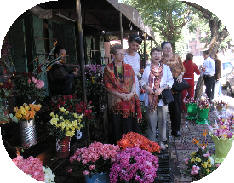 The flowers of all colors were glowing in the sun. This reminded us how Haci had greeted us all every morning on the bus," SABAH EL WARDA" saying may your day be like a flower. Yes starting the day with flowers in Marakesh!! There were butchers, grocery shops and vegetable stands through out the covered "bazaar". Zohra purchased two different kinds of meat. 3-4 kgs. of each. Then we walked to the vegetable stand. While she was buying the vegetables, I saw fresh black eye pees. I thought, I could make a Turkish salad to go with our Moroccan feast. I started getting what I needed. The bags were full and we were all ready to start the COOKING CLASS IN MARRAKESH.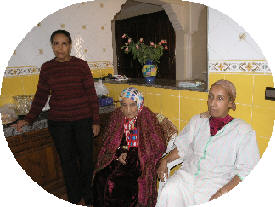 Our teachers were two sisters. They told us that they have learned every thing from their mother who was now 84 years old and was very proud of how how her daughters were doing.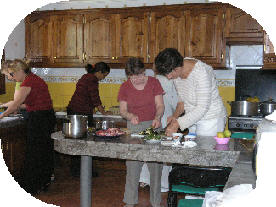 The kitchen was very spacious. We started working immediately . We were going to make two meat dishes today. The pots and pans and plates were old but immaculately clean. We cleaned the carrots, eggplants, onion. The spices, chopped parsley, onions were in little bowls. We found out that Zohra watches cooking classes on the TV and she learned how to organize the ingredients from her morning TV programes. It was a tedious work.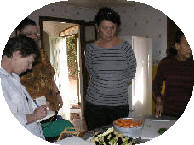 Carol and Linden were keeping notes. Every one was speaking at the same time making sure that every ingredient, every measurement recorded was right and for the correct recipe.
PLEASE CLICK HERE FOR THE RECIPES
When all the food was on the stove, we were served cookies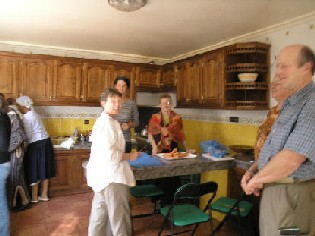 and mint tea. All the cookies were great but the almond cookies were to die for. It took us four hours to prepare our lunch. Now we are ready to see what we have done. There was a bundle of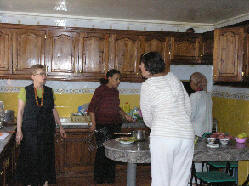 embroidered table cloth and napkins. They went upstairs first. Then the plates. The table was ready for seven people. We were wondering if the seventh person was going to be the husband. But no!! Husband's job was to serve us. Zuhre sat with us and gracefully accepted the compliments on her excellent cooking.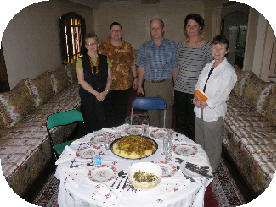 We had our tea and we were ready for our siesta at the hotel. Our van picked us . What a wonderful day this was. We had great fun and we were certain that we could surprise our friends and relatives on thanks giving and Christmas with our new acquired talents.
We made our appointment for the next day. We were going to sleep in and return to the house at 10:00 o'clock.
With lots of smiles on our face we returned to the hotel. We could even say good bye to Sharlene, Jacquie, Anne, Rain and Gary who were getting to leave for their long flight back home.
The next morning, before we went to Zohre's house we sopped at the vegetable market again . Meli wanted to prepare another Turkish Salad to go with our chicken tagine. We bought celery roots, potatoes, olive oil and few more things. We are ready for the cooking marathon. In fact really better prepared because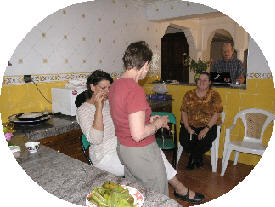 this time we have allocated Dan to be scriber. He came with his computer. We were amazed with his skills of keeping track of 4 recepis, 6 woman dictating the ingredients and directions almost all at the same time. He did it . Every word, every direction was recorded. PLEASE CLICK HERE FOR THE RECEPIES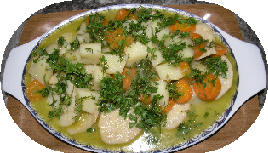 Hac joined us for the lunch. Again we had a wonderful time. The group had a great idea. Instead of tipping the family, we wanted to give them a new pressure cooker to replace their broken one. We dd get a very nice 10 liter cooker. When Zora was given the big box, she was speechless. All she could do was give us a big hug and a big smile.

MOROCCO PICTURE JOURNAL

MOROCCO ITINERARY

MELITOUR HOME PAGE