The morning began with our first breakfast, and our first boarding of our trusty bus for a ride the mosque Hassan II. With shoes in hand we toured the magnificent building, marveling at the intricately carved plaster, the chandeliers (with compact fluorescent bulbs), and the lavish washroom. We were also treated to Hajji's prayer demonstration, which was beautiful and illustrated the building's fantastic acoustics.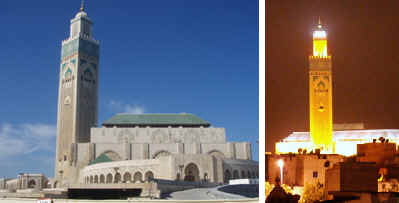 From the mosque we traveled south to a broad beach, and dined at a beach front restaurant on rice with vegetables and tuna, and a huge plate of fried fish, served family style.

Then we were off to visit the Mayor's office, a beautiful and sparsely populated building.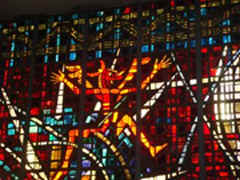 Then on to a less than impressive looking Catholic Church that concealed a spectacular display of stained glass windows, streaming with colorfullight. Leaving the church we entered a medina, visited our first olive market, bursting with colors and tempting with a broad variety of olives spiced in as many ways.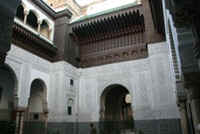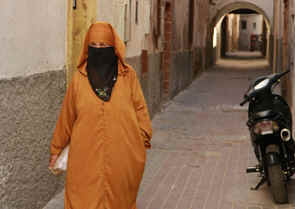 We proceeded on through a carpet auction and paused for a mint tea break at a sidewalk café, sharing olives and talking about the morning. Then it was back to the hotel where we were turned loose to explore on our own, or nurse our jetlag until dinner.
( the picture of veiled woman by Carol Ries)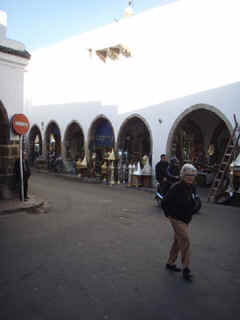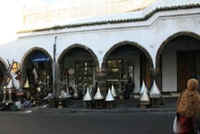 At dinner we were treated to our first of what promised to be many chicken tajines, with a nice vegetable couscous.After dinner, we received our marching orders for the following morning and it was off to bed. Day one was a very nice introduction to Morocco, setting the tone for the days to come.