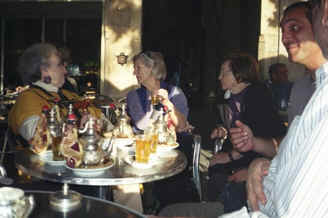 We took the tour bus from Casablanca to Rabat. During the trip Meli, by request, gave us a brief talk of Islam and some of its main tenets, which was very interesting. We passed a lot of sheep and cattle in the fields.  Signs along the road advertising "Palm Beach", "Eden Island", "Sahara Beach", Cafe L'Miss, Pizzaghetti, Club Ski, There was high surf with foam in some parts of the water (the Atlantic Ocean), lower surf in other areas, with fishermen and many birds on the beach in places.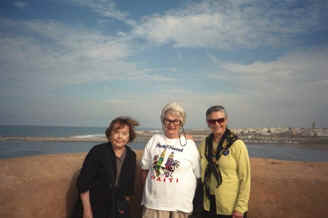 Interesting to see so much cactus just like in West Texas and Mexico, wheat fields, beautiful yellow flowers, a golf course,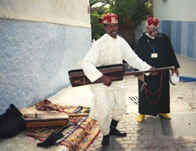 the King's sister palace, horse-drawn carts, roadside vegetable and fruit stands. A lot of new construction and many luxury week-end homes for the wealth who came for vacations. Also some beautiful high cliffs.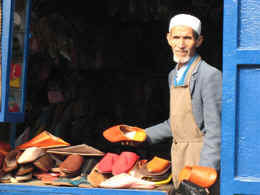 We saw the Casbah at Oudaya Andaluz, a Muslim cemetery. Had lunch at a charming restaurant. Saw the Mausoleum of Hassan II, the Hasan Tower (from the Mohad Dynasty), a member of the Touareg tribe (?)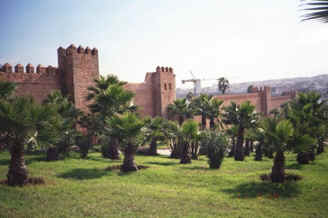 in the traditional blue clothes and turban, on a horse, and a Berber in colorful traditional dressand the water cups. We went to a weaving center where the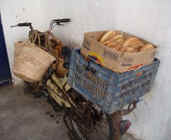 women can make carpets and sell in the souks as well as at auction. We passed trees where the bark is scraped to make cork. Along the road there were occasionally Berber hats on display in trees. I don't remember the symbolism or reason for that. We went through the small town of Touflitz (sp?)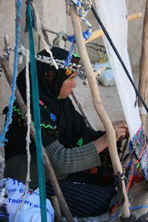 and also saw women picking olives. In the town of Khemisett (sp?) we had lunch at the Hotel Diouri (good cappuccino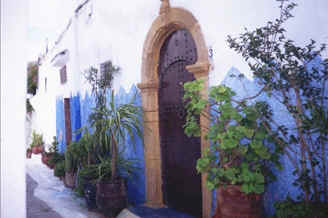 for only 10 dirham, better price than Houston!) There were also people selling escargots on the side of the road occasionally, which Meli said is against Muslim rules to not eat shellfish, but the people need to earn the money. We were introduced to the covered casserole dish called a "tejine" which was very popular throughout the trip. We stayed at the Hotel Rif that evening, and had the best pumpkin soup I've ever had! It was a night with a full moon and a good ending to a good day.