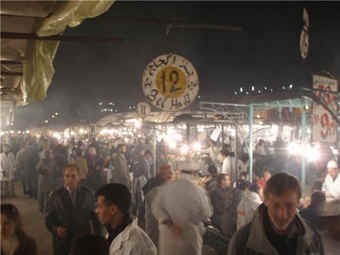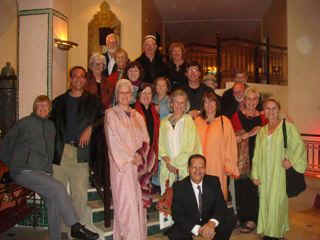 Melitour loves the free spirit of the travellers. At the end of the tour, every body goes their own way and enjoy what they choose to do more. Getting train tickets, arranging vans, extending hotel reservations, organizing cooking classes can all be easily done once you arrive in Morocco.
Thank you every one for being such a wonderful group.



Marrakesh Jmaa el Fna by Fred Gerber
Jane and Dick had already left the tour a couple of days ago due to an emmergency.
Mark left the hotel soon after midnight to catch the train to Casablanca for his flight to the USA.
Meredith, Bob , Phylis, Milly and Dick chose to fly out of Marrakesh today to the USA via Madrid.
Dick and Judy met their host and went off for the Moroccon Cooking class.
Dolores, Grayson, Key and Reymona rented a van to see the famous gardens of Marrakesh. Later Meli and Haji joined them for a 4 hour ride to Casablanca.
Fred and Ze wanted to have one more day at their beloved Marrakesh.
Harry and Carol love taking pictures. They have decided to drift around Morocco for few more days and end up in Casablanca. they have made arrangements with Haji to stay at his house and meet his family.
Kirsten and Laurie decided to spend three more days in Marrakesh and relax before their long flight back home.