Day 3 September 2, 2010 Day 04 Table of content for Eastern Turkey Tour Journal
Thursday Trabzon - Ayder
Submitted by Diane Mitchel
Left hotel at 0830 headed West toward Rize. The modern highway was built on fill along the seashore. It support trade with Georgia and Russia. We could see extensive land slides near the road. the deforested part of the steep hills were rolling down, blocking the new highway.

Rize.Hazel nuts were scattered on the sidewalks. It was the end of the harvest season. The lady walking on the highway was carrying her day's harvest on her back.
| | | |
| --- | --- | --- |
| | | Stopped at a beautiful reconstruction of an Ottoman mansion that was a Caykur tea showroom and museum at Surmene called Kastelli Konagi. The kitchen had a large arched fireplace with an ingenious design for a window that could exhaust the smoke when top of the chimney was closed in the winter. Upstairs, there were rooms for women and men. One of the rooms had a beautiful ceiling. The curator of the museum played his Kaval for us before we left the museum.Stopped at the municipality of Iyidere to meet with the Mayor and see a cooperative weaving and sewing workshop The municipality includes a city with about 5000 people and seven villages with another 5000 people. The municipal cooperatives support around 5000 people. The women seemed very proud of there craft and we enjoyed selecting some items from their shop. |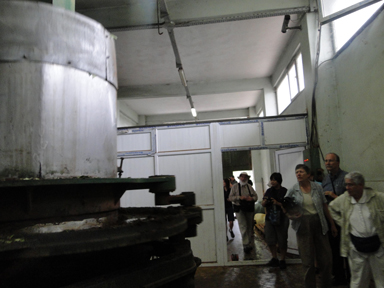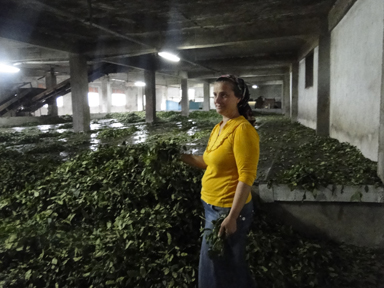 We stopped in Rize for lunch at Husrev for their world famous beans plus rice, pickles and cay. It was delicious! On the way to Ayder we stopped at a tea factory operated by a local village. They showed us the entire process of drying; grinding and sifting the tea. Apparently, a hundred kilos of tea leaves produces only 8 kilos of dried and finely ground tea. Next we stopped at a cafe along the Firtina River for some rice pudding and view of an arched Ottoman bridge
Today is the last day of fishing ban in the Black Sea
Quote of the day from Meli. Cooking is an art; baking is a science.