BEAUTIFUL!!!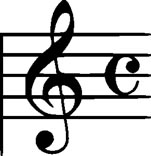 We had our language lessons the first thing in the morning. Musical ! Sabah el Khir , Sabah el Nur ( May your morning be washed with heavenly light), Sabah el Ward ( May your day be full of the scents and the colors of the flowers)
Then we had the big guy, Rachid teaching us Berber K EYF HALIK - How are you? MERHABA - Hello, welcome still musical! SHUKRAN - thank you.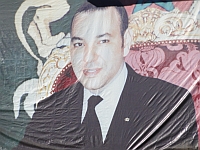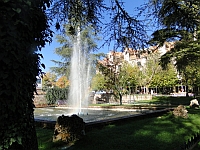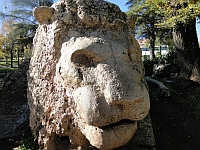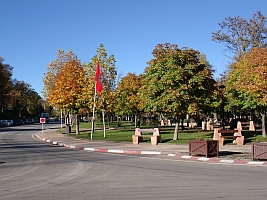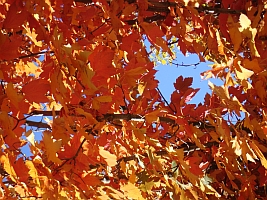 Our first stop was Ifran. It is the beginning of our ascend to the Middle Atlas Mountains. The beautiful town I have seen in Morocco. With fall colors, perfect streets, lush gardens, broad sidewalks, manicured parks and beautiful homes. I could move here. It was showing all her fall colors. The best patisserie and good coffee so far. Jim discovered how to deal with a Moroccan bank after the ATM machine consumed his card and announcing it a stolen card.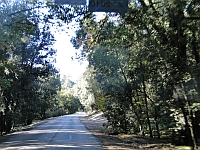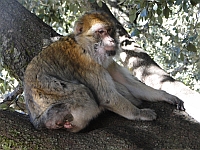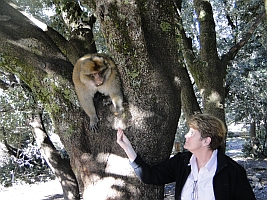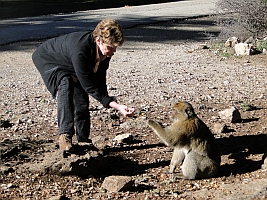 1700 meters in the Middle Atlas Mountains, sometimes you travel in a dense canopy of cedar trees. Then you come to a clearing where you can see what seems like forever. Cathy misses her dog so music that she wanted to hug and kiss and love every creature on the road. Carl banned her from touching another creature walking on four legs. But when we saw the Atlas apes there she was. Cathy could not resist buying peanuts to feed them. It made 2 monkeys and Cathy's day .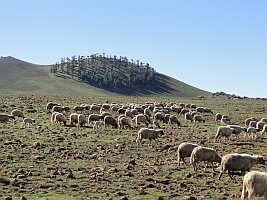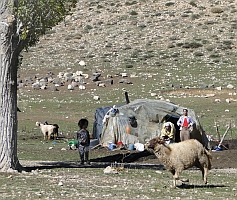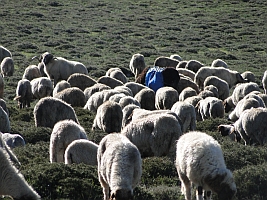 As we were stopping to catch pictures of herds of sheep, the driver's traffic regulations education was in jeopardy. Though we did give him a little flexibility, he was able to pull to the side of the road according to his manual before we all jumped out for a shot of shepherds with their donkeys and sheep of all colors. He made us promise that we would at least let the car come to a full stop before jumping out. After the 10th herd, he got the routine down so well, we had to deprogram him not to stop at the sight of a sheep anymore.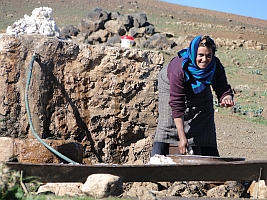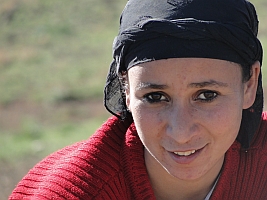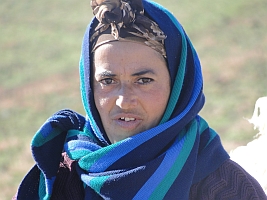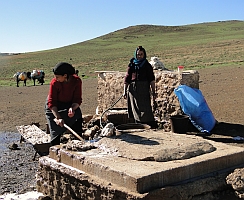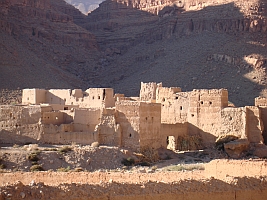 The terrain at the top of the Atlas Mountains is very rocky.
Carl said," This must be the MORE ROCK in Morocco! ".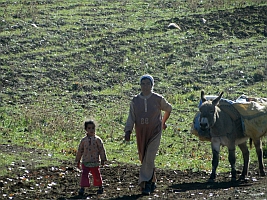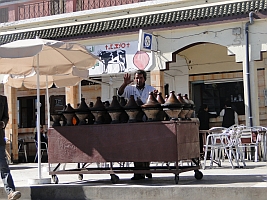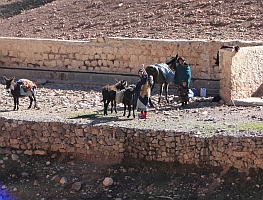 Few of us had an emergency stop. If you know what I mean.... As I ran towards the WC, two young Berber girls looked at me and started laughing. They tried to talk me going in to the restaurant to use their bath room. I said no this was fine. they had a look of part terror part hysterics. they showed me the way as they started to laugh. I went in and found a hole in the ground and two foot rests - It was a big squatter - a hole in the ground. But it did not bother me a bit as I was used to Middle Eastern facilities.
We had a Berber lunch in Midelt at Hotel Aisha.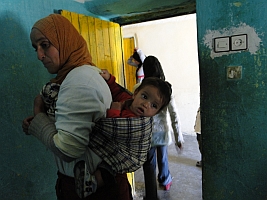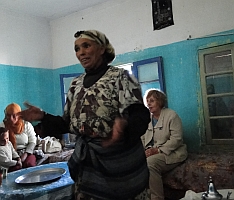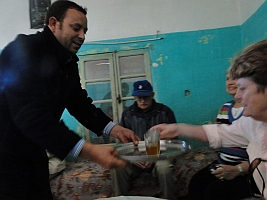 It was so important for Meli to show us a Berber house hold that she jumped out of the van and took us to the wrong house. These poor people were so welcoming even though they had not have a clue who we were, all 10 of us. the father of the hose did not know what to do with us. He quickly took us to the back of the house to show us his animals.
The man's three wives were surely wondering if Meli was to become the fourth.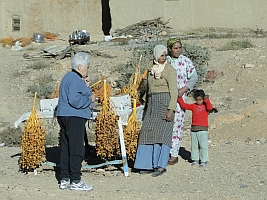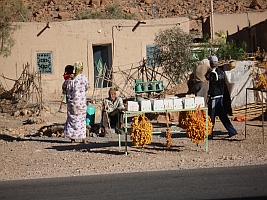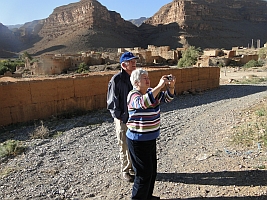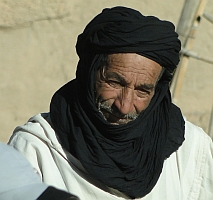 The Afternoon of discontent: Me with out coffee for at least four hours...
It was about this point in the day when we all became restless. All of a sudden the gas fumes became an issue and led us to windows up and down arguments. Rashid , the guide, became the main character in the musical chairs. Every one had a different idea where He should sit. We demoted him to the back of the bus. He was so upset he all of a sudden had a horrible head ache . When it was time for another rest stop, for reasons unknown to us, he passed the only bathroom in the mountains. The bath room hunt started in the streets of Er Rashidiye and continued until all the girls started screaming... In search of the bath room, the driver and the guide could not agree where to stop and their conversation reminded us of Laurel and Hardy - They talked a lot but did not get any where.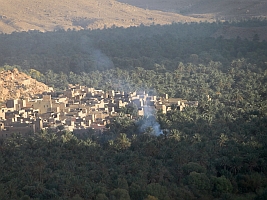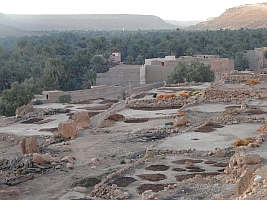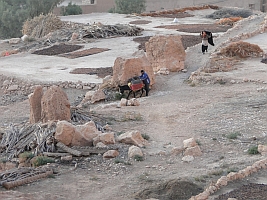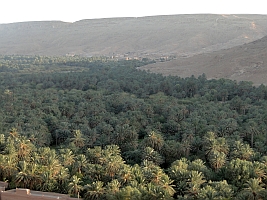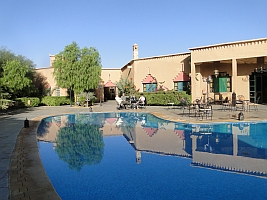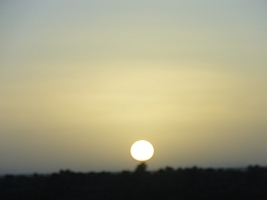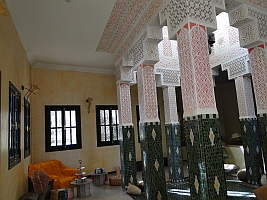 At sun set we arrived at our hotel : The Palmes Hotel
Click here for Day 06 Merzouga
Group journal index
MELITOUR home page