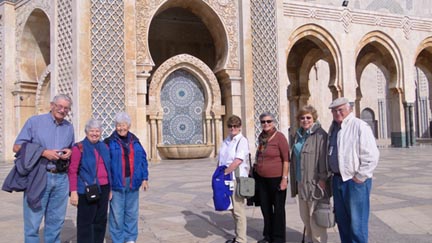 Carl , Joan ,Winnie , Kathy , Carolyn ,Carol, Jim
Our first group picture in front of the one of 28 fountains
of Hasan the 2nd's Mosque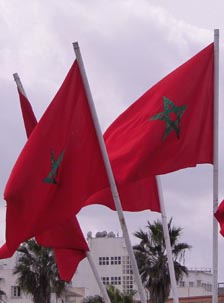 Since the first time I came to Morocco 10 years ago, I have always had Haci as my guide. Unfortunately, Haci had passed away two weeks ago. We will have a brand new guide, Rashid. I am hoping that he will be as nice as Haci.
A new tour is starting and I am very excited. I want every one to enjoy and fall in love with Morocco, a country that has so many wonderful things to offer to travelers. We all met at the breakfast hall. The favorite breakfast dish was the potatoes cooked with onions. Some of us felt like we need a strong coffee either to get over the jet lag or the fatigue of our previous journeys. After this great breakfast, the group had a rendezvous to have a group meeting at 09:30 AM.
At the far corner of the bar of the hotel we met our guide Rashid and the local tour assistant, Adel. Rashid looks like a fine gentleman.