September 22 - October 10, 2011
B A L K A N S
TURKEY , BULGARIA, MACEDONIA, ALBANIA,
MONTENEGRO, CROATIA, BOSNIA, SERBIA
Group Journal
Day 12 Albania Oct. 03, 2011 Monday
Itinerary: Visit the capital of Albania, Tirana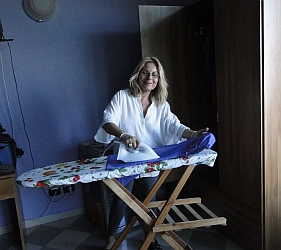 The beautiful view of Durres from my balcony and the ironed laundry made my day. My suitcase is now ready for the rest of the tour.
Every one is looking forward to our tour in Tirana and then the free time that we will have in the afternoon.
We met our guide at a lovely park. She was an excellent historian. She helped us understand the difficulties that this country had went through for ages. Enver Hodja isolated the country after trying to be an ally with USSR and then with Mao of China. finally he decided neither one will be good for them and chose to be 100 percent isolated.