September 22 - October 10, 2011
BALKANS
TURKEY , BULGARIA, MACEDONIA, ALBANIA,
MONTENEGRO,CROATIA, BOSNIA,SERBIA
Group Journal
Day 04 Bulgaria - Nessebar Sept. 25, 2011 Sunday
Itinerary: Border crossing, visit the villages along the route, lunch, visit Nessebar,
Hotel: 25.09.2011, Sunny Beach, Bulgaria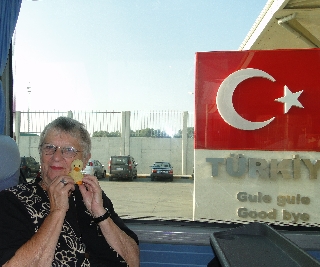 Border crossing was easy. As we were saying good bye to Turkey, Carol's travel duck was posing by the window. Stefan and our bus was waiting for us. Our first destination is the Black Sea Coast. We have to get there by lunch time.
Only half an hour after we left Turkey, we saw a donkey cart approaching. We stopped the bus. The farmer pulled his cart aside and greeted us in Turkish. He offered every one in the group tea. On the other side of the road , a woman was picking grapes. We were all invited to watch her and then we were all given enough grapes to last us for days. For the tour members who have not been with MELITOUR before were told by the other tour members that such spontaneous experiences are typical of Melitour.
Stefan already captured our hearts. He is a very nice
We had our first car problem., but obviously our driver is also a good mechanic.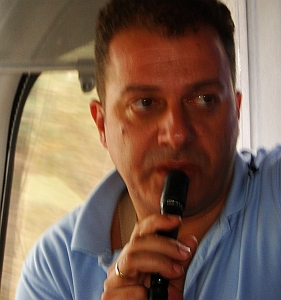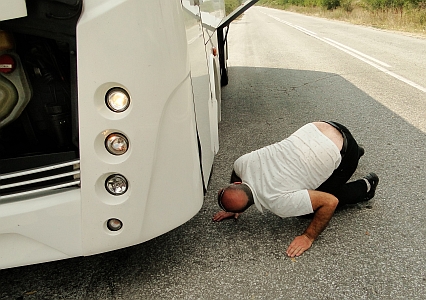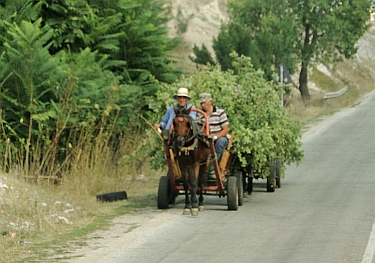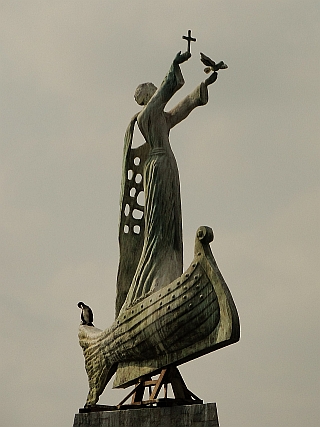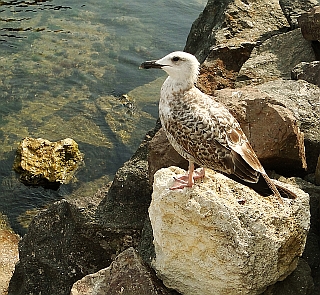 As we were approaching a resort town by the Black Sea, we were expecting the roads to get wider and easier to handle. But obviously on the east side of Bulgaria the roads are still big enough for horse drawn carts . Nessebar is on a tiny island which had been connected to the main land couple of centuries ago. The guardian angel of Nessebar stood high at the entrance of this old settlement.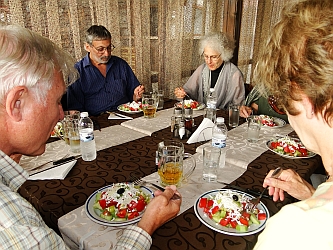 We had lunch by the Black Sea in Nessabar. The restaurant was not expecting such a big group. It took them a while to get all the orders served right.
After lunch we had free time to visit the old city of Nessabar. We liked the city so much that we have decided to return here for a longer time at the historic sites and the museum.
Our hotel is farther north by the water. We have one more hour before we get to our hotel.