September 22 - October 10, 2011
BALKANS
TURKEY , BULGARIA, MACEDONIA, ALBANIA
Group Journal
Day 08 Macedonia- Uskup Skopje Sept. 29, 2011 Thursday
Itinerar: Kratova, Skopje city tour, overnight at Mavrovo,Macedonia
Hotel : SRNA 3* Mavrovo area, phone +389 42 388 083
Click here for ►Day 09 Sept.30, 2011 Brajchino village, Macedonia
We stayed at the guest rooms of the monastery . Since we had arrived after sun set, we really did not know . when I opened the curtain and peeked through the double windows hiding behind the apple trees, I saw the monastery. It was a heavenly location. Once I walked all the way down to the bottom of the hill I found out that the Monastery consists of two churches the larger "Saint Joachim of Osogovo" and the smaller "Holy Mother of God." The monastery grounds also consist of a bell tower, dormitories, a guardhouse, and a residency for the Head of the Macedonian Orthodox Church. The monastery was founded in the 12th century, though there are no remains of the original monastery. The smaller church in today's monastery complex got its present look in the 14th century, while the larger one was built in the 19th century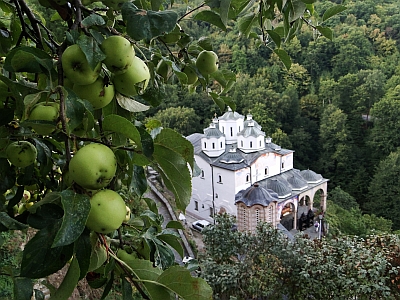 .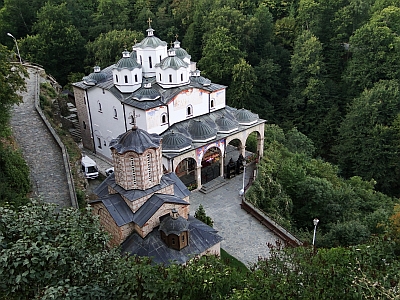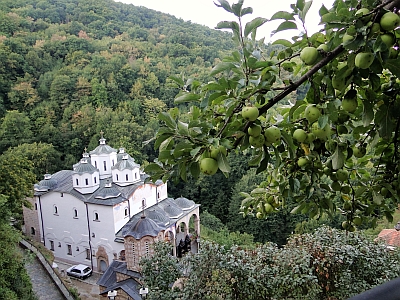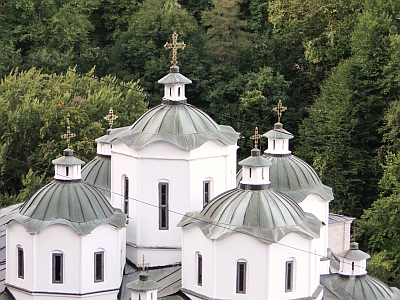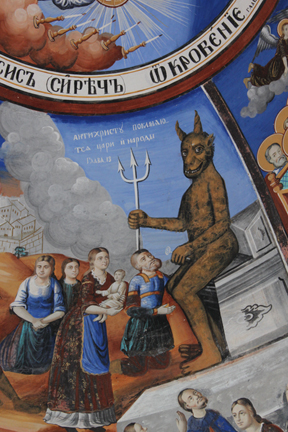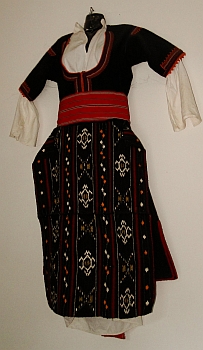 Long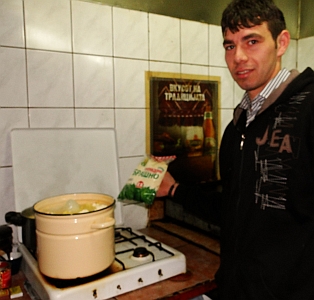 walk down to the church and back is a great excuse for a big breakfast. The cook made a soup for breakfast. The eggs were collected from the hen house. They were still warm. The beautiful dresses decorating the walls were warming the atmosphere. Last night we said good bye to Megan. Her brother joined us. Lee was very happy to have the support of her children.
After breakfast we left this green heaven like place and started heading to the capital of Macedonia, Skopje.
Clean toilettes and lovely coffee stops made our long rides endurable.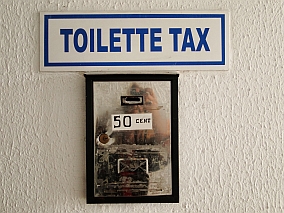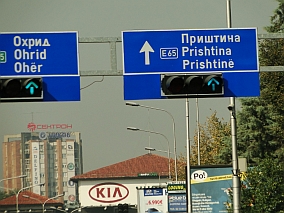 Before lunch we visited the ethnographic museum of Skopje. We all decided that this was the BEST ethnographic museum any where in the world.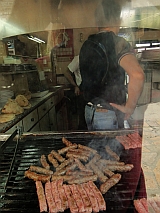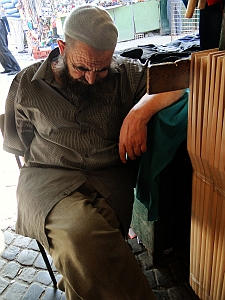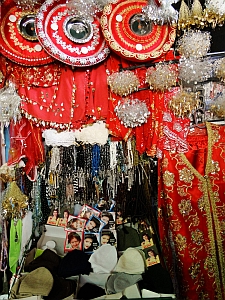 We had excellent meat balls in the Charshi of Skopje. Then we all went our way to explore the market. Fred preferred sitting by the fountain and check every person that walked by him. he says he loves seeing the different people . then he gives us interesting statistics: so many people had head scarves, so many women were wearing jeans, so many man has mustache ..........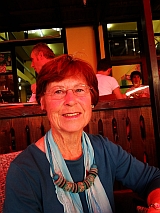 Most of us decided to have a leisurely day and have ice cream or beer while the others walked down to the new city to visit the house of Mother Teresa. Stefan lives in Skopje he is very proud of his city.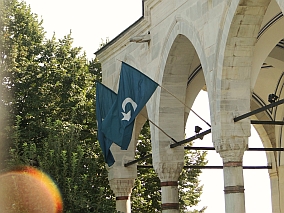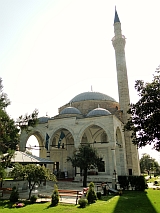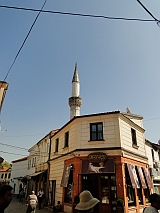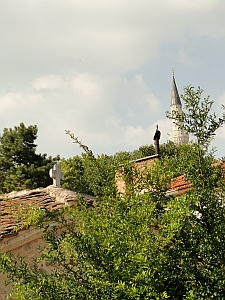 On the way back to our bus, there was a surprise for us. the Turkish prime minister Erdogan
was having a street block out . We had to wait for him to clear the road so our bus can leave.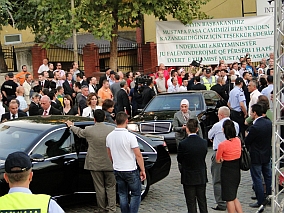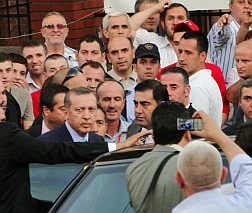 The driver had a beautiful embroidered sheet as a sun shade.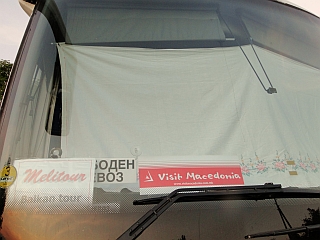 We left for Mavrovo for dinner and overnight.
Click here for ►Day 09 Sept.30, 2011 Brajchino village, Macedonia