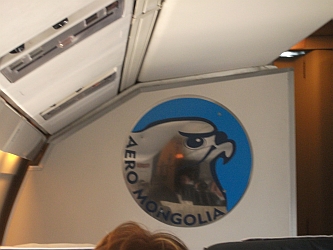 The Case of the Missing Tool
Boloroo accompanied Carolyn in an attempt to retrieve Jim's Tool which had been seized by the operator of the scanner last Friday on our first trip by plane out of Ulaan Baator. The Director of the Airport Office of Seized Dangerous Items said that because this office was closed over the weekend, the Tool had not been delivered to the correct office. It is supposed to be waiting for us on our return Friday to UB.
The flight to Bayan Ulgii lasted 3 hours and 15 minutes, and the local time is one hour behind Ulaan Baator. Our Fokker 50 overhead wing prop jet landed on a dirt runway along the side a concrete runway, currently under repair. Bayan Ulgii is at an altitude of 5,285 feet.