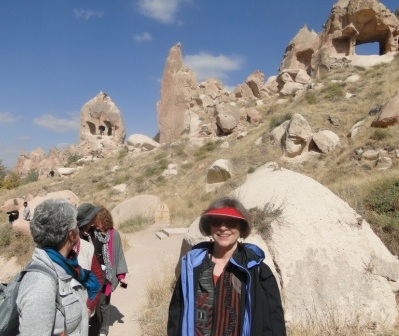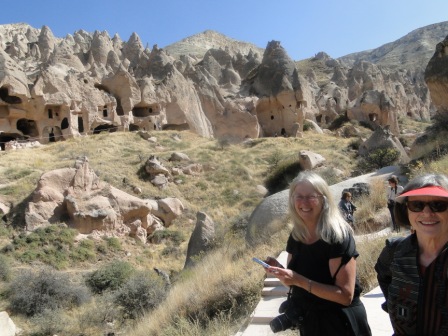 Next to Zelve Open Air Museum, three valleys inhabited by people living in the carved out cliffs until 1952. Meli called it "geotechture." At that time, due to the fear of collapse of the cliffs, the people were given new homes nearby but it took ten years to convince all the people to move. Their new homes did not have the moderate temperatures of the cliff houses. Meli led us to the mill and then a church where she explained the symbolism in Christianity of the fish and what we ethnocentrically call the Maltese Cross. It was built in the Iconoclastic era, so there were no images of living beings, but there were beautiful frescos of grapes. We also found the pigeon houses carved into the cliff fascinating. Villagers painted the exterior wall of the pigeon houses with the tree of life or rug designs in order to entice the pigeons back to their homes. Then, somehow they climbed up to the pigeon houses to collect the dung for their fields.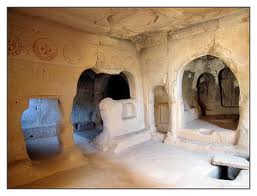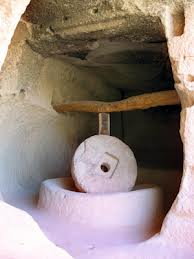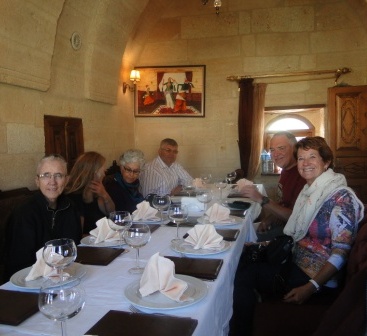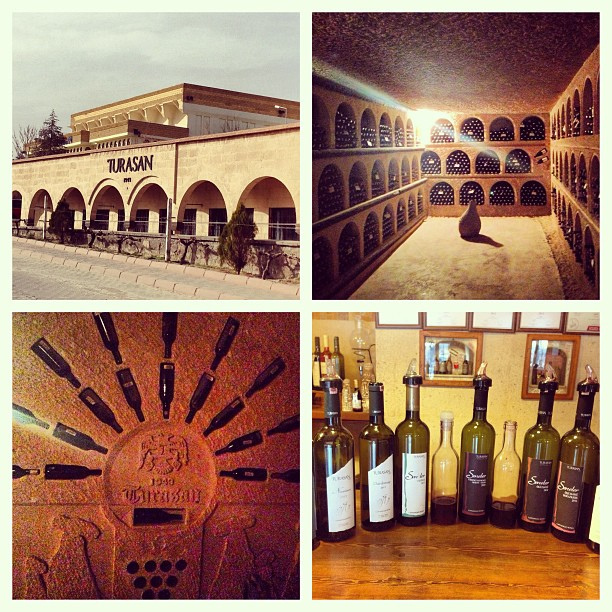 After a quick exploration of the valley, we were back on the bus for lunch at Dimit in Urgup. We were seated in a lovely room with beautiful pointed stone arches and we were treated to delicious food again. The wonderful giant loaves of fresh hot bread came first. Followed by many tasty items, highlights were a particular remarkable dish of finely chopped eggplant (smoked? With pomegranate juice). We watched the ritual breaking of the dough lid that sealed the clay pot full of luscious lamb.
No time for coffee – but why not a little wine tasting? A short stop just next door at Turasan wine tasting room, one of the many wine tasting rooms in Cappadocia. No wine shops here 19 years ago.