The Panaroma of the three cities of
Fez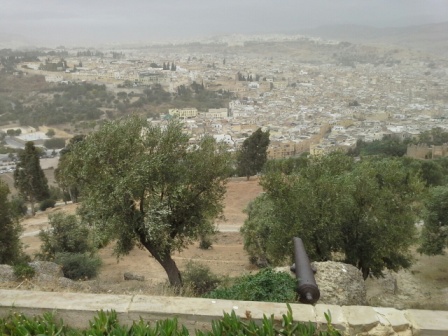 The Donkey Hospital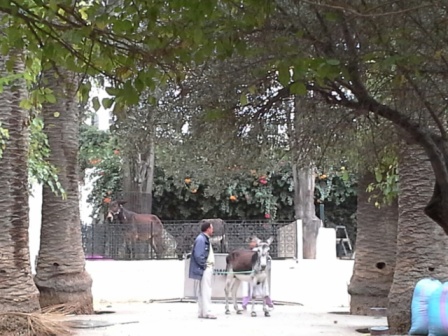 The Storm and the rain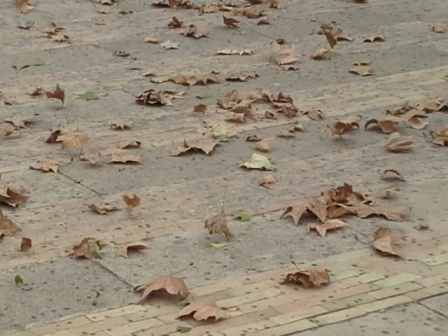 The imperial Palace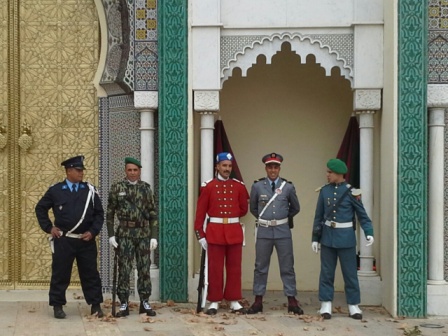 The Synagogue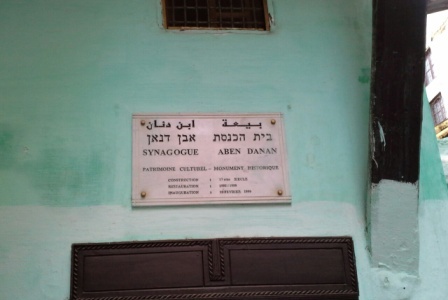 The 13th Century Medine of Fez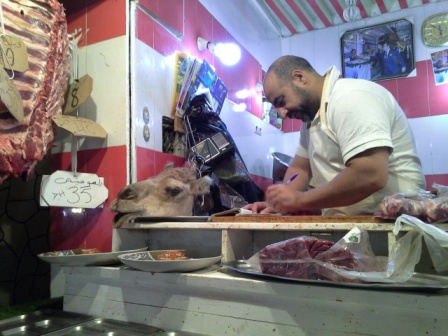 The narrow streets of the Medine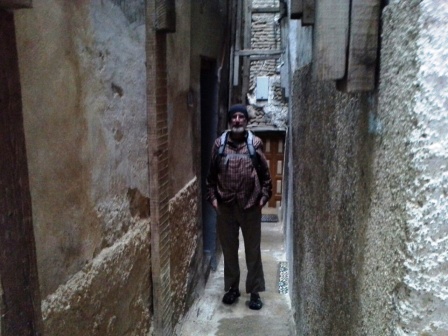 The Tannery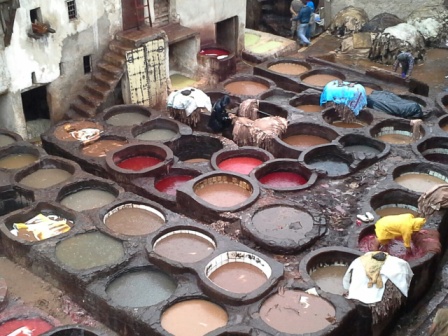 Attansion! Balak!
Donkey is coming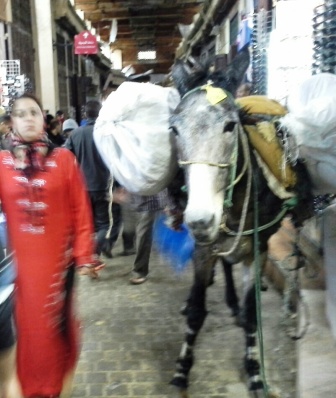 Pottery place in Fes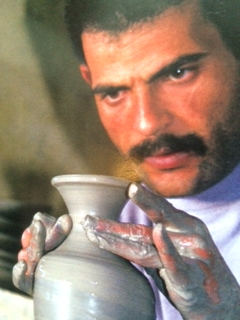 Donkeys of the Medine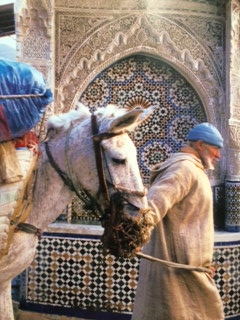 Click here for
Day 06 Erfoud
Melitour Home Page
Morocco Tour Itinerary
Photo Gallery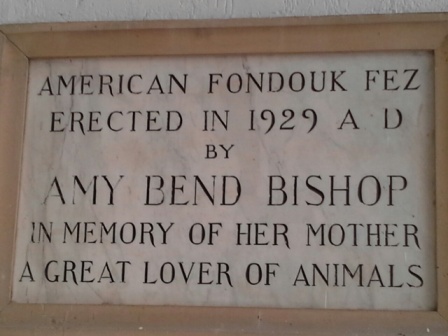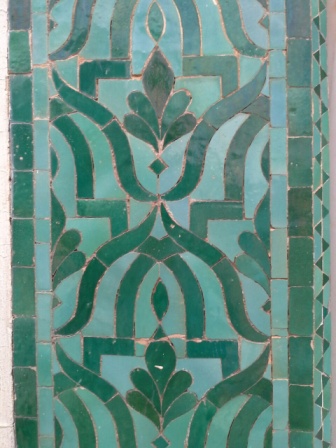 Day 05 of our Moroccan journey started by going up to the fortress to have a panoramic view of the three cities of Fez. Fez was founded in the 9th century and is Morocco's grandest and the oldest imperial city. The three cities are made up of the Fez el-Bali (Old Fez), Fez el-Djeid ( New Fez) and Ville Nouvelle ( New Town) which was built in 1912. Fez is home to around two million people and was built in the basin of the river Oued el-Yawahir, the river of pearls.( Fez the old was founded in AD 808 by Mouley Idris the 2nd, son of Morocco's founder Mouley Idris.
Today we learned that the first university in the world was started here in the 9th Century by a woman named Fatima. In the 13th Century, the world's first hospital was started here.
We stopped to take pictures of the "Donkey Hospital" which started in 1927 by an American Actress.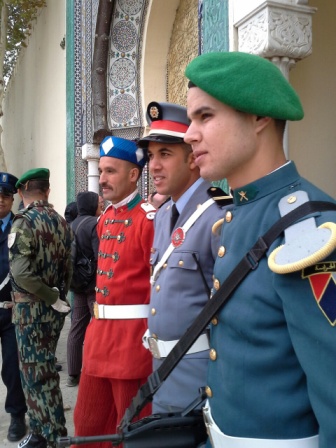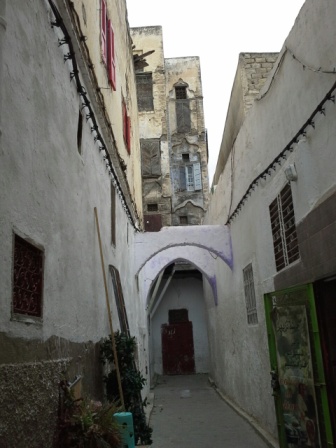 Fez is a home to the largest palace for the king covering 160 acres. The public is only allowed to take pictures of the beautifully ornate doors with giant brass knockers made by artisans from Fez el-Bali. Dar el-Makhzen is the name of this palace. We wondered through the 13th Century Jewish quarters before our next stop of a Synagogue.
The synagogue had a Mikva bath, and the architecture was not too different from all the other old buildings that we have seen in Morocco. Beautiful woodwork, excellent tiles and brass chandeliers. Since this was an orthodox synagogue, the men sat on the ground floor, the ladies worshiped at the balcony. Before we got on our van to go to the Medine, we had to walk quite a ways. Along the way we all noticed how a dentist had a window case in front of his clinic full of false teeth.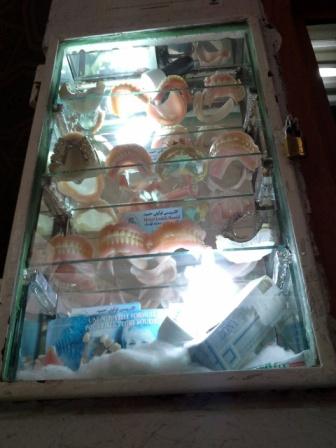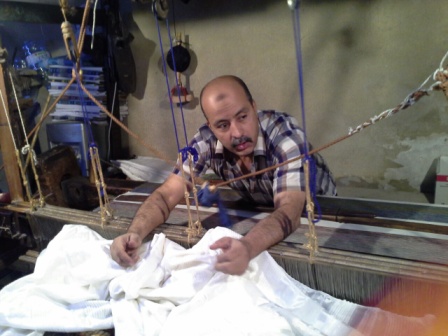 The next stop was walking through the Medina where you will find everything a person will need from fresh meat to fruits and vegetables, fabrics, spices and jewelry. this is where the local people come to do their shopping and the venders to show off their wares. Before lunch we stopped at the leather tanneries to see just how the skin from a cow, goat or lamb is skinned, dried and colored to make slippers, purses, boots and clothing. The colors are breathtaking. After lunch of a typical Moroccan meal, we head over to see how pottery and mosaic tiles are made and designed into beautiful works of art. Today the skies have opened up and rained all day.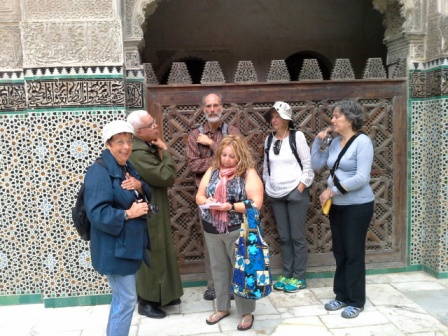 The medresa for training of math, science and astronomy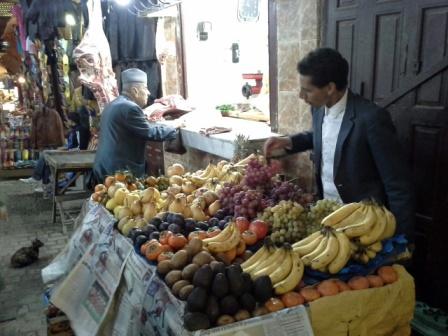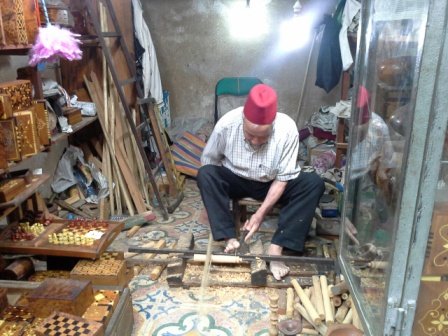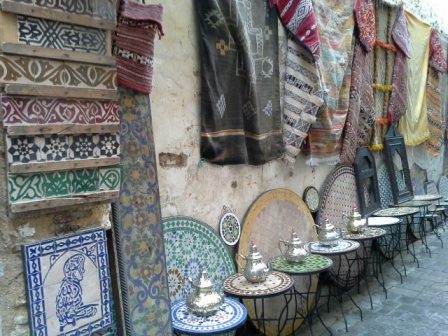 A cat is are waiting for his turn in He is carving wood using his feet Mosaic Tables
front of a butcher shop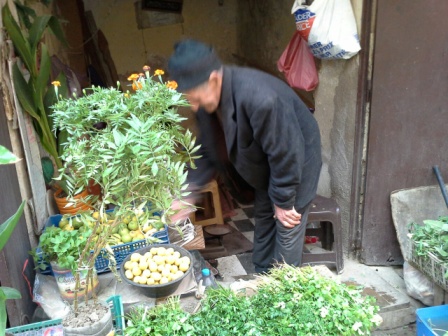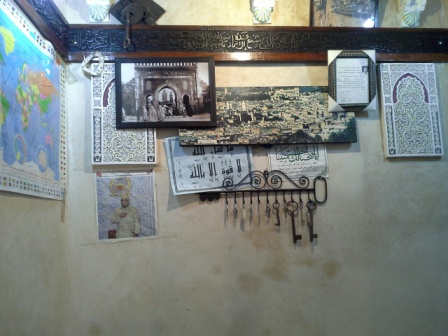 The Moroccans use mint for their tea A real estate shop