Soon after we left Fes
It started snowing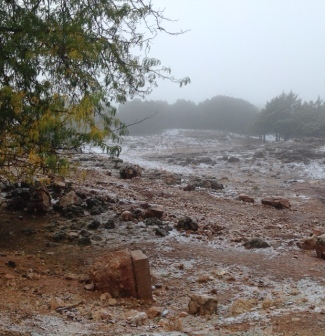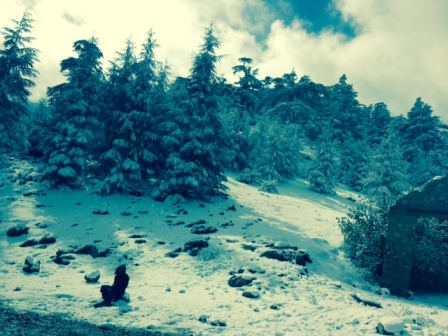 A nice coffee break at Ifrane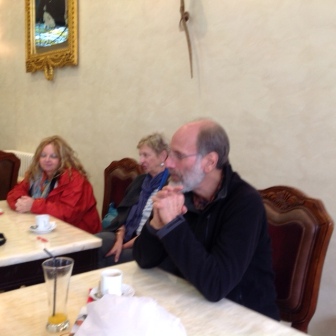 The lion of Ifrane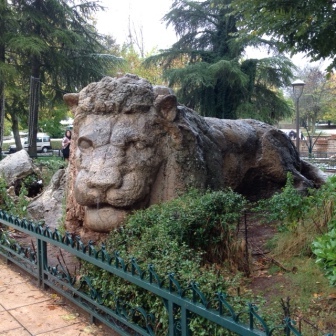 The Village of Nyzala -
a home visit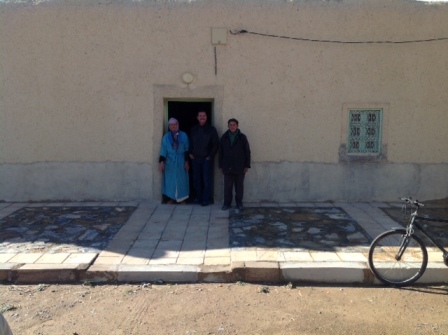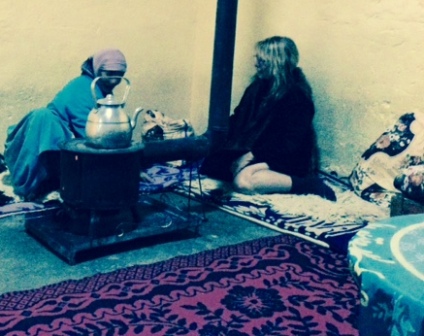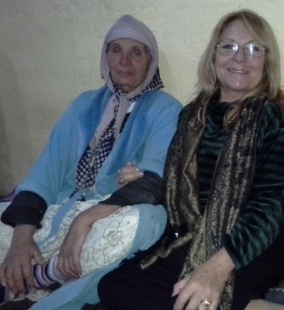 We are now at the very east of
Morocco on the Algerian border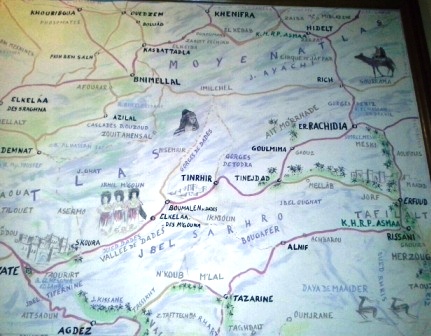 Valley of Ziz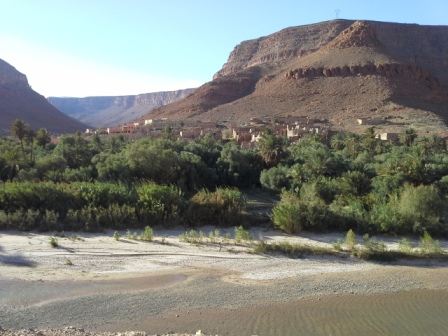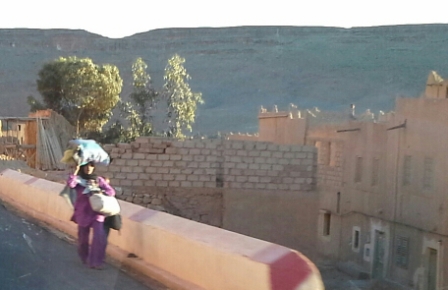 The Oasis of Valley of Ziz
Click here for
Day 07 Merzouga
Melitour Home Page
Morocco Tour Itinerary
Photo Gallery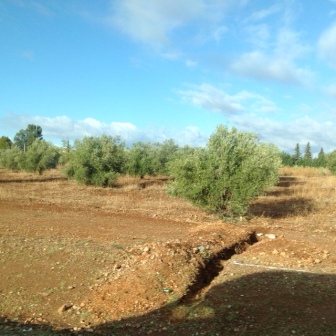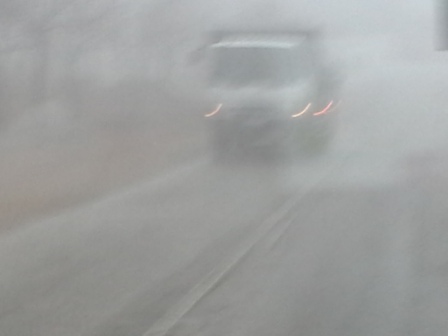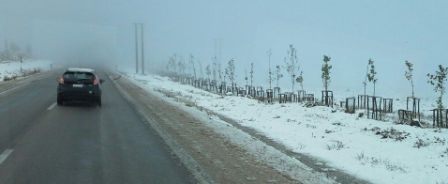 The monsoon-like rains of yesterday have disappeared, and we were glad to see blue sky as we were leaving Fes. The King of Morocco is in Fes today, and traffic seemed a bit frantic, even for rush hour. After visiting 4 major cities (Casablanca, Rabat, Meknes, and Fes), leaving the urban hustle and bustle is a welcome change.

Rather quickly we are back in olive groves, but with plenty of evidence of urban expansion mixed in. Cloud-covered hills loom in the distance. The first rain of the season was welcomed by everyone, except, perhaps, by tourists, including us!

An initial lively discussion about favorite eggplant recipes gave way to the pleasant lethargy of an extended travel day, as our bus began climbing into the red-soiled hills. We pass some kiwi orchards, funded in part, by EU grants. Suddenly we are back in heavy rain, but the road is good and the traffic light. And then a dusting of snow!

Stopping in Ifrane, a university town with a ski resort nearby, we are a bit surprised at the cold and snow, and a warm coffee is welcome. Robert threw a snowball at Meli, and missed!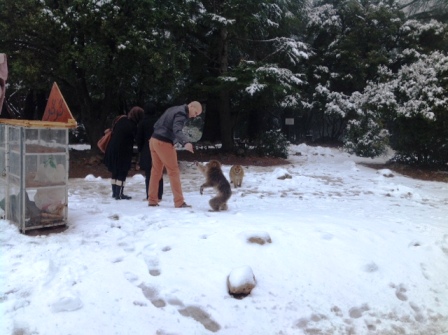 More snow, and Atlas apes looking for handouts.
We continued along a high plateau dotted occasionally by small Berber settlements which looked not too prosperous. The landscape is harsh - rocky and inhospitable, and mostly above treeline, but with a certain beauty.

Our driver's excellent skills in handling the windy road, descending through cedar forest, give us a feeling of confidence so we can relax, read, or snooze.
Heading toward Midelt, the clouds lower, and rain begins again, heavily.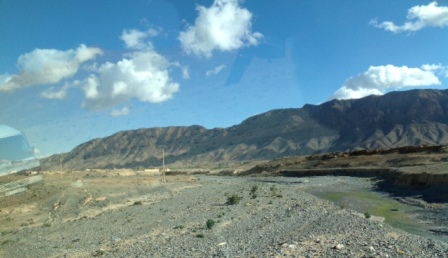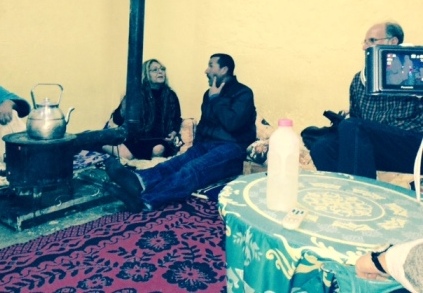 Lunch of vegetable soup, and trout (and vegetable tagine for Robert) makes a nice change, and the clouds clear considerably while we're eating. Then, shortly after lunch, as we are speeding along the highway, Meli asks our driver to stop at a family home she has visited a number of times. Despite lack of notice and no common language, they graciously served us tea and biscuits. The home is simple, spotlessly clean, and has all the modern appliances!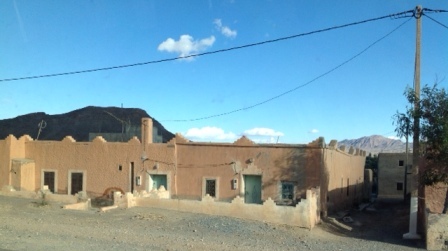 Then on the road again, past adobe houses, occasional herds of sheep, date palm trees (and date sellers), and beautiful mountains. The wind blows in gusts, and the lake we drive by needs the winter rains. Finally, as the sun is setting, we drive along a beautiful gorge and into an oasis of date palms.

Our destination of Erfoud appears just as we are all on the ragged edge of weariness. Tonight's buffet supper should give everyone a chance to find something they enjoy, and we have a late start tomorrow morning to look forward to.
Another wonderful Moroccan day, thanks to Meli and our sweet driver.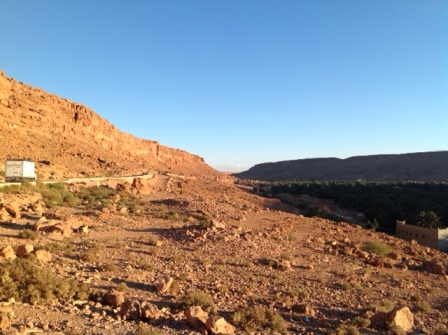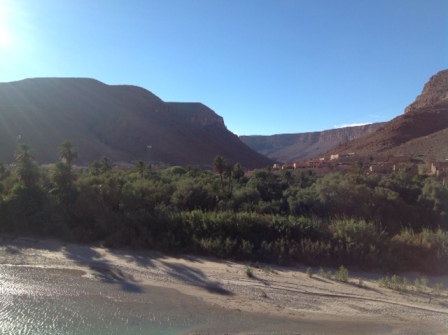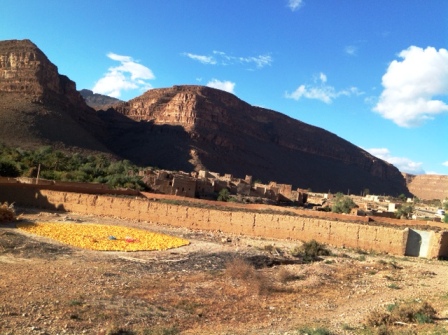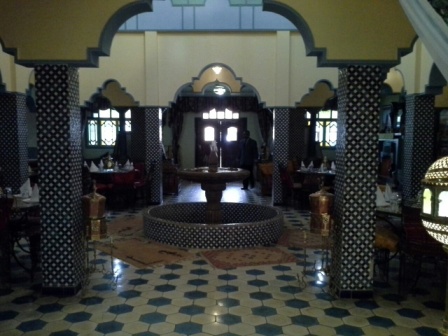 The restaurant where we had lunch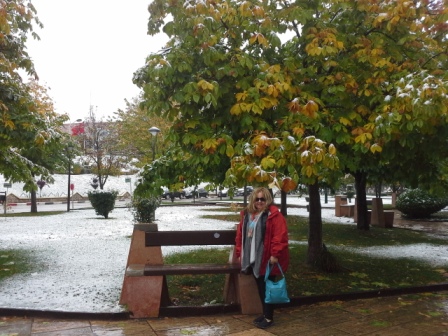 Colleen did not have to be back in Canada to see the early snow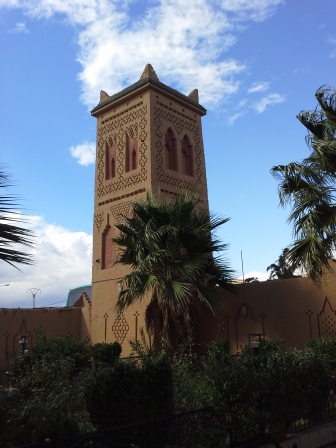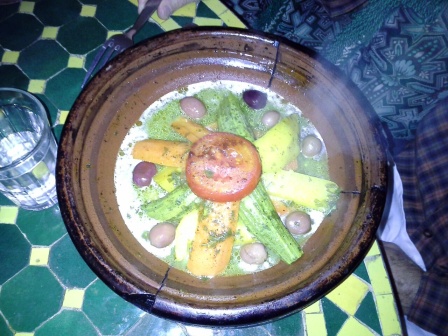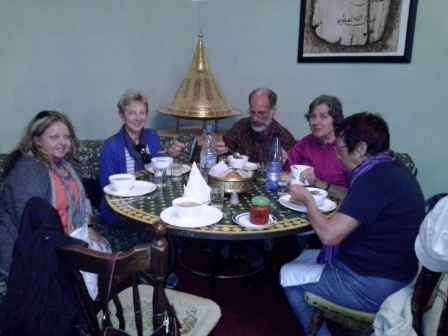 Robert is very happy with his vegetable tagine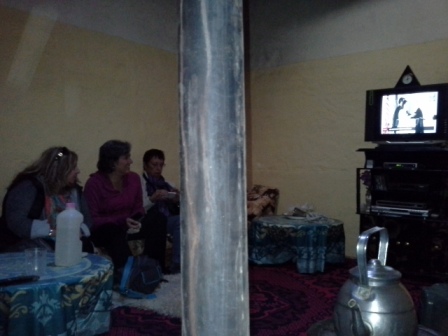 We learned about the US election results at the house
where we visited in the Atlas mountain