07 September, 2014 SUNDAY
Submitted by Sarah Linden
sarahlinden@comcast.net


T U R K E Y 101
GROUP JOURNAL,
ISTANBUL
VISIT THE BASILICA CISTERN, VISIT HAGIA SOPHIA, LUNCH AT GELIK RESTAURANT, VISIT TOPKAPI PALACE, THE SPICE MARKET, DINNER AT KUMKAPI AT KIRMIZI KARIDES FISH RESTAURANT OVERNIGHT AT OTEL AND
Click here
for Day 3
melitour home page
WESTERN turkey 101 itinerary
photo gallery
THE SONG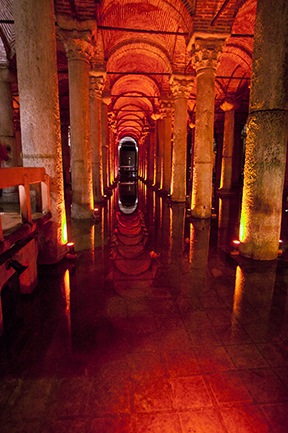 Basilica Cistern

Day 2 began with breakfast on the rooftop terrace of the And Otel with its wonderful views of Haghia Sofia and the Blue Mosque.
After gathering in the lobby, we walked across the street to the Basilica Cistern, which dates back to 532 CE and the Byzantine emperor, Justinian. The cistern is kept in partial darkness, which seems to amplify the sound of the water. The acoustics are fantastic, but unfortunately no music was playing when we were there. A striking feature of the cistern is the presence of 2 large Medusa heads, one upside down and one lying on its side.
We then went to Haghia Sofia (meaning holy wisdom). Justinian, too, is responsible for this beautiful building with its enormous dome. During the Latin invasion, the church was partially destroyed. In 1453, it became a mosque and in 1934, it became a museum. Restoration work is on-going, but many of the Orthodox frescoes can be seen.
After Haghia Sofia, we got on the bus and travelled to our restaurant for lunch, with its reputation for excellent grilled meats. As was typical of our ample meals, we sampled numerous appetizers before the main course, including a wonderful smokey eggplant dish.
After lunch, we got back on the bus and drove to Topkapi. We did not have time to visit all the exhibits, but the grounds were beautiful. I particularly like the tiles in the circumcision room and the room for drinking sherbets.
The remainder of the afternoon was spent at Rustem Pasha mosque, known for its beautiful Iznik tiles, and at the spice market (also known as the Egyptian spice market) with its heaps of brightly colored spices and heady aromas. The spice market is still a working market and people can be seen. buying ingredients for their evening meals in some parts of it.
Dinner was in the Kumkapi section of Istanbul, with fresh fish for most of us. Some of us also sampled the raki, and we all enjoyed the music.
Day 2 was a very full day, but we all needed to get our rest to prepare for day 3 and the Grand Bazaar.
Sarah