Day 08 April 22, 2013 Monday Litohoro, Mt. Olympus, Makragialos, Greece

Drive to Mt. Olympus village of Litohoro . Visit to home of two Greek women who do exceptional crochet . Walk on Mt. Olympos , home of the ancient Greek deities. For those who are interested visit the archaeological site and museum at Dion, ancient religious capital of the Macedonians Visit first national park of Greece. Laura might be able to arrange ethnic dancers at dinner Overnight Makragialos Denosthenes, an archaeologist, working on his doctorate on ancient textiles from this region, will present his findings. Overnight at the same hotel, Hotel Achillion

Please click here for more info on Mount Olympos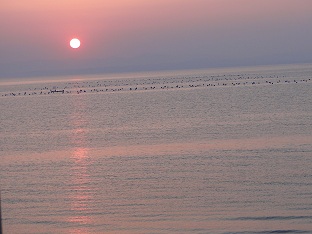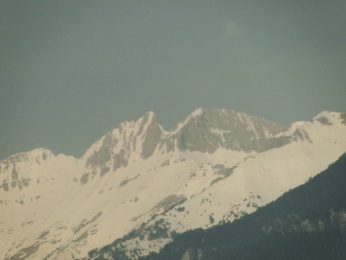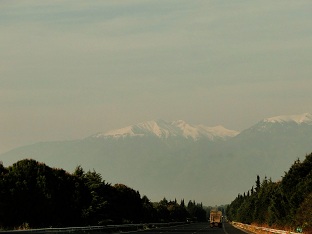 The bright red sun gracefully rising over the Aegean was a good news about the weather.
We left the hotel at 08:30.Once we got on the highway, Mount Olympos started breaking through the haze and it became more obvious. The " V" in the middle we were told is where Zeus lived with the 12 major deities of Ancient Greece. It was only a 20 minute drive to Lihotoro - a tiny mountain village. We stopped at the farmers market. the reason why we are in Litohoro is to visit a 93 year old lady who has been living with her 87 year old sister in law for the last 60 years. They are going to show us what they have made in their long , productive life. We were received with warm smile . The old ladies were nicely dressed and were eager to show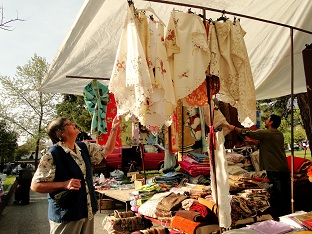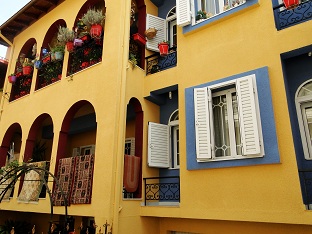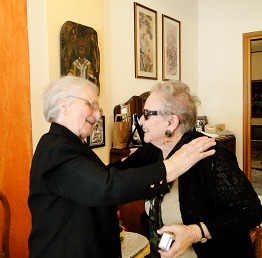 us their fabulous work. Their daughter in law, a Tanzanian origin lady and Laura went through the amazing collection. Each work of art pulled out from the bundle , we were all expressing our appreciation with no reservation.
We also had home made snacks. After two hours of feast for our eyes, we all went for lunch.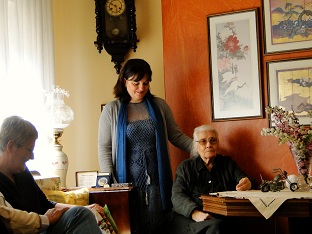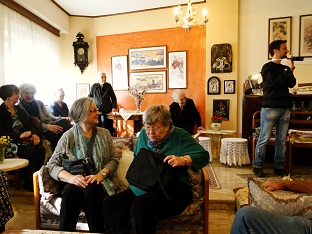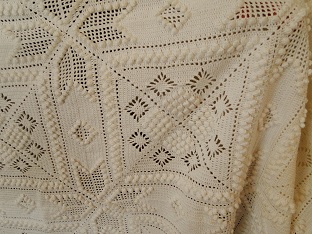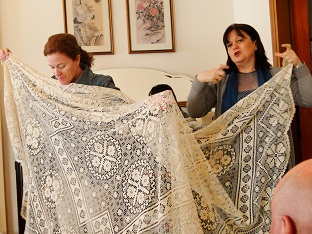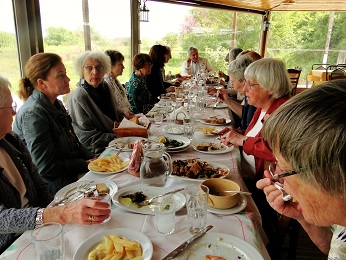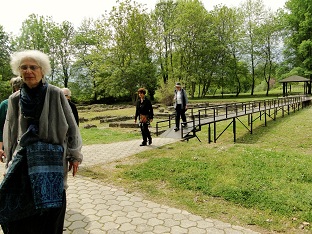 The visit to the site of DION was most amazing. Dion looks like heaven on earth. The shrines dedicated to various Olympic gods were scattered around a breath taking natural park. Lakes, rivers, monumental trees, wild flowers of all color and birds added to the divine setting of the settlement. We did not even realize that we were walking for 2 hours and feeling no fatigue.