<![if !vml]>

<![endif]>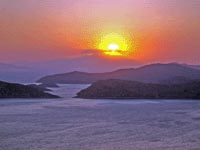 You had asked for the tour to start in Marmaris and sail north west bound. But we will recommend you two alternative routes to the south and east of Marmaris .
Marmaris is a very popular resort town, Not only the hotels , but the bays around it are over crowded to such an extend that avoiding 10 yachts at a time in each bay is almost impossible. Also, to the north of Marmaris , the coast line does not have the beautiful vegetation and the history that we have further south and east. So we can assure you that we trust our experience and that the following itineraries will give you the best of the 7 days that you can have on the Turkish coast.
If your clients insist on going to north and west bound from Marmaris , we can, then, also provide you with an appropriate itinerary.
Since you want Marmaris, we will recommend you that we at least finish in Marmaris coming from south as one option. Our highly recommended itinerary however will be between Gocek and Antalya to avoid the crowds all together.
We will suggest you two excellent 7-day itinerary both of which will be perfect and will make you and your clients absolutely very happy.
Itinerary # 01 starts in Gocek and ends in Antalya. South East bound
Itinerary # 02 starts in Gocek and ends in Marmaris. North West bound