August 02 - August 18, 2011
M O N G O L I A
Gobi , Altay Mountains & Hovds Gull Tour
Group Journal Day 06
Submitted by Deborah
ULAAN BAATAR MEETING WITH THE LOCAL ARTISTS
Aug.07, 2011 Sunday
Itinerary: Fly back from Gobi to UB. meet the local artists. A class on photography. Dinner and a show. Overnight at Edelweiss hotel in UB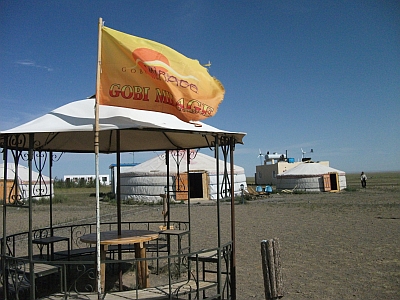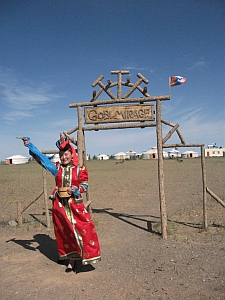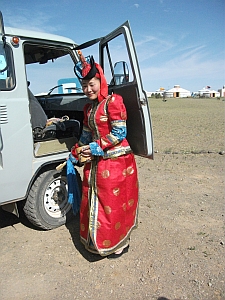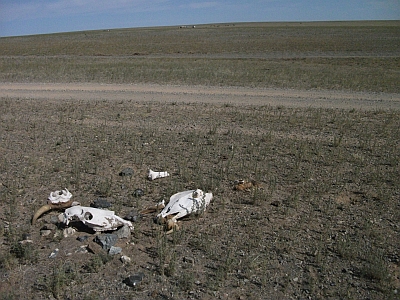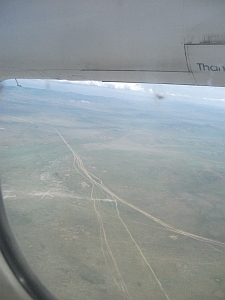 Today is apparently Day 6, August 7. The gang seems to have slept well after our driver's serenade last night. After a breakfast of little white squares of spongy goat cheese with cake and cookies, we went to the airport for picnic lunch before boarding the plane back to UB. A sign at the check-in counter reminded us yet again to make sure we hadn't left our knives or swords in our carry-on bags. On the way to the air port we witnessed what nature can do . Either attached b vultures or starved to death, 2 horse skeletons were scattered in the dry sand of Gobi. From the window of the air plane , we could see how Gobi was many times dissected by the vehicles going how ever way they like in the desert.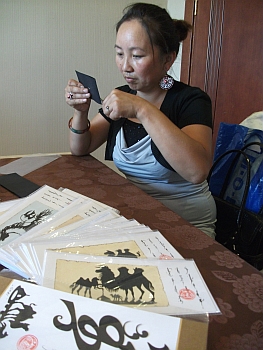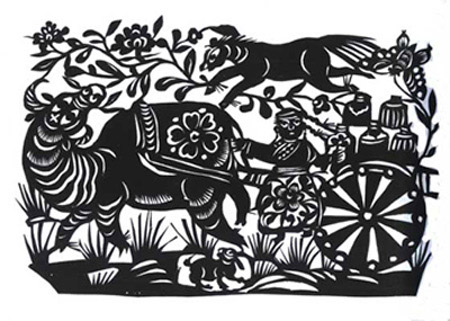 From the airport we went directly to Seoul Restaurant where they were setting up for another wedding. We were introduced to a paper-cutting artist who told us that she has been doing this for about 10 years and learned the art from her husband, who is in her opinion the third best teacher of this art. She proceeded to show us an example, and started working on a little square of brown paper, holding it in one hand with a little paper of scissors in the other. The scissors are just ordinary nail scissors, but she had filed down one of the blades. Within a couple of minutes, she had created a delicate little flower cut-out. She then cut out a horse. Among the works that she brought with her were two very elaborate pieces with several animals, people, gers, etc…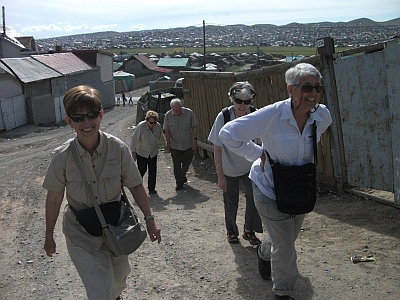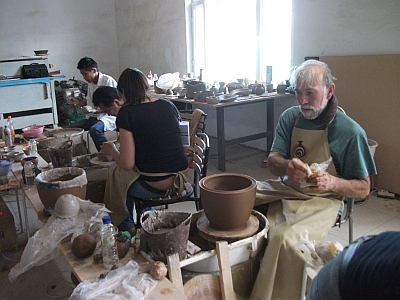 The next stop for some was the massage parlour where they changed into robes and worked their way through the menu of services including cupping and shiatsu-like treatments. The rest of us went to a ceramic workshop in progress. It was an unexpected and pleasant surprise. There were three French pottery masters who were conducting the workshop under the direction of a Mongolian university professor and the participants were of all ages.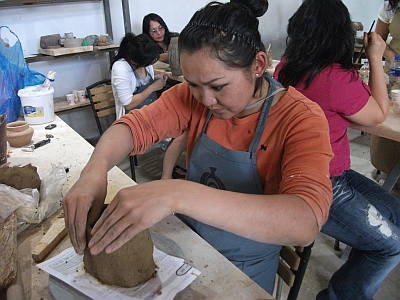 Before dinner Jim gave a talk about lighting and answered questions from the group to help us get more out of our cameras. The other unexpected and pleasant surprise of the day was that the grill at the Mongolian BBQ restaurant was broken, so Bolara arranged for us to go to another restaurant instead which had live music. The orchestra was similar to one we heard at a ger camp earlier, but they played a much more modern sounding urban version of traditional music, with a lot more interplay among them of throat singing. The vegetarians were served enormous deep-fried empanadas followed by chocolate cake. A nice light meal to end the day.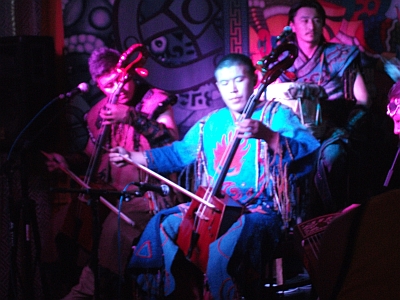 Please click for›››► MELITOUR home page MONGOLIA tour itinerary
Group Journal
2011 Mongolia Day 0
7