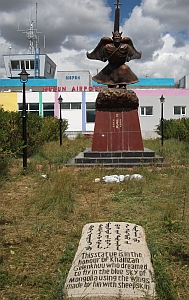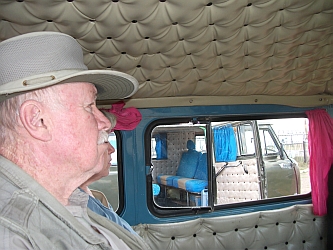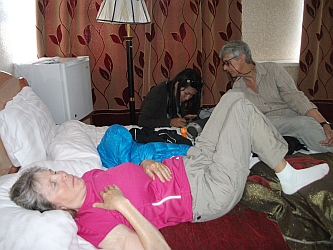 We are in totally different kind of landscape … a different green, more topsoil, some trees and hence wooden buildings. The roofs are peaked … probably for the snow load. More motorcycles than horses.
It is interesting to see construction crews who have ger camps rather than mobile homes. Also, the ingenious use of rocks to mark everything including where the new road goes and the center of the road.
Finally, we got a good view of yaks. Learned that the people like to interbreed yaks and cattle to make a hybrid. The female babies of this combination give more milk, but their babies are weak. The male babies of this combination are strong, have more fat and meat but are unable to have babies so neither are used for breeding. We have yet to decide if they are caks; yalfs or what. Interesting to see. Of course, back with goats, sheep, horses and the odd camel. Rather idyllic pastoral scene. Use of wood for animal shelters as well as outbuildings. More homes built of wood …however often in shape of a ger.
On way from Murun passed an amazing statue to the best race horses of the region. Unfortunately did not call Boloroo's attention to it in time to stop and visit it.
30 minutes out of Murun on more dusty roads with bumps – but improved over the roads we have been on - stopped at the UUSHIGIIN UVER deerstones of the Hunnu people from it is estimated 6000 – 2500 years ago. The Hunnu believed the deer took the souls of the deceased to the next world. This is a World Historical and Cultural Site. The burial mound, kherekhures, covered several rooms of buried treasures and the bodies of not only the Hunnu aristocracy, but their servants. The site was amazing … realizing how deep and long humans have been trying to make sense of their time on this earth and its connection to other worlds.