<![if !vml]>
<![endif]>
IN TURKEY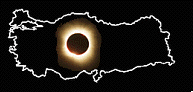 March 22, 2006 - April 03, 2006

Please read Richard S. Humphries's
"Thirty Magic Hours in Turkey with MELITOUR" at Solar Eclipse on August 11, 1999
Melitour organizes private and groups tours for the magic experience of the Total Solar Eclipse - March 29, 2006. the private tours can be as long as your time allows. The itinerary for the group tour is given below.
Please see the ECLIPSE CHART AND MAP
MELITOUR WILL WATCH THE ECLIPSE IN AKSEKI

Itinerary
Day 01 March 22 Istanbul
Arrival in Istanbul and transfer to Hotel Ayasofya. The tour members will be given a transfer to the hotel from the airport. if you decide to come before the tour starts, we will give you a free transfer any way. Please check the arrival info in the tour hand book for the details.
Hotel Ayasofya is situated within walking distance of all the must-see places in Istanbul.
The tour starts at 5.00 pm. After a short introduction we will visit the Blue Mosque and have dinner
Dinner Included
Day 02 March 23 Istanbul
Some of the sights we will see include the Cistern, the Turkish Islamic Art Museum, St. Sophia, and Topkapi Palace. The visit to the Turkish Islamic Museum, especially the ethnographic section, makes a perfect introduction to what we will see in the countryside
Breakfast Lunch Dinner included
Day 03 March 24 Evening on the train
Shop at the famous Covered Bazaar. We will visit the Chora Church- now a museum, to see the exquisite Byzantine mosaics from the 12th century. If you are interested in early Christian art and dogma you will be overwhelmed by this museum. After lunch on your own in the 19th century Quarter, We will end the day with a cruise on the Bosphoros aboard our own private boat. The views of the city at dusk with its 600 mosques are unforgettable. Dinner will be at a small restaurant much favored by the locals.
Overnight Train to Ankara. In Turkey, trains are regarded as the most civilized mean of transportation. Your luggage will be with you in your compartments. Unless you chose to be single 2 people to a compartment. The train leaves at 10.30 Pm and arrives Ankara the next morning at 08.00 AM
Breakfast and Dinner included , Lunch on your own.
Day 04 March 25 Cappadocia
In Ankara, visit the most beautiful museum of Turkey, the Anatolian Civilization Museum. This is a one of a kind museum, displaying 26 different civilizations. All the artifacts of these civilizations that have been excavated from Anatolia are in this museum. The museum visit will help us understand the cultural and historic layers of the Anatolian civilization.
After lunch we visit the mausoleum of Ataturk, the father of the Turks, then take a bus to Cappadoci over a beautiful country road for a taste of lovely Turkish landscapes and farms.
Overnight at Museum Hotel at heart of Cappadocia. Waking up in the morning to magnificent sights is one of the unique aspects of this hotel. Breakfast ,Lunch & Dinner included

Day 05 March 26 Cappadocia
Cappadocia is a land where nature and man have competed with each other to create the most unusual and the most beautiful. We will hike to 10th and 11th century churches, monasteries, and houses carved in the rocks, and visit a family living in one of these rock dwellings. The moonlike terrain of Cappadocia with its endless artwork is a photographer's delight. Since Cappadocia is the carpet center of Turkey, we will schedule a demonstration at a factory where the art of making carpets by hand and dying with natural dies is being kept alive. We will see Turkish folk dancing this evening at dinner. Overnight in Cappadocia
Brekfas Lunch Dinner included

Day 06 March 27 Guzelyurt
GUZELYURT Avanos will be our next stop. People have been making pottery here since the time of the Hittites (3rd century BC). We will visit a local potter who is keeping this art alive After visiting the underground city of the early Christians. Home visit in a village Dinner and overnight in Guzelyurt, in a hotel that was built in 1853 as a Christian girls school. You will be given the option of home stay at this small town HOME STAY OPPORTUNITY
Breakfast, Lunch & Dinner included
Day 07 March 28 Konya
Breakfast at a village house Visit a church which is now a mosque built in 385 AD The oldest monastery of Christiandom We then depart for Konya, stopping en route at a 12th century Caravanserai. Konya is the first capital of the Selcuks, the oldest Turkish Empire in Anatolia. It is also known for being the homeland of Rumi, a 13th century poet-philosopher and one of the earliest humanists. The ambiance of the city has not changed much for the past 800 years. Overnight at a hotel in the center of Konya. Breakfast Lunch Dinner included


Day 08 March 29 On the way to Antalya watch eclipse at Akseki
You will be able to see how the flora changes as we drive over the grand Taurus Mountains down to Antalya. Poised between jagged mountains and the shimmering Mediterranean, Antalya is the chief city on Turkey's central Mediterranean coast. In this beautiful coastal city we will stay at a restored 200-year-old stone house renovated as a pension. 5 hour bus ride to Antalya will be the most scenic ride of our tour Breakfast Lunch included

Day 09 March 30 Antalya
Weather permitting, we will take a five-hour cruise on the Mediterranean to the ancient site of Phaselis, located on a peninsula with ancient harbors on either side. This will be the first Roman site that we visit on this trip. The ancient stones are scattered among the reed pine trees, which grow right out from the waters of the Mediterranean in an incomparably romantic setting. Tonight there is an option of going to a Turkish bath (included in tour). Overnight in Antalya Brekfast Lunch included

Day 10 March 31 Pamukkale
Pamukkale Today we visit Pamukkale (ancient Heirapolis), the most unusual natural phenomenon of Turkey. The Turkish name literally "cotton castle" - refers to the extraordinary surface of the snow-white cliffs, shaped over millennia by the accumulation of calcium deposited by mineral springs. Visit the hot springs and swim in a spa amid Roman columns. Though under protection, these white cliffs of calcium deposits are being destroyed dramatically. We will meet with a representative of the local association that is working on the preservation of these cliffs. We will have dinner and overnight in a local pension in the village center where you can continue to swim in the curative waters of this five-thousand-year-old health center Brekfast Lunch Dinner included

Day 11 April 01 Selcuk
Selcuk (Ephesus) Drive through a meandering valley visit the temple of Appollo ,the oracle center and Visit Miletus the last stop of St Paul in him home country Enjoy the pleasure of hiking in an ancient city. Overnight at Selcuk Brekfast Lunch Dinner included

Day 12 April 02 Selcuk
Selcuk (Ephesus) This will be our big day in Ephesus, the best-preserved classical city on the eastern Mediterranean and among the best places in the world to get a feel for what life was like in Roman times. Certainly, the climax of the trip will be at the city of Ephesus, sitting in the theater visualizing 35,000 Ephesians following the silversmith Demetrius shouting "...great is Artemis of Ephesians..." in reaction to St. Paul's preaching "there should be no man-made gods." Overnight in Selcuk


Day 13 April 03 Tour
Transfer to the Air Port in Izmir
will be over you can fly back to istanbul - not included in the tour price
Tour Price
US$ 2.250.- for 13 - 17 people
US$ 2,400.- for 7 - 12 people
Single room supplement US$ 250.-
THE PRICE INCLUDES
* 12 nights hotel, double occupancy
* Train ride
* Private boat in Istanbul
* Private boat in Antalya
* Breakfast, lunch and dinner each day except 2 dinners in Antalya and 1 lunch in Istanbul
* All entrance fees
* Tips at the hotels and the restaurants
* All transportation
*Water with the meals

NOT INCLUDED IN THE PRICE
* Tip for the driver
* Flights to and from Turkey
* Domestic flight in Turkey
* Beverages and drinks
* Cancellation insurance

CANCELLATION POLICY
The deposit of US$ 250 per person is non refundable
If cancelled after 2nd payment 50% of the payment will be refunded
If Canceled after final payment ( 60 days before the tour there will be no refund)
Please buy tour cancellation insurance policy.

HOTEL INFORMATION
DATE/HOTEL NAME AND CITY/PHONE NUMBER
In case of emergency Meliís Telephone will be available at all times
0532 345 9987
| | | |
| --- | --- | --- |
| March 22 | Istanbul Hotel Ayasofya | 0212 516 9446 |
| March 23 | Istanbul Hotel Ayasofya | 0212 516 9446 |
| March 24 | Evening on the train | |
| March 25 | Cappadocia Museum Hotel | 0384 2192220 |
| March 26 | Cappadocia Museum Hotel | 0384 2192220 |
| March 27 | Guzelyurt Karballa Hotel | 0382 451 2103 |
| March 28 | Konya Baykara Hotel | 0332 353 6030 |
| March 29 | Antalya Atelye Hotel | 0242 241 6416 |
| March 30 | Antalya Atelye Hotel | 0242 241 6416 |
| March 31 | Pamukkale Richmond Hotel | 0258 271 4299 |
| April 01 | Selcuk Kalehan Hotel | 0232 8926461 |
| April 02 | Selcuk Kalehan Hotel | 0232 8926461 |
ARRIVAL SUGGESTIONS

VISA
US citizens need a visa to travel in Turkey. You may obtain this visa upon your arrival at the Istanbul airport. The fee is $ 20 in US currency. The visa is valid for three months.When you come out of your plane please proceed to the Visa Booth. They only accept cash.

POLICE CHECK AND LUGGAGE /
MEETING MELITOUR REPRESENTATIVE FOR TRANSFER
After paying for your visa please proceed to police control. Baggage claim is immediately down the ramp after the police check. If you need a cart, you will need to pay one US dollar cash to a person who stands by the carts. It will be nice if you have a change. The Melitour representative for transfer to the hotel will meet you out side the custom area. Look for a MELITOUR sign as soon as you leave the customs gate.

PRE TOUR ARRANGEMENTS
If you plan to arrive a few days before the tour to get over jet lag we can reserve a room at Hotel Ayasofya
We can suggest itineraries for those who want to explore on their own or with a guide before or after the tour. Simply send us an e-mail with your request.

EMERGENCY INFO FOR TRANSFER
In case of unexpected delay or change of your flight, should there be a problem in meeting the person who should be waiting for you at the airport please call Asli 9-0-533 368 3113 or Meli at 9-0-532 345 9987