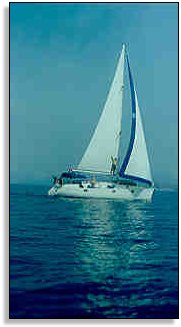 Welcome to the Eastern Mediterranean, bridge to many civilizations like Greeks, Romans, Byzantium, Ottomans and the modern Republic of Turkey. Lively night spots, dining under starlit skies... remote sandy, beaches with crystal clear waters... picturesque ports, world famous ancient sites ... exciting sailing and exploring living customs and traditions, all waiting for you.
A warm welcome and first class service awaits you as you board DENIZ KAPTAN for a holiday of a lifetime. You are welcome to help with the sails or take a turn at the wheel if you feel so inclined, while your captain plays his guitar for you.
You can also plan your cruising vacation to the Holy waters of St. Paul where he sailed during his second and third missionary journeys, to Archeological sites, underwater remains of antique ship wrecks... all yours for the asking.
LANGUAGES SPOKEN - English, French, German (some), Italian (some), Spanish (some)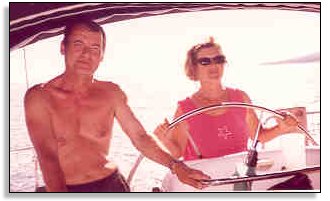 CREW PROFILE
Captain and owner Deniz is a retired Navy officer after 35 years of service, where he gained his outstanding international experience working with US Marines, NATO and liaison with the US Sixth Fleet, German, French and Italian Navies in Turkish Waters.
Born and raised in the Aegean, he started sailing with his father who was a captain in Turkish Maritime Lines. Besides his sailing career, he is also a licensed Professional Tour Guide and a noted lecturer in Ancient Anatolian Civilizations.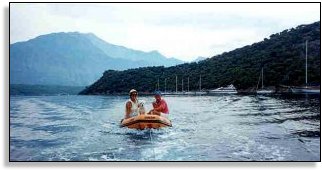 His wife Mediha, an excellent expert of Mediterranean cuisine, is a retired nurse. Working three years for NATO Wives Club in Bruxelles during Deniz's overseas duty, she has gained profound experience in meeting and entertaining people from all over the world. Deniz and Mediha have been chartering for several years in the Mediterranean, gaining intimate knowledge of your cruising ground. They are proud of inviting you to share the beauties of Eastern Mediterranean.
WHEN TO SAIL
May through November
THE COST
The cost of this tour is calculated on a per person per day basis.
See below for details
TO MAKE A RESERVATION
Reserve seats on any Melitour without obligation
S/Y DENIZ KAPTAN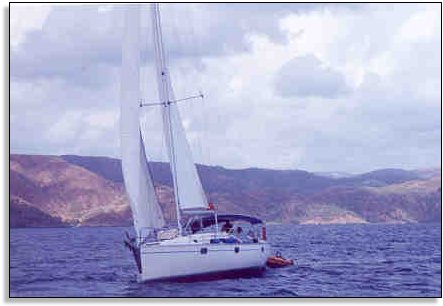 SPECIFICATIONS OF S/Y DENIZ KAPTAN
LOA - 11.98 m Beam - 3.95 m Draft - 1.7 m
Engine - Yanmar 50 HP Fuel Capacity: 150 L Water Capacity: 560 L Sail Area- 80 sqm ·
EQUIPMENT
Refrigerator (Ice Box), Hot Water, Autopilot, VHF, GPS
GSM Telephone, CD Player
Deck Shower, Fishing Gear, Snorkeling Equipment
Tender with outboard, Windsurf upon request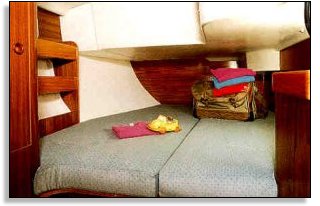 LIVING AREA
Comfortable "L" shaped settee where you'll be able to enjoy the meals prepared by your crew. For your enjoyment, she is equipped with a CD player, and a wide variety of music to select.
CABINS
The main cabin is located forward. it is perfect for complete privacy. It is a large double cabin with a settee, and has its own shower and WC. There are two double cabins aft. One of them is for guests and the other for crew and they discreetly share the shower WC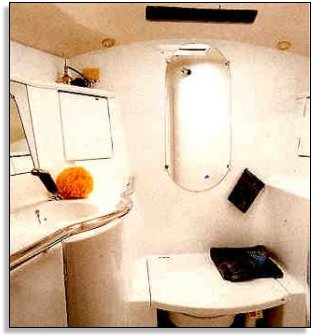 ON DECK
Sun mattresses, Swimming Ladder, Bimini Top, a huge cockpit dining area for 4-6 people, Deck Shower.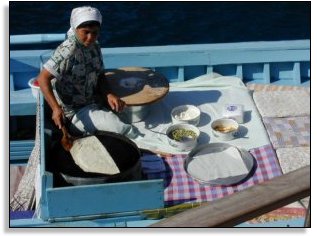 FOOD ON THE BOAT
You can eat on board (Dinner at an extra cost) and where available at simple family run fish restaurants ashore. The crew will prove what excellent cooks they are as they take turns surprising you with the excellent food they can prepare in their small kitchen. Drinks available on board at market price.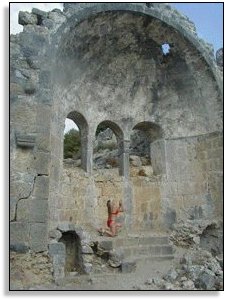 SWIMMING
Getting down from the boat is easy with the comfortable stairways. We seldom go ashore for swimming. So most of the swimming will be in deep indigo blue clean waters. The Mediterranean is a very friendly sea. You do not need to worry about fish bothering you. For those who are not comfortable with swimming there will be life jackets and board for more comfortable swimming.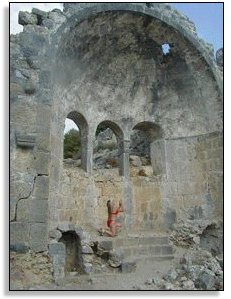 EXTRA CURRICULAR ACTIVITIES
Wind Surfing- Wind surfing is fun once you know how not to fight with the sail. After few laughters you will enjoy the command over the wind. If you are like most of us who can only go one way the crew will be right there to bring you back to the boat.
Snorkeling - The fish of all colors swim around you respecting your privacy not topuching you but seducing you to follow them. The ancient sites under water will be more inviting magnified with your snorkels.
Water Skiing - Skiing will be available on one day at an extra cost
Hiking to the forests
Hiking to the ancient sites from the boat
Fishing - If you are a serious about fishing bring your own gear. If you want to kill time we have enough lines on board.
Towels
The boat will have bath towels but please bring your own beach towel.
Sleeping Bag
Sleeping under the stars in the moonlight is a joy. If you are lover of beauty bring your sleeping bag to sleep on the deck.
WEATHER
May, June, July

Comfortable sailing, sun shine, no rain
Temperature High F 70 \ F85 Sea
Temperature F 67 / F 75

August

Comfortable sailing, sun shine, no rain
Temperature High F 85 \ F 90
Sea Temperature F 76

September, October

Comfortable sailing, sun shine, no rain
Temperature High F 70 \ F85
Sea Temperature F 67 / F 75
THE PRICE
2 PEOPLE: US $160per person per day
3 PEOPLE: US $125 per person per day
4 PEOPLE: US $105 per person per day

Plus a total of US $ 20 Local tax and harbor dues for the entire trip to be paid only once regardless of the number of the participants
The tour price includes the following:
Departure from Marmaris
(If another port of departure is requested there will be an extra charge)
All running expenses of the Sail Boat
Local Tax and Harbor Charges
Breakfasts
Light Lunch
Crew's food and wages
Ship's laundry
Fuel for an average of 4 hours cruising per day
Windsurf upon request
(This request needs to be made with the reservation)
Not included in the price
Personal Laundry
Tip for the boat crew
Beverages and drinks (Bar bill at cost of market prices)
Cancellation insurance
Entrance fees to the ancient sites that can be reached from the sea
Marina Fees (Unless the passengers demand an overnight at a marina, there will be no extra charge for the bays where we dock for overnight)
Dinners (Very charming restaurants are available at most of the coves where the boat is anchored for overnight. But if requested cooking on board is possible for an extra charge of $ 25 per person per dinner)