MAY 31-JUNE 16, 2007
(ADD ON: JUNE 16-JUNE 21: NORTHWESTERN TURKEY)
Welcome to a trip rich in the cultural diversity of a Moslem people living in a modern democratic secular state. We will explore Eastern Anatolia (Turkey in Asia), a land steeped in Biblical, Greek, Roman, Christian, Ottoman and modern Turkish history. Eastern Turkey is the more traditional face of modern Turkey where the secular state has to negotiate with significant ethnic and religious diversity—diverse sects of Islam and denominations of Christianity. The country, situated in a politically dynamic corner of the world, is full of stunning landscapes.
The guide for the trip will be Mehlika Seval who has led groups through this land for over two decades. She can be seen on Rick Steve's "Europe:Turkey" presented on PBS. Faculty leaders for the trip are Lincoln and Barbara Blake who were urged by members of the 2001 Alumni trip to Western Turkey to organize a second trip to Eastern Turkey.
To punish Prometheus for stealing the fire, Zeus decided he should be taken to the high, unreachable mountains where no one can rescue him. The mountain where Prometheus was bound is now the border of North East Turkey around Kars.
To save the living from corruption, God ordered Noah to build an Ark. Noah's Ark landed on Mount Ararat, which was above and beyond the flood. Mount Ararat is now the eastern border of Turkey.To establish a community where believing in one God was not going to be reason for persecution, Abraham took the people of Harran to Canaan. Harran where people, since the time of Abraham, speak the language of Jesus is in the South East of Turkey.The mountains of the eastern part of Turkey cast their grand shadows over the fertile valleys of the "Garden of Eden."The rivers Tigris and Euphrates continue to nourish the "Tree of Life" in this land where the people of all different ethnic identity, the Kurds, the Georgians, the Arabs, the Turks, the Assyrians experience a new present and a hopeful future in the changing world.
The colors of nature and diverse cultures compose the most wonderful symphony. Give 1001 painters all the colors they want and ask them to paint the colors of the Eastern part of Turkey during a day. By the sunset, they will be out of breath but they would still not be able to get all the colors that you will see and experience in one day.
As you will see from the itinerary, Eastern Turkey offers a great variety of historic, ethnic, and geographic diversity to make this educational tour not have a dull moment
Highlights of the trip will include:
-Old Testament sites: Mt. Ararat, Ur, Harran, "the Garden of Eden"
-monumental statuary and remarkable ruins
-ethnic diversity: Kurds, Laz, Arabs, Turkomen, Georgians
-strikingly beautiful nature
-the delectable taste of ethnic foods
-a variety of local crafts
-the history of Anatolia
-discussions of Turkey's geopolitical role and current issues over water in the Middle East
Physical activity: Participants are cautioned that on at least two occasions, at the Sumela Monastery and at Mt. Nemrut, hiking will be moderately difficult. Participants who might have difficulty with a steep climb can wait below at a coffee house for the group to return.
Cost of the trip
Land cost: 16-18 persons: $2930 per person in a double room
19-24 persons: $2710 per person in a double room
Single room supplement: $320
Deadline for Reservation and a nonrefundable deposit of $500 is November 30, 2006. Late reservations will be considered on a space available basis.
Final payment is due April 1, 2007.
Make checks payable to Mehlika Seval, Account #95544797. Mail them to:
Bank of America, Wedgewood Branch, 8405 35th Ave NE, Seattle, WA 98115
We strongly recommend travelers' insurance for trip cancellation, failure to make proper connections, or emergency transportation.
Included in the land cost:
-Two flights: Istanbul to Trabzon; Gaziantep to Istanbul
-Transfer to and from airports in Turkey
-Transportation in a 52 seat bus with a bathroom
-All the hotels
-All breakfasts, lunches, and dinners except lunches on June 5, 9, and 10.
-Water with meals
-Tips at the hotels and restaurants
-All entrance fees
-Folk dance show in Van
-Ferry ride to Akdamar Island
-Minibuses to Mt. Ararat and Mt. Nemrut
The price does not include:
-Airfare to and from Turkey: For those requesting it, assistance will be provided in securing reservations (in 2005, approximately $850 rt NYC-Istanbul)
-Travel insurance which is strongly urged to cover cancellation, missed flights, and medical emergency flights
-visa fee (in 2006 it was $20, payable in cash at the Istanbul airport)
-Tip to the guide and to the driver
-Drinks other than water at meals
Other Necessary Documents for Participants:
Conditions and Release Form
Insurance and Emergency Document
Medical information
For the tour please contact Lincoln Blake blakeli@earlham.edu
phone: 765-962-9367; 295 Earlham Drive, Richmond, IN 47374
or Reserve seats with MELITOUR on any tour without obligation.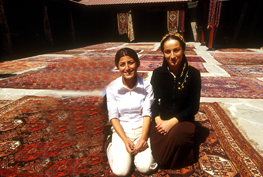 Please read the Tour Journal from 2001

For more information please read the tour hand book
ITINERARY: (subject to change)
May 31

Fly from USA to Istanbul

June 1
Visit the Blue Mosque & Aya Sophia. Group meeting.Arrival around 11:00 am. No lunch since usually well fed on plane. Early dinner. Stay at Hotel Ayasofya.

June 2
Early flight to Trabzon. Sumela Monastary, Aya Sophia, silvery jewelry makers.Arrival around 10:00am. Drive directly to Sumela Monastary. Return to Trabzon to visit Aya Sophia church. Visit silver jewelry makers. Check in at Horon Hotel.

June 3
Zigana Pass, Eastern Anatolian villages.8:00 am departure. Inland Eastern Anatolian villages and countryside. Overnight in Bayburt: Grand Bayburt Hotel.

June 4
Village visits: hay, duck and dung economy and Turkish hospitality.Visit families, schools, and one-room hospitals. Talk with families, teachers and doctors. Overnight: Oral Hotel in Erzurum.

June 5
Erzerum: Ulu Camii, Cifte Minare Medrese, Museum, and a 17th century caravansary converted into a stone workshop.Lunch on own. Discover local cuisine. Visit 12th century Medrese (Seljukian school). Talk with Imam of 12th century mosque. Visit ethnographic museum. Visit caravansary where artisans mount local black stone in silver and gold settings. Oral Hotel.

June 6
Drive to Kars along route of ancient Silk Road. Villages of stone houses. Black sheep. Visit villagers in their homes. Picnic lunch. Overnight in Kars at Sim-er Hotel.

June 7
Kars, Ani and the fartherst eastern home in Turkey! Mt. Ararat.Kars, on the Armenian border, is the farthest eastern city in Turkey, a frontier city. Travel to Ani, the 10th century capital of Armenia. Continue along border and Mt. Ararat. Overnight in Dogubeyazit: the Simer Hotel.

June 8
See sunrise on Mt. Ararat. Visit "Noah's Ark." Mail postcards from easternmost post office in Turkey. Isak Pasa Palace, Muradiye waterfall, Van.Travel along Iranian border to Van. Visit a palace on the Silk Route with Iranian gateways, Ottoman domes, Baroque harem rooms, Armenian stonework, and Georgian reliefs. At a 3000-year-old Van castle sip wine in honor of the Urartu Sun Goddess. Overnight at Hotel Urartu, Van

June 9
Ethnographic museum, folk dancers, sail on Lake Van to Akdamar castle.Picnic lunch with Kurdish folk dancers. Visit an 1100-year-old church on island, swim in Lake Van, visit an amazing kilim collection. Overnight in Hotel Urartu.

June 10
Bitlis, Hasan Keyf, Midyat
Early departure for longest bus ride of the trip (7:30-3:00). Drive along Tigris River through ancient and modern towns that will soon be inundated by the waters of a new dam. Visit active Syrian Orthodox church in Midyat. Lunch on own.

June 11
Visit Christian Monastery where congregation speaks Aramaic. Visit market of Mardin and wood block printer (if alive, currently 87). Free time in afternoon.

June 12
Harran Drive to Harran and the Syrian border. See cotton fields irrigated by waters of the Euphrates. Overnight in Urfa.

June 13
Sanliurfa , Ataturk DamVisit birthplace (?) of Abraham and sacred carp lake. Ataturk Dam produces 22% of electricity consumed in Turkey. Overnight in Kahta at the Hotal Nemrut Kahta.

June 14
Sunrise on Mt. Nemrut ,Gaziantep 2am wakeup to get to top of Mt. Nemrut for sunrise. Drive to Gaziantep, Overnight at Hotel Kaleli.

June 15
Gaziantep: Museum and Craft Center; fly back to Istanbul
Visit new museum containing mosaics from Zeugma and the Kutnu Kumas workshops.
Fly back to Istanbul. Hotel Ayasofya

June 16
End of this tour.

Transfer to the airport after breakfast for those returning home. Other options: extend your visit in Istanbul or join our add-on tour (see below and be tempted!) in western Turkey.
Add-on: Western Turkey
June 16

Edirne

Visit Sinan's masterpiece, the Selimiye mosque,

possibly watch some Turkish wrestling.

Overnight in Edirne.

June 17

Gallipolli; Troy

Visit battlefield and cemeteries of Gallipolli,

cross the Dardanelles, visit Troy. Overnight

at the Manici kasri near Assos.

June 18

Assos, DOBAG project and villages

Visit Assos on the Aegean Sea, Visit the headquarters of the DOBAG project and some villages that participate in the natural dye, rug weaving cooperative. Overnight at the Manici kasri.

June 19

Bursa

Drive to Bursa. Visit silk market, central mosque, the Green Mosque and Tomb. Enjoy a Turkish bath in the evening. Gonlu Ferah

June 20

Iznik (ancient Nicea), Black Sea village

Drive to Iznik: visit Aya Sophia, the Iznik Tile Foundation, and handicraft cooperative. Drive to Black Sea village that grows flax and transforms it into kilims. Overnight in Istanbul: Hotel Ayasofya.

June 21

End of Add-on.

After breakfast transfer to the airport or continue your visit in Turkey.
Cost of Add-On
10-12 persons: $1395 per person in a double room
13-15 persons: $1265 per person in a double room
Included in the cost:
Guide, driver, transportation, ferry crossing, all meals and water with meals, entrance fees, hotels, tips at the hotels and restaurants, and transfer to the airport.
Not included:
Tip for guide and driver, drinks other than water with meals.
Registration for the add-on will be accepted at any time. Late reservations, during the Eastern Turkey trip, will be on an as-available basis. A minimum participation of ten persons is required for the trip to proceed.
The trip through Northwestern Turkey will take us to remarkable sites: the gracefully beautiful mosque of Sinan in Edirne.; two tragic battlefields where "the sons of the Allies and the sons of Turks" fought and died in World War I and are buried together, and where the sons of the Greeks and the sons of the Trojans, thousands of years earlier, also fought and died; the dramatic ruins of Assos overlooking the Aegean Sea; the DOBAG cooperative project that has successfully recovered traditional natural dye processes to color the wool that participating local villagers weave into kilims and rugs. During our visit in Anatolia we will spend two nights at the Manici kasri, referred to by travelers as "that fabulous hotel in the mountains"! We proceed to Bursa, ancient capital of Seljuk Turkey and a destination of the Silk Road. We will visit the silk market and some more fabulous mosques, and have a go at a Turkish bath! The next day we will drive to Iznik, ancient Nicea of Nicean Creed fame, and more recently, from the 16th to the 19th century, where artisans made the remarkable tiles we saw in the Blue Mosque of Istanbul and elsewhere. The lost art of the Iznik tile has been recaptured by the Iznik Tile Foundation which we will visit, before visiting with a local handicraft cooperative and then driving off to visit a village by the Black Sea that has been given permission to plant, harvest, prepare, and weave flax into kilims. We return to Istanbul that night. We would invite you to extend your stay in Turkey for at least another day or two to wander at your leisure through the covered bazaar and the shops of the Sultan Ahmet area.