"The great mountains and forests trembled
Under the feet of the immortal Poseidon.
He took three steps, reached Aigia on the fourth.
He had a famous Palace at Aigia, in the depth of the sea,
completely submerged under the waters, bright and shining,
It never grew old, nothing was lacking"
Homer
DAY/DATE ITINERARY DESCRIPTION
July 22 Day 01 Saturday GOCEK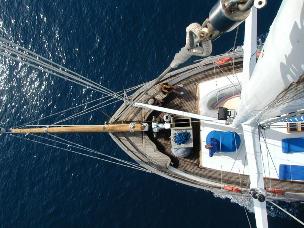 If you get to Istanbul a day before, you can fly to Dalaman in the morning and have the whole day on board of our wonderful boat. Meet the group at Dalaman air port and transfer to Gocek to get on the boat.
If tour members choose MELITOUR to buy their Istanbul - Dalaman air tickets, Melitour will deliver the tickets to Sheryl Stringer in Houston and once you arrive in Istanbul you will have your own tickets in your hand. Meet our excellent crew on board our boat the Kaptan Acar A. Lunch on board. Sail to Bedri Rahmi Bay and have lunch. We will stay overnight at Cleopatra Bay with Dinner on the Boat Before we can overcome the excitement of being on our way to a wonderful experience, we will stop at a bay where the blue color of the Mediterranean has patches of green with the reflection of the 100 year old pine trees growing right on the edge of the water. L,D

July 23 Day 02 Sunday Gulf of Fethiye
Since it is a sunday you want to be away from the crowds hidden in a smal bay where no one else will find your boat
On the boat. Sail to Gemiler Island visit Gemiler Island ruins – A wonderful hike to the top of the Island. Opportunity for water ski ( not included) Breakfast, Lunch and dinner on the Boat The secrets of the ancient deities still lie hidden in the secluded coves and bays around the Gulf of Fethiye B,L,D
July 24 Day 03 Monday GEMILER ISLAND
On the boat. Early departure for another superb natural beauty . Sail in the azure blue waters of the Mediterranean. The mornings are generally very calm. It feels like even the wind does not want to wake you up from the beautiful dream that you would be having under the millions of stars in the evenings. But the boat will already be on its way to another breath taking scene. You are now sailing at the coast of the Lycians.
The "People from the Sea" as the archaeologists call them, had found this shore and the mountains suitable for their nature. With the uninterrupted horizon of the sea and the unconquarable peeks of the mountain, this land homed these free soul people for one thousand years. The Lycians must have used the parfumes from the tangerines and necklaces made from the mountain flowers. At GEMICILER ISLAND stands Byzantine city with all of its grandeur You can swim to the ruins or take a walk in the rocky shores where black goats enjoy eating the bay leaves and sage. be prepared for anice hike and/or Water ski.B,L,D
July 25 Day 04 Tuesday an un named Island so that you can give your own name to this wonderful location
In the privacy of this bay you will be amazed how pine trees grow right out of the sea. Sounds impossible even after you see it with your own eyes .B,L,D
July 26 Day 05 Wednesday Dalyan
Get on a flat bottom boat to sail to the depths of a river which is famous with its Caretta caretta turtles. If you are lucky you can see the huge ( Galapagos Turtles like turtles teaching swimming to their new born babies. It truly is a legendary location for seeing the History of Anatolia at this far corner of the country. Spend some time at the mud baths at the thermal waters of the lake at the end of the river. hike to the depths of Caunos ancient city. Return to your boat completely ready for your captains excellent meal. Overnight onboard. B,L,D
July 27 Day 06 Thursday Ekincik
On the boat . The Mediterranean Pirates found this cove as a perfect refuge. The setting is so complete with the images of his time that the only thing missing is the pirates themselves. Sail to a bay near ekincik . By the time we leave this white pebblle shore to the carreta caretta turtles to hatch from their eggs the moon will start competing with sun droping her first visable rays in the water. Dinner and overnight onboard. B,L,D
July 28 Day 07 Friday Marmaris
Swimming in the phosphorous caves of Marmaris will be a the highlight of the day. As the water glows on your body
and your voice echos in the walls of the cave, you will wonder if this was where the Sirens challenged the sailors of the Mediterranean. B,L,D
July 29 Day 08 Saturday Fly to Istanbul
You will not want to leave the boat but unfortunately this morning after breakfast you will have to say good bye to your lovely Captain Ahmet and transfer to the Air port in Dalaman to fly to Istanbul.
transfer to the Hotel and the hotel tonight is included in the price of this tour. B

July 30 Day 09 Sunday
The tour will end after the breakfast
Transfer to the air port is included