THE GREEK ISLANDS AND THE TURKISH RIVIERA
The following itinerary is the tentative plan for a 2 week tour of the
Greek Islands and the Turkish coast on board of Grand Acar
SPECIAL NOTE:
This year Ahmet Kaptan has sails for his yacht .We will be able to use the sail cruising the islands.
Sailing through the Greek Islands depending on weather conditions we might have to leave as early as 07:30 since afternoon MELTEMI ( Soft Winds of the Aegean - Mediterranean) might not be comfortable to cruise with.
Only on the island of Rhodes, we will need transportation should you want to visit the island. We can rent a van while we are on the island.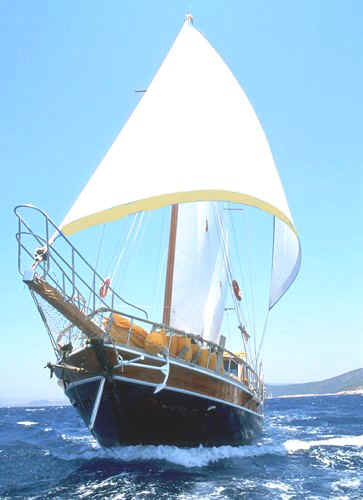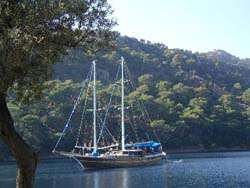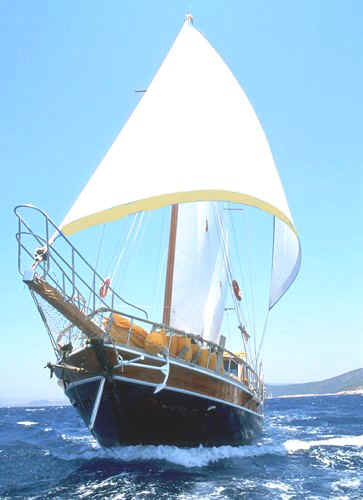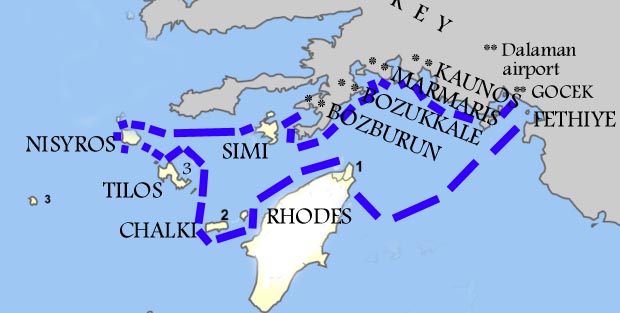 ITINERARY
| | |
| --- | --- |
| Day 01 | Arrive in Istanbul. Transfer to the hotel |
| Day 02 | Fly to Dalaman transfer to Fethiye board Grand Acar Overnight at a bay near Fethiye.(Gemiler Island) |
| Day 03 | Sail to Rhodes - Greece It takes 5 to 6 hours to sail to Rhodes lunch on board at Mandrake harbour |
| Day 04 | Rhodes - Greece rent a car |
| Day 05 | Sail to Chalki Island - Greece 33 sea miles takes about 5 hours. |
| Day 06 | Sail to Tilos - Greece It takes approximately 3 hours - 20 sea miles. |
| Day 07 | Sail to Nisyros - Greece 5 hours sailing lunch on board |
| Day 08 | Simi - Greece 30 sea miles 4-5 hour sailing lunch on board |
| Day 09 | Simi - Greece Sail around Simi and island site seeing |
| Day 10 | Bozburun - Turkey |
| Day 11 | Serce Limani - Bozukkale - Marmaris Turkey lunch and dinner on board |
| Day 12 | Kaunos - Turkey Rent a private boat to go to the lake and mud baths and rocktombs on the river |
| Day 13 | Gocek - Turkey lunch ve dinner on board Fresh fish to be cought on board |
| Day 14 | Fly from Dalaman air port to Istanbul overnight in Istanbul |
| Day 15 | Fly to the USA |
The Price as of Dec 13,2008


4 Pax Euro 10,890.- per person
6 Pax Euro 7,475.- per person
8 Pax Euro 5,768.- per person

THE PRICE INCLUDES
6 Transfers

From the Airport - hotel in Istanbul
From the hotel - air port in Istanbul
Dalaman Airport to Fethiye
From Gocek to Dalaman Airport
From Istanbul Airport to Hotel
From hotel to Istanbul air port
Guide for 14 Days
Meals as per list below
.12 Breakfasts
10 Lunches
5 Dinners
Guide for 14 Days
Meals as per list below ( Dec 13, 2008)
12 Breakfasts
10 Lunches
5 Dinners
2 Airplane Tickets
Istanbul – Dalaman
Dalaman- Istanbul
12 Days Yacht Grand Acar Ahmet Kaptan
Private Lake/River boat in Kaunos
Entrance fees to the sites along the shore of TURKEY
Return of the boat to Antalya from Fethiye
Harbour tax at the Greek Islands for 7 days
All the formality fees, harbour charges, gas
Turkish Value Added tax
The price does not included
Tip to the boat Crew
The hotel in Istanbul until we here from you your choice of hotel
The meals that are not mentioned as included until we here your choices
The entrance fees to the sites in Greece
The transportation if required in the Grrek Island
MEAL CHART AS OF DEC 13 2008
| | | | | |
| --- | --- | --- | --- | --- |
| DAY | LOCATION | 12 BREAKFAST | 10 LUNCH | 5 DINNER |
| Day 01 | Arrive in Istanbul. | -------------------- | Depends on your time of arrival | Your choice?? |
| Day 02 | Gemiler Island | Will be Included at the hotel in Istanbul | In Fethiye Included | On the boat Included |
| Day 03 | Rhodes | On the boat Included | On the boat Included | In Rhodes not included |
| Day 04 | Rhodes | On the boat Included | In Rhodes not included | In Rhodes not included |
| Day 05 | Chalki Island | On the boat Included | On the boat Included | In Chalki not included |
| Day 06 | Sail to Tilos | On the boat Included | On the boat Included | In Tilos not included |
| Day 07 | Sail to Nisyros | On the boat Included | On the boat Included | In Nisyros not included |
| Day 08 | Simi - Greece | On the boat Included | On the boat Included | In Simi not included |
| Day 09 | Simi - Greece | On the boat Included | On the boat Included | In Simi not included |
| Day 10 | Bozburun | On the boat Included | On the boat Included | On the boat Included |
| Day 11 | Bozukkale - | On the boat Included | On the boat Included | On the boat Included |
| Day 12 | Kaunos - Turkey | On the boat Included | Lunch not included in Dalyan | On the boat Included |
| Day 13 | Gocek - Turkey | On the boat Included | On the boat Included | On the boat Included |
| Day 14 | Fly from Dalaman- Ist | On the boat Included | In Istanbul your choice | In Istanbul your choice |
| Day 15 | Fly to the USA | Will be Included at the hotel in Istanbul | -------------------- | -------------------- |
INFO ON THE SITES AND THE ISLANDS
Rhodes Chalki Tilos Nisyros Simi Bozburun Bozukkale Kaunos Gocek Itinerary