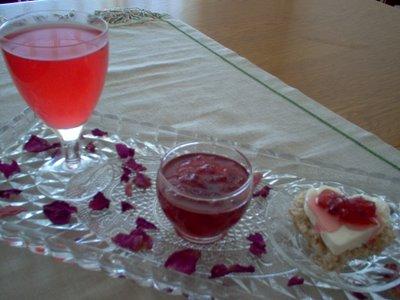 *Meli's almond drink.*
Blanched almonds.
In a cheese cloth put 1 c sugar. Place that bag in a pitcher of water and chill overnight.
Brown almonds in a dry pan to crispness.
Add rose water to taste.
Pour chilled water into glasses.
Add almonds to each glass (they should float).
Serve.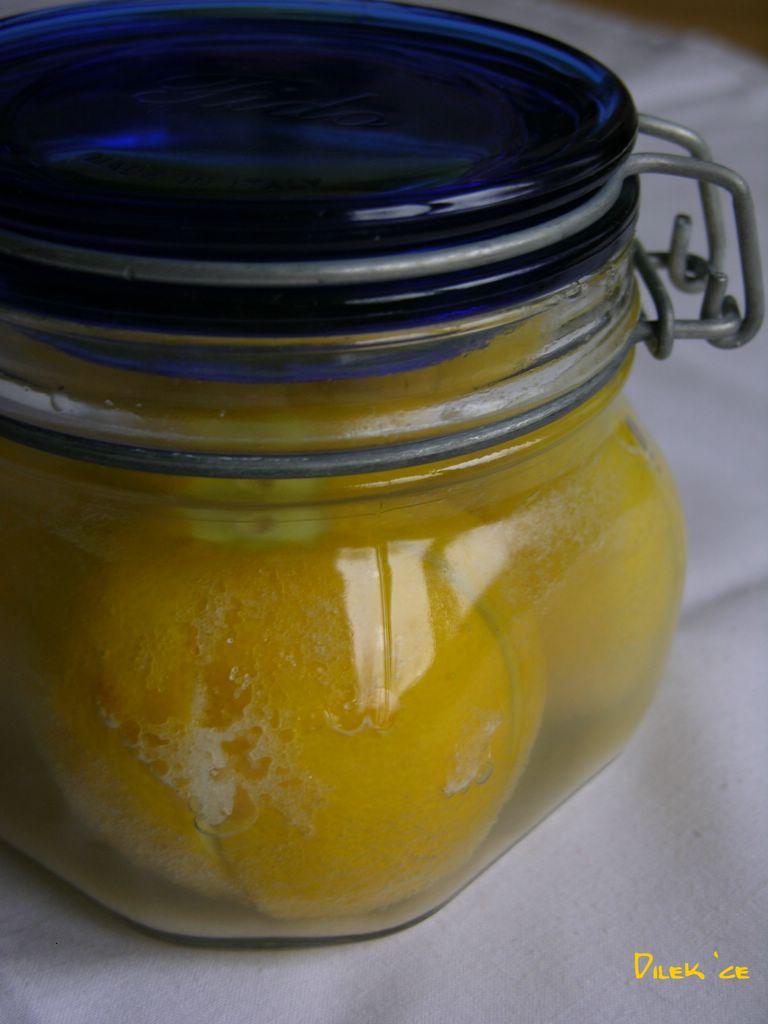 *Preserved Lemon*

Cut lemons into quarters, leaving attached at the stem end.
Remove seeds, Pour rock (or pickling) salt into the interior faces of the lemon
pack into a jar with more salt
Store in a cool dark place for 1 month
*Alternate recipe from our Mediterranean cookbook:*
In 1 litre (qt) jar put 3-5 lemons (cut and salted as above), 1 bay
leaf, 6 pepper corns, 1`/2 cup salt (including that used to salt the
interior faces of the lemons. Top off with lemon juice.
Store in a cool dark place for 6 weeks, shaking once a week.]


*Lemon rub*
1 preserved lemon (see which)
4 large cloves of garlic, chopped
1 tea (serving) spoon of black pepper
2 ditto powdered ginger
1 ditto salt (or less)
1 pack saffron dye
touch of real saffron
sufficient water to make paste
*Lemon Chicken*

4 washed chickens
4 whole onions (red, large, chopped)
1.5" bunch of flat parsley chopped
pinch of saffron (soaked in water)
Preserved lemon (see which)
(Note: the rub will need a whole preserved
lemon)
One batch of Lemon rub (see which)
1 tea (serving) spoon of black pepper
Preserved lemon slices
1 cup sunflower oil
1/8 lb light butter
Rub chickens inside and out and under
the skin with the rub.
Tie up the wings and feet with flaps of skin

Place in large pot:
the chopped onions, saffron liquid, black pepper,
a slice of preserved
lemon, sunflower oil, 1 cup water.
Place the chickens on top.
Cook until the chickens are tender.
Remove chickens. Add butter to the pot.
Reduce broth by 40%, stirring constantly.
Brown chickens in a hot skillet.
Decorate chickens with slices of prepared lemon.
*Beef with chick peas*


½ lb chick peas, soaked over night in salt water
In a large pot place:
2 large onions cut into ¼ " cubes
1 cup chopped 9flat) parsley
1 ½ T ginger powder
3 T salt
1-2 stick cinnamon
3 tomatoes pulped
3 pkg yellow food colouring
½ c olive oil
3 lb beef for pot roast (shoulder) with bones
Place on high heat and stir regular; cover between stirrings
Add 4-6 c water after 20 minutes
Rinse the chick peas and add to the pot.



*Beef tagine with prunes*
2 cups blanched almonds (boil briefly in water or just soak to make
removal of skins easy).
Sear almonds in a pan with hot sunflower oil.
2 lb shoulder cut beef with bones in
1 chopped red onion
2 T pepper
1 T salt
2-3 cinnamon sticks
saffron
¼ c chopped parsley
1 c sunflower oil
1 c water
1 T sugar
1 lb prunes
Put prunes in pot with water & sugar and boil until soft.
Put all ingredients except prunes and almonds into a covered pot and
cook until beef is done. Put on platter and garnish with almonds and
prunes.
Variation: add dill.
*Cous cous*
1 package c-c (medium sized)
Pour c-c onto large platter.
Add cold water to wet, pouring water over
hands to distribute.
Fluff gently with hands.
Add ¼ c sunflower oil.
Continue fluffing.
Cover. Let rest 15-30 minutes.


Fluff again for 2-3 minutes,
breaking up clumps.
Put into top of steamer and place on the
top of the beef with peas (see
which).
Steam for one hour.
Pour out on cold platter. Gently stir to
releas seam and cool. Fold
gently in a bit of salt. When cool
enough to handle, add small amounts
of cold water and fluff.
(2-4 cups total water)
Steam a second time.
Spread ¼ c salted butter on the
platter and fluff the c-c again.
Steam again.
Serve.
*Vegetables for cous cous*
3 large tomatoes
2 lb zucchinni
1 red pepper
2 chicken bullion cubes
1 lb carrots, scraped
½ c sultana raisins
2 red onions
2 white onions
stick cinnamon
powdered ginger
black pepper
yellow food colouring
saffron
salt
salted butter
sunflower oil
cinnamon, sick and ground
Cut the carrots in half and core.
Cut 2 red onions into ¼ inch cubes
Remove ends of zucchinis and slice in half lengthwise
Wash raisins thoroughly


In pot #3 put:
cubed onions
1 ½ T ginger
pinch saffron
1 T ground cinnamon
salt
3

soup spoons

of sunflower oil
1 package saffron dye
1 ½ c water.
Cook on high heat.
Add the raisins when onions soft.
Skin the tomatoes (dipping in hot water). Grate.
Slice red pepper into circles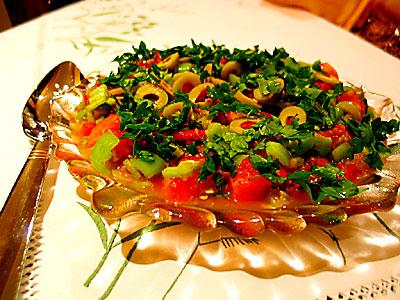 *Prepared eggplant*

Peel eggplant under water.
Squeeze water out.
Rub with lemon.
Drain for an hour.
Mash or chop.
Drain again.
Put in jar.
Cover with olive oil.
Refrigerate.
Use by the spoonful.