Day 11 Saturday October 4, 2008 Kusadasi submitted by Mary Fournier" mrose.fournier@gmail.com
Meander Valley Tapestry (Day 11)
Scenes & Events Along the Way
Corn, Cotton, Tobacco

Figs, Pomegranates,

Hazelnuts, Quince,

Apricots and more.

As many as 3 crops per year.

Didyma for buffet lunch. A bush with pepper berries.

Steam coming out of the ground. Good for heating homes.

A bottle hung on the chimney announces that a young woman is looking for a date.

Cow crossing the road. Bus must wait.

Stopped by the Police.Oh Oh, didn't changeto DST. A small fine.

Greek and Roman Ruins. The Temple to Apollo and the Amphitheater at Miletus

A stork nest on the Muslim crescent atop a mosque.

A quirky amusement park along the roadside.

The hot Meander River, almost dry due to lack of rain.

Aegean Sea and many, many second homes used for only 4 – 6 weeks a year.

Tea and cookies at Meli's.

A first-class hotel in Kusadasi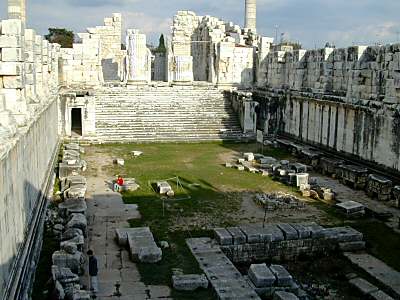 Temple of Apollo at Didyma
Sacred site connected by marble road to Miletus 20 km. away. Built in 334 BC and reconstructed in 4th century AD. Continued use through Roman and Christian eras. Damaged by earthquakes in 2nd and 4th centuries. Third largest Greek temple; the larger ones have only a column or two left. Pillars were assembled and erected upright before being grooved. An 82-ton vertical stone supported one side of a 2-piece gate. Inside the temple was an oracle who, while drunk or drugged, would mumble the prophecy, which a spokesperson would interpret. Example, to Alexander the Great: "Your trip will put an end to an empire." It turned out to be not the Persian empire, but his own.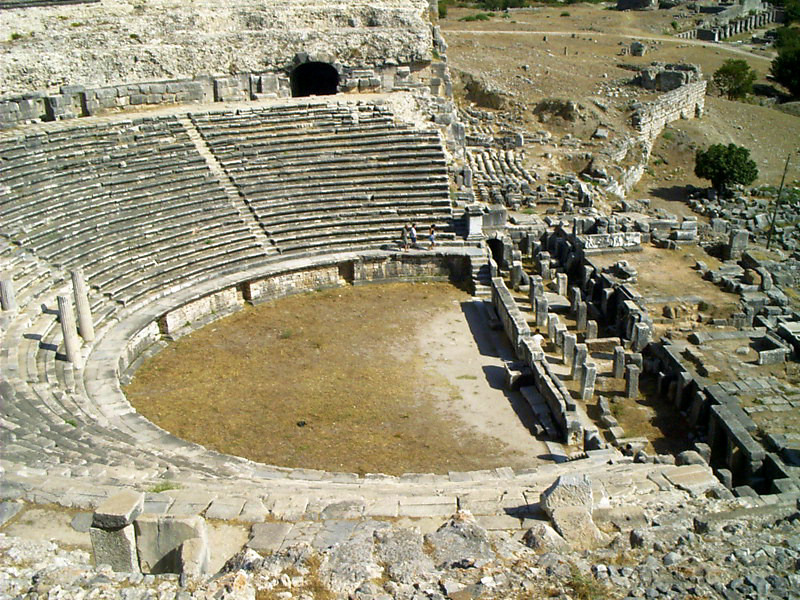 Amphitheater at Miletus
Miletus was one of 12 Ionian cities. Ionia was the cradle of democracy. The amphitheater was built about 0 AD. It was of Roman origin but was later topped with a Seljuk wall. The pit could be flooded with water for boat-battle games. The sea came almost to the theater. Now it is 2 ½ miles from the Aegean Sea because the Meander River delta has expanded outward. St. Paul sailed away from here on his last visit to Asia Minor.