Day 03 Friday Sept. 26, 2008;Istanbul & Train ride Submitted by Deborah Zbarsky dzbarsky@telus.net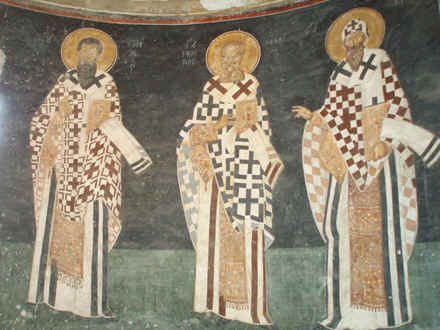 The first stop on our last day in Istanbul was the Grand Bazaar. The first sales pitch I heard almost immediately upon entering the bazaar was "Would you like to buy something you don't need?" Before we went our separate ways, we went en masse to a "jingle jangle" shop filled with Central Asian tribal jewellery and ornaments and another shop selling pestemals, the checked towels worn at the hamam. There were many kiosks selling the irresistible blue glass eye pendants (eye of Medusa) to ward off evil which come in all sizes and are seen everywhere, on walls, hanging off trees, embedded in sidewalks. Our next stop was the Chora (Kariye) church, a Byzantine church with exquisite mosaics and frescoes. The visit to this church was an opportunity for a lesson about Christian art and a thought-provoking discussion of what exactly art is. The iconography in the church demonstrates the educational value (or power) of art, since even people who cannot read or write can create art and can recognize symbols and icons.
After we got back on the bus and started to drive away, our buddy system broke down with the realization that we had left not one, not two, but three of us behind at the church. Fortunately we were only a few minutes away and managed to find them before anyone reached full panic mode. From the bus we got a good glimpse of the walls around the city and the community gardens.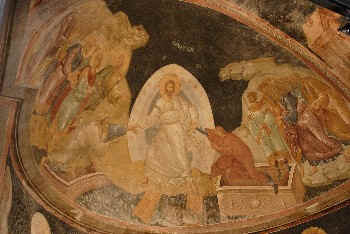 At the spice market in the afternoon, I concentrated on the S's, buying sumac, saffron, and sahlep, a powder made from the orchid plant which is used to make a hot drink. The spices were measured out into plastic bags and vacuum packed. On Meli's suggestion, we stocked up on pistachios, dates, chocolate, walnuts, and other snacks for the bus ride in the coming days, lest we should starve to death in between meals.
A cruise on the Bosphorous had been planned for the late afternoon, something we had all been looking forward to. But the weather was foreboding with whitecaps on the water, and Meli pulled something unscheduled but equally wonderful out of her bag of tricks- a visit to the Eyuboglu home across the bridge. Hughette is originally from Quebec but has lived for many decades in Turkey with her artist husband Mehmet, himself the son of prominent artists. This was to be the first of many home visits over the next several days. Every surface of their home was covered in paintings and fabrics and sculptures and bric-a-brac. Despite the short notice, we were given a warm welcome with tea and cake, and we balanced the dishes on our laps or on a rare inch or two of uncluttered surface as Hughette showed us sample after sample of the block print cloths created at the studio. They developed a method of making blocks from Styrofoam, which made it possible to create big motifs for tablecloths, bedcovers, etc. They started with 15 and now have over 3,000 blocks.
For dinner, we made an impromptu stop at a small restaurant where we had delicious mezzes including sea asparagus, and the most wonderful dessert called Kunefe with shredded filo and sweet cheese.
We said goodbye to our bus driver at the train station where we boarded the overnight train to Ankara. We had quite a bit of time to kill before the departure time, but one of the crew recognized Meli and let us on board early. This was the kind of service we quickly came to expect. The compartments were very comfortable, but I'm not sure how many of us actually got much sleep that night.