Day 8: Wednesday Oct.01,2008 Konya, Taurus Mountains, Antalya Submitted By Kaija Rautiainen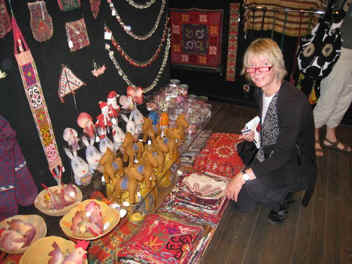 In Konya we had left behind the surrealistic Cappadocia and now focused on Rumi and his philosophy. Meli took us to a mosque that is dedicated to him. There, sitting on the floor, we listened Meli's talk on Celaleddin Rumi, a 13th century philosopher and poet.
From there we visited The Mevlana Museum that houses the tomb of Celaleddin Rumi. Mevlana is his honorary name. The mausoleum room contains the tombs of several important figures of the dervish order. The main tomb enclosed behind a silver gate is that of Mevlana. The tomb of his father is upright and adjacent to his son's, a position that signifies respect .The adjoining room is full of memorabilia displaying musical instruments and robes belonging to Mevlana, along with Selçuk and Ottoman objects like gold-engraved Korans. My favorites were prayer rugs, embroidered robes and an exquisite Koran from 13th century, text written on antelope skin.
When heading south through Taurus Mountains we saw mountain peaks and plateaus and from a summit we got a glimpse of Mediterranean at the background. We passed several herds of sheep and when we encountered a big herd in the middle of the road Hussein stopped the bus and let us out to take photos. He himself had a nice chat with the herder who must have wondered what was going on. The sheep had markings by henna in their rear ends.
Balmy air greeted us when we descended to Mediterranean and Antalya. After zigzagging by bus in the streets of the city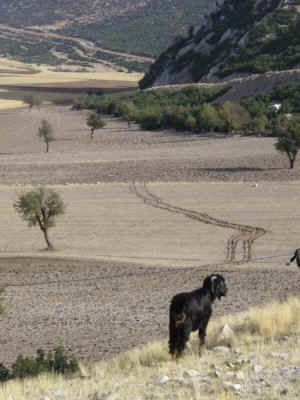 we were left out to walk to Antalya Atelye Pansion, a beautiful 200 year old stone house that was our home for two nights. Half of the group went to a Hamam. The rest of us, after a short walk, had a dinner in a restaurant patio, on top of the stairs leading to the harbor. After doing some touristy things we got back to the hotel and sat in the charming courtyard with sleeping cats as company.
I have attached a poem which I'd like to share. I got it from a friend before the trip to Turkey.
From The Essential Rumi Translations by Coleman Barks with John Moyne
The Guest House
This being human is a quest house.
Every morning a new arrival.
A joy, a depression, a meanness,
some momentary awareness comes as an unexpected visitor.
Welcome and entertain them all!
Even if they're a crowd of sorrows,
who violently sweep your house empty of its furniture.
Still, treat each quest honorably.
He may be clearing you out for some new delight.
The dark thoughts, the shame, the malice, meet them at the door laughing,
Be grateful for whoever comes, because each has been sent as a guide from beyond.