DAY 5 Sunday Sept. 28, 2008 Cappadocia Submitted by By Jennifer Love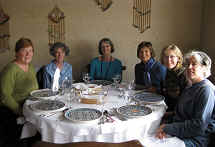 Last night…dreaming of Cappadocia, which the Persians referred to as the Land of Beautiful Horses. The early inhabitants here initially carved stables out of the rock for their horses; then they kept their grapes and wine there and eventually created human habitations, churches or mosques, fortresses and whole underground cities there. Some people still live in these houses although slowly they are all being moved into modern dwellings. Meli pointed out that the 'tufa' landscape holds not caves, as we Westerners erroneously refer to them, but 'geotecture.'
We woke in our luxurious rooms, feasted our eyes on the glorious landscape just outside our windows, and found our way through the tunnel to the CCR restaurant for breakfast.
First stop was the open-air 'jingle jangle' market where the tree with white tissues attached was explained to us: the Shamanistic faith system believed that if you find beauty (in a rug, a flower, a tree), then god exists there and so people wanted to leave a 'votive'…'wish trees' reflect this very Anatolian way of trying to connect with god (a practice still continued by Christians, Jews and Muslims). I bought a couple of Turkish music cds at this market – a nostalgic reminder now of this wonderful holiday.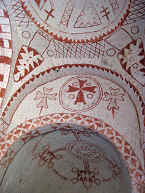 The rest of the morning was taken up with a visit to Nevsehir Zelve – a village where we wandered through Christian churches carved into the rocks during the Roman period – here Meli explained the origin of what we refer to as the 'Maltese Cross' – often seen as a halo behind the head of Jesus.
After lunch near Avanos (at a restaurant built in the caravanserai-style – look at the beautiful plates in the picture), we visited the home of Fatima, who still lives with her family in a house carved into the tufa landscape. There we were served tea and cake. Most of us bought hand-knit slippers or scarves with crocheted edges, which will be treasured reminders of Famina's hospitality. Everywhere we were treated with great generosity.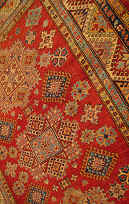 The Goreme Open Art Museum offered another exploration of fascinating carved-out churches and monastic cells. I particularly loved the graphic, child-like quality of the earlier red designs (from the 9th century?). As we were leaving this area, we saw some of the hot-air balloons that some in our group plan to take advantage of tomorrow morning. Then on to SENTEZ – a carpet centre in Avanos (see www.sentez.com.tr), where we were given a very polished demonstration of: fine rug weaving on traditional upright looms; extraction of silk fibers from the silk cocoons; dyeing with natural dyes; and finally we were shown a huge selection of beautiful carpets from every area of Turkey and beyond. Several members of our group purchased knotted rugs which were later shipped home to Canada. Mary and I asked to see some (apparently less-highly valued) flat-weave kilims, but didn't see anything we had to have. Temptation came later in Konya!
Back to the hotel for another fabulous dinner, a sauna, swim and bed. What a jam-packed, fascinating day – I wouldn't have missed a moment of it.
Jennifer Love, from Pender Harbour, near Vancouver, BC