Day 06 Monday Sept. 29, 2008 DIARY FOR PAZARTESI (Monday), Cappadocia Submitted by By Mary B, Canada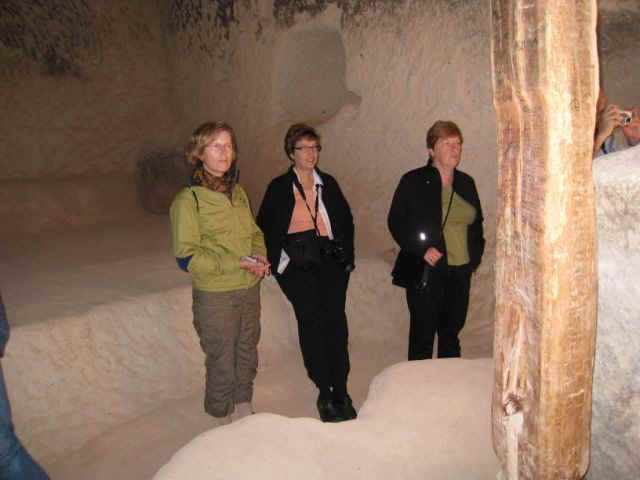 As Hussein skilfully manoeuvred our bus from the narrow lane of the Cappadocia Cave Resort, the staff and Manager, Didem, lined up and waved good-bye while pouring water on the ground. Meli explained that the sentiment was: "May your trip be as smooth as the flow of water!" As we drove away from Uchisar we were fascinated to hear about the early morning hot-air balloon ride Dean, Mary and Deborah had taken over the fantastically shaped landscape of Cappadocia.
Our first stop was Avanos, Turkey's Venice, situated on the Kizilmark (Red) River. Avanos is filled with pottery workshops which utilize clay from the surrounding mountains and old river beds. We had come to visit Chez Galip, the shop and studio of Galip Körükcü, a master potter. Galip learned his profession from his father, a tradition of five generations. As he threw an elegant teapot on the kick-wheel, our group sipped tea and listened to Galip's wife, Lillian, translate descriptions of ancient techniques such as centering, drying, burnishing, firing and glazing.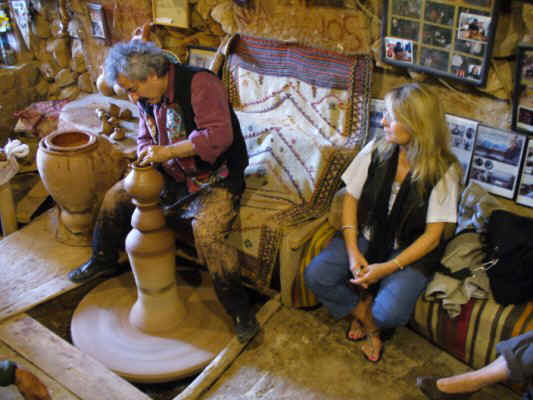 We wandered through the shop of nine rooms which had been carved into the mountainside and admired the colourful and delicate pottery with tulip, pomegranate and tree of life designs. Galip's strange, Guinness-Book-of-Records, collection of locks of women's hair filled several rooms from floor to ceiling.
Our next stop in Avanos was a kilim shop where Meli demonstrated a uniquely Anatolian drop spindle that consisted of two crossed bars on a shaft rather than the customary circular disc. We learned that the older kilims, woven in slit-tapestry flat weave, have more intricate geometric designs and were all woven with natural dyes and handspun wool or silk. Lillian and Meli showed us a typical dowry that a young bride would weave. This consisted of her husband's vest, a prayer rug, an everyday square meal cloth, a special meal cloth, a decorative pile wall carpet, a horse or donkey blanket, a long-pile bed blanket, a man's lunch shoulder bag, a salt bag for the goats and sheep, a large crop storage bag, a donkey saddle, a camel bag, a long, narrow decorative panel to encircle the inner house walls, a hanging baby cradle, a baby carrier, and a large kilim to wrap all the items in. Each item was woven with vibrantly coloured yarn and incorporated ages old designs that symbolized a very ancient heritage. I was amazed that even the utilitarian wrapping kilim had a beautiful, decorative corner that would show on top of the folded dowry bundle.
Lunch was nearby at the Dayini Yeri Restaurant. We ate delicious cold salads with freshly baked flat breads and chicken kebaps. Künefe dessert, a specialty of the restaurant, was made on the spot. Very fine strands of cooked batter were laid over sweet, creamy cheese and then fried in a skillet with syrup…delicious and very sweet!
While we digested all this wonderful food, Hussein drove us to Nevşehir, site of the Kaymakli Underground City. Our guide, Mustafa, peppered his speech with many "Ladies and Gentlemen" and provided an excellent tour of this early Christian refuge. We were guided through narrow, head-scraping tunnels that opened out into small cramped cells where entire families had lived. Only a fraction of the eight levels of tunnels and rooms can be seen but most of us were very happy not to be descending any further than four levels. The intricate system of ventilation shafts, a well, and a network of main and connecting tunnels were established by the Hittites and used by the Christians to hide from Roman persecution. The rooms remain a moderate temperature year round. We viewed wineries, kitchen areas, a grinding mill, ceramic jug storage areas and sleeping rooms. After the 1400's when the Ottomans instituted religious freedom for all groups, the underground city was used for the storage of crops and wines.
Our activity-packed day began to wind down when we arrived in the small town of Güzelyurt or "beautiful homeland". The town is perched on a hill overlooking a flat valley of farmland. Güzelyurt is a town of many monasteries and our hotel was called Otel Karballa, a renovated 1850's Christian girls' school. An excellent dinner was served in the large, arched ceiling refectory. Meli provided a home-stay opportunity in a nearby historic Greek house called Halil's Family Pension. Deborah, Wendy, Enneke and Kaija chose to stay in this typical Selcuk-style arched roof home. We all looked forward to joining them for a breakfast in the home the next morning.
That evening Jennifer and I settled down in our loft-style room each under a colourful Suzani embroidered bed quilt. Another wonderful and amazing day in Turkey!