Day 7 Tuesday September 30, 2008 Tuesday Highlights of another memorable day submitted by Enneke
Homestay in Guzelyurt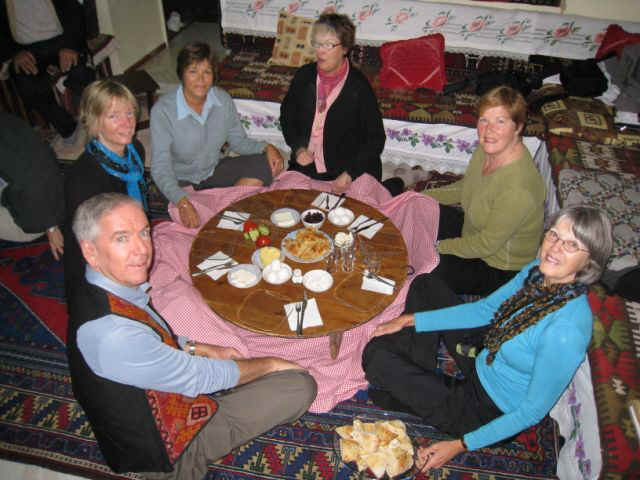 Kaija, Deborah, Wendy and I had the opportunity to spend the night in a village home. Our hostess was Fatma, her daughter, son-in-law, and 2 young grandsons. Kaija and I shared a "French bed" in the home's main bedroom which was a large and comfortable room with lovely carpets and couches. The door was wrapped in a huge bow to celebrate the recent birth of a grandchild. It was a gesture to Meli that we were welcomed into the main house and not the pension next door. Meli was instrumental in helping this widow set up the small pension business so that she could be independent despite much flack from the village men! Breakfast was the typical one of bread, goat cheese, olives, hard boiled eggs, tomato, cucumber and a fabulous cheese pastry. The whole tour group joined us and we all sat on the floor with the table cloth on our laps to protect the carpets from the crumbs. It was so wonderful to be so warmly welcomed into this warm and hospitable home! After breakfast Meli demonstrated the different ways women from different regions wear headscarves and we had an opportunity to buy some beautiful pieces with beaded lace made by Fatma. Neighborhood children came by for treats to celebrate the end of Ramazan. Morning Talk. Meli enlightened us on the 5 pillars of Islam and much more about the true meaning of this religion .We will definitely go home less "partially" educated! We visited Karballa church in Monastery Valley, a monastery from 385a.d. known as the oldest in Christendom, and carved out of the hillside. An amazing marvel! Lunch was back at the girl's school (hotel) another delicious buffet with a much needed Turkish coffee to end! We then visited a Caravanserai en route to Konya where we interacted with a colorful group of farm workers. They were equally curious about us as we were about them. Luckily we had Meli as translator so that we could all ask questions. Bus ride. Driving through rather flat and uninteresting countryside we shared stories at the mike of travel memories, both funny and poignant. This was a great way to see another side of our fellow travelers. Konya. We stayed at the Rumi Hotel. Dinner was very interesting at what is considered one of the 10 best restaurants serving local food to locals. Famous for their baby okra soup! A "no frills" restaurant but very tasty.
More Kilim shopping after dinner for some of us. A fabulous shop with a lovely owner who showed us many gorgeous embroidered cloths as well as Kilims. There were definitely sales made! All in all a busy, wonderful day!