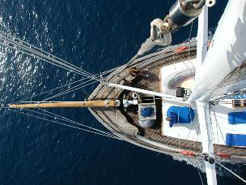 Tilos Island
Tilos is an Aegean island with nineteen beaches, twelve mountains, seven medieval castles, a Byzantine monastery and two hundred churches, a cave full of natural discoveries, a village that is a declared cultural monument, a hundred bird species, hundreds of wild flowers and herbs, and five hundred residents. Livadia is the island's main port Livadia was established around 1930 as a village although it had existed as a harbour before that. Most of the buildings are modern mixed with a few traditional ones. Livadia has a lovely horseshoe bay which is excellent for swimming and snorkelling, there is also shade along the beach beneath the Tamarisk trees. These trees were originally planted as a windbreak to protect the crops grown in the very fertile soil along the front. The North winds are so dry they can 'burn' crops. Above the village is the remains of a 15th century castle – Agriosikia and in the valleys below the old monastery Politissa
Megalo Horio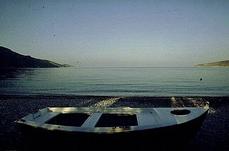 The capital of the island with just 180 full-time residents. Megalo Horio (Big Village) is much older and more traditional Greek village with winding alleyways and traditional buildings. There is one road that runs past the village but the majority is inaccessible by car. There are some beautiful churches here – the Church of Archangel Michael (Taxiarchis) opposite the Island Council Offices and Panagia on top of the village. On the summit above the village is the most complete of the seven Crusader castles on the island. It's a steep climb up with no shade but stunning views from the top. Also here is the Elephant Museum – where finds from the Harkadio Cave are displayed – if the museum is closed, ask at the council offices (go up the stairs to the left of the museum). Vicky the guide is usually around to fill you in on all the necessary details! Also in Megalo Horio is another pharmacy/doctor's surgery.
Mikro Horio
Mikro Horio was the original capital of the island and was once home to 1700 people. The village is now deserted – the residents either emigrated or moved down to the Livadia to be closer to the developing port. Nowadays the village is like a time-capsule a witness to a life that no longer exists. It is very atmospheric
to wander around. The bus does not go to Mikro Horio but it is not too long a walk.
Harkadio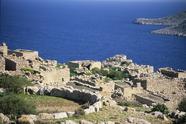 On the left hand side of the road to Megalo Horio is the Harkadio Cave where the remains of dwarf elephants were discovered in 1971. The cave is not open to the public as excavations are still continuing. However, the view from outside the cave is wonderful and underneath is a small amphitheatre which is host to concerts during the summer months. Stand in the centre to experience the perfect acoustic! Nearby the entrance, you will see the construction of the new museum which will eventually contain the finds made in the cave. Some are presently on display in the small museum in Megalo Horio but the majority are in Vienna. The bones of thousands of elephants have been found in the cave and the discovery was on of the first to establish the existence of elephants in Europe - it is thought that they swam here from Africa and the dwarfism developed due to a gradual decline in the population due to hunting by man.