Day 01
May 10, 2005 Istanbul, Turkey
The text and the picture Submitted by Yu Majima e-mail yuumajima@hotmail.com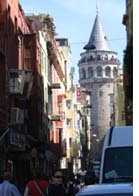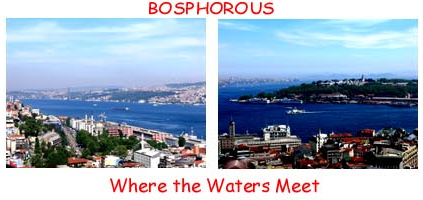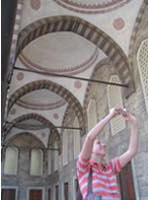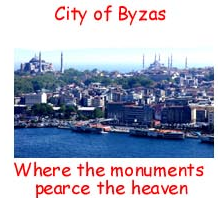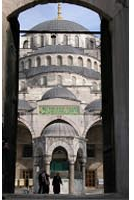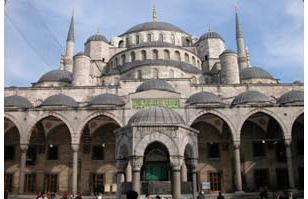 Today is our first day in Turkey. Though I was sleepy and tired because of a long flight, I really enjoyed the first day. Everything was new for me, and I was excited all the time. I always said, 'Wow!" I do not wan to forget this day, so I will write down what I experienced today.
Today's main events were visiting Galata Tower and The Blue Mosque. We went the tower first in order to learn the geography of Istanbul. From top of the tower, I saw almost all the parts of Istanbul. The sight was amazing. After climbing it, we left for The Blue Mosque. Before entering the mosque, Meli explained At Meydani (three big towers), which is in front of The Blue Mosque. She said he most south tower came from Egypt. After that we entered into The Blue Mosque and Meli and Evaexplained about the mosque and an Iznik tile (blue tile).
Another event was eating Turkish food. Our first meal in Turkey was Cy and Simit (bread with sesame) in Hotel Ayasofia. I like cay and the cup of cay a lot. We went to Sultan ahmet koftecisi at dinner. This restaurant is famous for Kofte (meat) . We ordered Kofte, Piyaz (rice), Salata (salad), Ayran (yogurt drink) and irmik Helvasi as deserts. I like Turkish cuisine a lot!!
In addition, we learned three important term of Turkish. The first one was "Su", which mearns water. The next one was "Sag ol", which means Thank you, and we also learned "Lutfen", which is please. I'll try to learn basic Turkish during this travel.
Even though today was very busy, I enjoyed Istanbul a lot. Tomorrow, we will go to Aya Sofia! I cannot wait it.