Day 09
May 18, 2005 Konya
The text and the picture is submitted by Christine M. Larson e-mail: larsoch@earlham.edu

We left our hotel early and went to the home of a woman named Fatma to have breakfast. (Several of our group had spent the night there.) She and her daughter served us bread; a home-made pastry with potatoes in it (and LOT of butter); the requisite olives, tomatoes, and cucumbers; hard-boiled eggs; home-made cheese; and, last but not least, home-made strawberry jam, which raised quite an acrimonious conflict among several greedy diners at my table. Oh, and did I mention the egg-puns?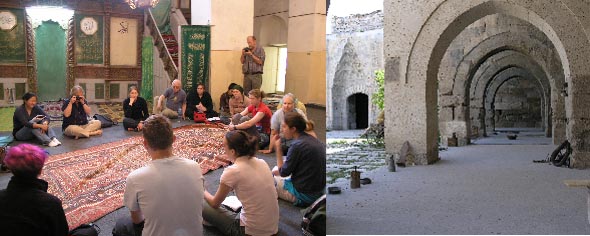 Fatma's house was down a narrow road with stone walls along each side. Along the way there we stopped to see a woman stoking a fire in a large stone oven – the neighborhood bread-baking oven where families in the neighborhood can come to bake their bread. They take turns building the fire for the day. We moved on to Fatma's door on the street, a plain wood door in the wall. Behind it we found a sunny courtyard and her home. We ate breakfast in two rooms, sitting cross-legged on the floor around three low tables. Each table had a large, light-weight cloth underneath, which we were to pull over our laps as we ate. After breakfast Meli talked to us about the five pillars of Islam: 1) there is no god but Allah, and Muhammed is his prophet, 2) prayer five times a day, 3) Haj, the pilgrimage to Mecca, 4) fasting during Ramadan, and 5) giving alms to those in need. Meli says the purpose of religion is to make people happier, and so as she described each pillar, she discussed how it supports the well-being of the practitioner. Then we walked around a couple of sites in town. We stopped to sit on some large rocks overlooking parts of Guzelyurt. We could hear cows, donkeys, swifts, and cars. We descended a zigzagging path of stones, some carved into steps, stopping for a time at a church carved into the hillside. Under the frescoed dome, we tested the acoustics by singing a few songs.
We visited a very old church (built in 384 A.D.) – a building, not a carved-into-the-rock church. It was used by the Orthodox Christian people in town until the 1920s, when there were forced migrations of Christians out of Turkey into Greece, and Greek Muslims were forced to move into Anatolia. The presence of Greek Orthodox in Guzelyurt is apparent in other places in town. Besides monasteries and this church, several houses completed in the early 1900s have Greek letters above their doors on stones indicating when the house was completed – many say "Mashallah."
We also had a lovely walk in the country just outside of town, trying to find the monastery by the reservoir. Instead, we found a flock of sheep and some more monks' "cells" and a plain church carved into the rock.
After lunch at the hotel, we paid a short visit to the local clinic and spoke with the resident midwife. We learned a bit about age, population, and life-expectancies in the region, state-supported healthcare, vaccinations for kids, contraception availability, etc.
We drove to Konya, stopping briefly at a 13th century caravanserai, a place where silk road and other trade caravans stopped to rest and feed their animals on their journeys, or to spend a couple of months in bad winter weather.
After dinner, we heard a concert of traditional Turkish music, with three players on Ney, Bandir, and Ud. Ney is a bamboo-like wind instrument with a delicate sound, Bandir is a wide, shallow frame drum with 3 cymbals on it, and Ud is a stringed instrument that looks like a lute. The concert was held in a kilim-collector's shop, in a room decorated a bit like a yurt, and filled with beautiful objects of the Turkish nomadic life.